Estimated read time: 4-5 minutes
This archived news story is available only for your personal, non-commercial use. Information in the story may be outdated or superseded by additional information. Reading or replaying the story in its archived form does not constitute a republication of the story.
SANDY — No sooner had Real Salt Lake cleared the field and filed back into the locker room Saturday following a thrilling 2-1 win over the Portland Timbers in front of 17,452 fans and a snowstorm at Rio Tinto Stadium than someone piped up from the back of the room.
"Who do we play next?" was the premise of each inquiry, as all eyes turned to the Western Conference semifinals and a road trip Wednesday to face Seattle Sounders FC (8 p.m. MDT, FS1).
It's a familiar rivalry for Real Salt Lake, one that has played out in particularly close fashion recently to help RSL to a 12-10-4 all-time record in the series (in the regular season, at least).
"We're confident," RSL goalkeeper Nick Rimando said. "We have to be organized and get possession. If we play like we did tonight, we're going to have opportunities. We just have to put those away and be sound defensively."
All five of the previous meetings at CenturyLink Field have come down to a game-winning goal, including Nico Lodeiro's game-winner in Seattle's 1-0 win on April 6 and Sebastian "Bofo" Saucedo's golazo to take all three points for RSL in 2018.
It's easy to look back on past victories over Seattle (16-10-8), as well as RSL's first win over Portland of the calendar year. Interim head coach Freddy Juarez won't discourage it, but he also knows his team has a job to do on short rest.
Real Salt Lake (16-13-5) has a good history of squad rotation under Juarez, who replaced fired head coach Mike Petke in July. That might be the norm, with Wednesday fast approaching.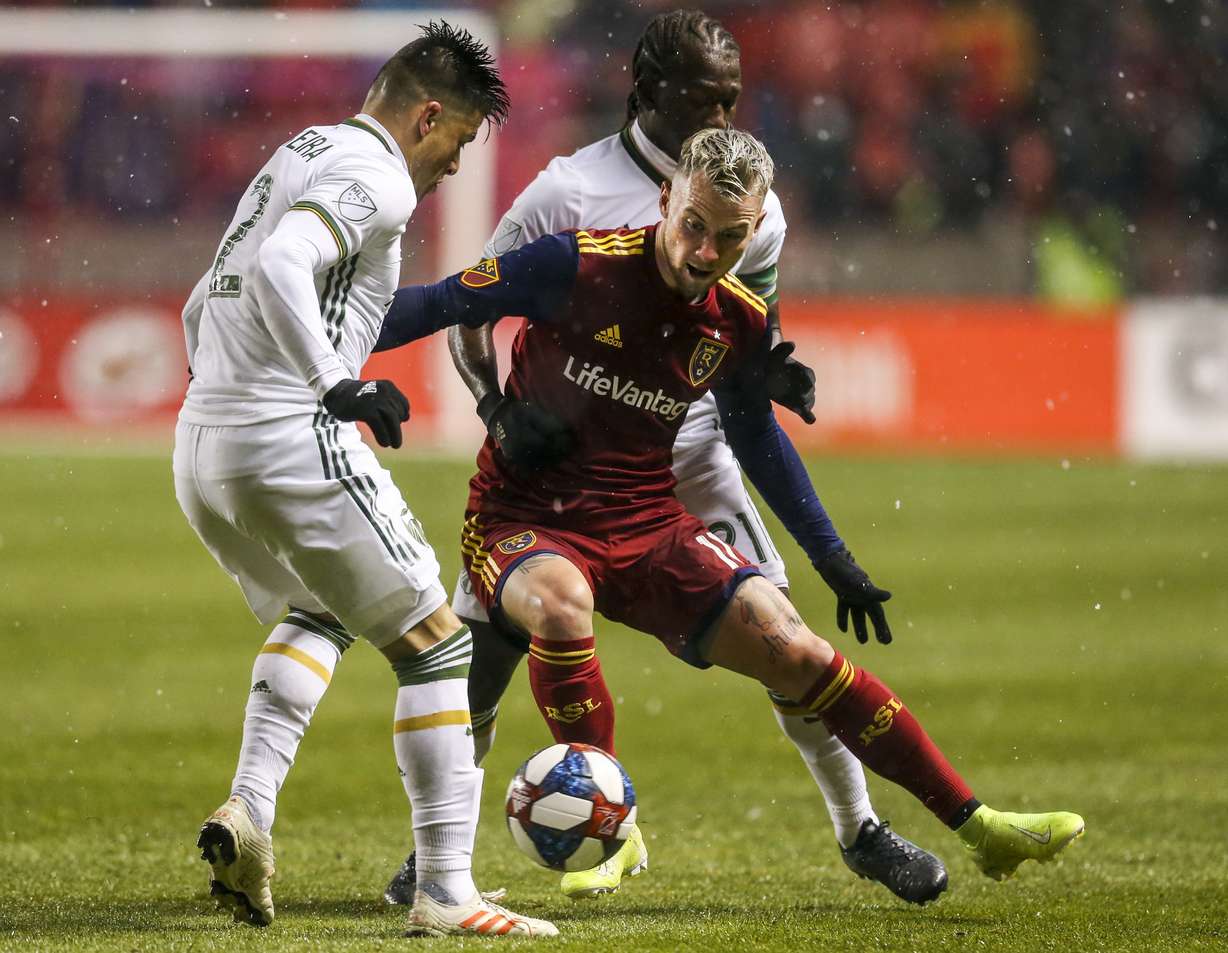 Or maybe not; that will be up to the club's sports science department to determine as they evaluate each player's individual recovery.
"I want them to celebrate the win, because these wins are hard to come by. At the same time, being professional, getting good rest," Juarez said. "It's going to be hard to repeat the same starting group. They all came out healthy; that's the important part. Now we have to see who can give us the best opportunity to win on the road."
But the two sides haven't met in the postseason since back-to-back head-to-head meetings in 2011 and 2012. The first one went the way of Salt Lake, while the Sounders claimed victory in 2012.
Real Salt Lake owns the most recent meeting, too, a 3-0 victory at Rio Tinto Stadium back on August 14. The club also owns Rimando, the league's all-time leading goalkeeper who is playing in his final season.
"He's been a solid rock for us for so long," RSL midfielder Kyle Beckerman said Saturday. "He comes up big for us. That's just Nick Rimando. We needed him tonight, and we're going to need him next game. Hopefully, we can keep this thing going."
With just over 72 hours between games, recovery and refocus will be key — for both clubs. But RSL may own the advantage in that regard, too.
Despite the late game-winner by Jefferson Savarino on Saturday night, Salt Lake only played a full 90 minutes against the Timbers. The Sounders, meanwhile, took FC Dallas into extra time before Jordan Morris scored his third goal of the match in the 113th minute of the match to send Seattle to the semifinals, 4-3.
"We actually never talked about overtime. We were wanting to win the game," Juarez said. "We didn't want to go to extra time. They went to overtime and Dallas challenged them. These playoff games are always tight, so that's what we're going to go try to do."
So what's the key to bouncing back on the road?
"Massage. Maybe sneak in some acupuncture. Eat a lot of food," Beckerman said. "Mentally you're good."
MLS Cup playoffs: Real Salt Lake at Seattle Sounders
When: Wednesday, Oct. 23, 2019
Where: CenturyLink Field, Seattle, WA
Kickoff: 8 p.m. MDT
TV: FS1
Streaming: Fox Sports Go
×
Photos
Most recent Real Salt Lake stories