OGDEN — Josh Davis etched his way into Weber State history books on Saturday afternoon as he led the Wildcats to a 51-28 victory over the visiting Northern Arizona Lumberjacks.
Davis finished the night with 328 yards on 34 attempts and 4 touchdowns. He averaged 9.6 yards per carry on the night. Davis now holds the record for most yards in a single season game by a Wildcat that was set by CJ Tuckett in 2012.
"I had no clue, I was just running, you know," he said. "I had a great line up there blocking for me."
Things got started quickly for the Wildcats when Davis scored on a 54-yard run two plays into the game to put Weber State up 7-0.
A pass by Jake Constantine was intercepted by Noe Becerra and two plays later, Case Cookus threw a 63-yard touchdown pass to Stacy Chukwumezie to tie the game, 7-7.
Davis would score again for the Wildcats in the opening minutes of the 2nd quarter on a 44-yard touchdown run to regain the Weber State lead.
A forced turnover by Northern Arizona would result in 7 points for the Lumberjacks offense when Hendrix Johnson caught a 12-yard pass to tie the game. Moments before the half, Northern Arizona put 7 more points on the board when Chukwumezie caught a 94-yard pass to give the Lumberjacks a 21-14 lead at the half.
But it was all Weber State in the second half, as they outscored Northern Arizona 37-7 in the final two quarters of the game.
"We like to keep them fun and interesting for everybody," joked Weber State head coach Jay Hill. "The first half, there were so many positives. Se just gave up those three weird pass plays where DB's just fell down, we didn't make tackles. I don't want to say they were broken coverages because they weren't. We just didn't make tackles and we gave up stuff we shouldn't give up in those situations."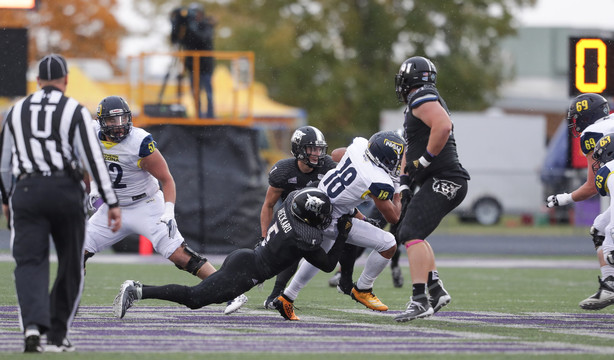 Trey Tuttle got the scoring going for the Wildcats in the 3rd quarter with a 32-yard field goal to bring the Wildcats within 3 of the Lumberjacks. A forced fumble by Preston Smith that was recovered by Jayden Palauni would lead to more points for the Wildcats.
Kris Jackson, who finished the night with 113 yards and 3 touchdowns, would score on an 8-yard run and a failed two-point conversion had the Wildcats up 30-21.
Northern Arizona kept things interesting when Johnson caught a 44-yard touchdown pass 10 seconds into the fourth quarter to bring the Lumberjacks within 2 of the Wildcats. Those would be the final points the Lumberjacks would score.
"In a game like that where there is crazy rain and weather, I thought we handled it about as good as you can," Hill said.
After going for it on 4th down, the Wildcats got the 1st down and a 5-yard run by Jackson would be the beginning of the dominance in the 4th quarter put on by the Wildcats.
TOUCHDOWN WILDCATS!

Josh Davis with his FOURTH rushing TD of the game.

First Wildcat with 4 rushing TD's in a game since 2010.

Wildcats lead 44-28 | 9:10 to play#WeAreWeber#BigSkyFB#PurpleReignpic.twitter.com/VJHvyf8nFt

— #️⃣4️⃣ Weber State Football 🏈 (@weberstatefb) October 19, 2019
Noah Vaea recovered a fumble at the 13-yard line which would turn into more points for the Wildcats. Davis added to his recorded breaking night with a 1-yard touchdown run to put the Wildcats up 44-28.
Jackson would add the final points of the night for the Wildcats when he ran a 27-yard touchdown in for Weber State.
"Personally, I mean it's cool but it doesn't mean anything," Davis said about breaking the record. "It's just another game. We got UC Davis coming up."
Weber State will travel to California next week as they take on UC Davis on Saturday, Oct. 2h at 5 p.m.
---
Carra McManamon is a native of Washington State and is attending the University of Utah. Contact her at cmcmanamon@deseretdigital.com or follow her on Twitter: @curramac22
×