LEHI — On a late-September afternoon, Donovan Mitchell got out of his car in a neighborhood situated on the Traverse Mountains and noticed a child's birthday party going on in the front yard of a nearby home.
Naturally, the third-year Utah Jazz star went to his vehicle's trunk, retrieved some jerseys from within and goes and gifts them to the kids. It was just Donovan being Donovan.
But he wasn't in Lehi on that late-September day to be Donovan — he was there to act like Donovan. Mitchell and Rudy Gobert were there to shoot one of the new Vivint Smart Home commercials.
Two versions of that commercial debuted on Friday with Vivint doing a fan vote to decide which version will air on TV on Wednesday, October 23.
Watch & Vote! @rudygobert27 has pretty good defense too, and we're not even mad about it. 🤚🥛

Watch alt version of this commercial & vote on your favorite. Winner will air on TV 10/23 during the Jazz vs Thunder.https://t.co/snBxXnAXVKpic.twitter.com/nMYeXmMG3J

— Vivint Smart Home™ (@VivintHome) October 18, 2019
Last year, Ricky Rubio's "meow" became legendary as he harrassed Mitchell for his apparent love of cats in Vivint's most popular commercial last season. The goal this season: Recreate that type of moment in every single spot.
"We come up with 20 or 30 ideas and kill them all until we get to six or seven," Vivint Smart Home chief marketing officer Nate Randle said. "Now that we have relationships, especially with Rudy and Donovan, we have so many ideas it's really tough to kill them."
Mitchell stood in a kitchen across from Gobert and tried to hide his smile — he tried and failed. The cameras hadn't even started rolling yet and Mitchell couldn't keep a straight face. He took in a deep breath in an attempt to compose himself and readied for the first take.
Action!
It wasn't long before Mitchell was laughing.
That wasn't a surprise to the Vivint creative team. They've worked with the guard long enough now to know that he is, as Mitchell himself likes to say, still just a kid. A kid that even after two years of globe-trotting for marketing events and signing countless autographs still marvels at what basketball has allowed him to do. Acting in a commercial is just another thing that's pretty surreal.
Mitchell the Kid was in full force as he awaited for Gobert to arrive for at the Lehi home for the shoot.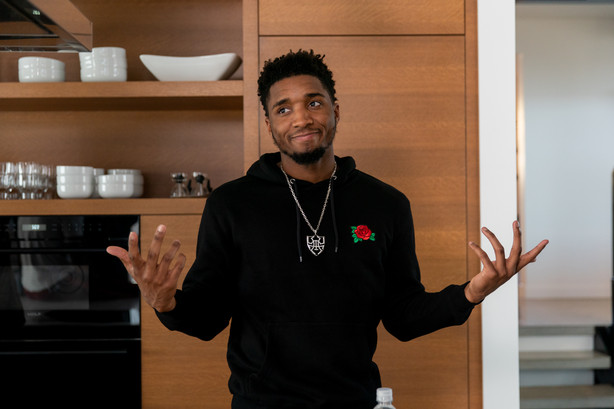 He played a game of seven on the line with the filming crew on the home's indoor hoop, he started to bounce on an indoor trampoline before quickly realizing he may too big of a kid for that, and he even went over to a ledge looking over a foam pit (yeah, it was quite a nice house).
"You wanna jump?" the homeowner asked.
That made Steve Smith, the vice president of team security for the Utah Jazz, eyes widen real fast.
"If he would have jumped, I would have lost my job," Smith joked.
Actually, it might not have been a joke.
After a few years of writing and producing the commercials, Vivint now has a pretty good feel for who the players are — especially when it comes to Gobert and Mitchell. They write the scripts with them in mind, wanting to showcase their individual personalities. The company credits that as the reason why the ads have connected with fans and that helps the players want to participate as well.
"They get us," Mitchell said. "They are in Utah so they see me on a daily basis. They're at the games, they're around practice … Some of these other companies just don't see you as much. Nothing against them, but they just don't see you. Vivint knows my likes, my dislikes, where I'm comfortable, where I'm not comfortable, so as they're making the script, they pay attention to that."
Said Gobert: "It's usually a lot of fun in the script, so it's not you know it's not really some boring lines it's more a little fun and there are some interactions."
Gobert even got to relive one of his most viral moments for the commercial. The first ad that is being released is a nod to Gobert's famous cup swatting incident from last December. In the commercial, Gobert ends up leaving the scene in a very similar fashion.
"They added the little cup thing, I think people are gonna like that," Gobert said. "I thought it was a good idea. When you look back at the video, I think it's fun. It'll be good."
That December incident was a showcase of Gobert's fiery competitiveness. He was frustrated that he was being forced to the bench after two suspect foul calls and, well, he let it out on a cup. That same competitiveness is present while he's acting, too.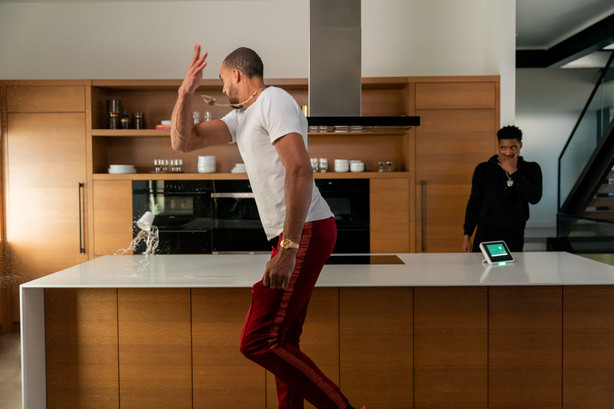 A smug smirk appeared on Gobert's face as Mitchell botched a line.
"It looks like you're not the only one," Mitchell began before pausing, "with defense."
Gobert leaned across the counter toward his teammate to remind him of a key word he missed.
"It's 'incredible defense,'" Gobert said cheekily.
These guys aren't professional actors by any means and that means shooting days can get long. Every angle needs plenty of takes as the players struggle with some lines and just bust up laughing during others.
"I was laughing when I said, 'I'm not mad,'" Gobert told Mitchell during a break.
"I kept having to turn away when you hit the cup," Mitchell responded.
They're not going to be winning an Emmy anytime soon, but they'll probably end up making more than just themselves laugh.
While the teammates riff off each other and make jokes, they also want to do a good job. Gobert said he often watches the playback of scenes to see how he can improve, determining better ways to say lines and react. With that type of dedication, it's not a surprise that he had no qualms claiming he was the best actor on the team.
"I think that's me, no question," Gobert said.
He might not get many arguments from Mitchell on that one, either. Mostly because Mitchell likes to avoid watching pretty much anything he's in. Show him some game film and he'll be focused and looking for every little thing to help him improve. But put some of his own acting clips in front of him and he's out.
"I try not to watch them because I don't like to hear myself talk. That's just how I am," Mitchell said. "I've seen it. I've seen the videos. But I try — even with any commercial (I'm in) — I try my hardest not to watch just because I hate hearing myself talk."
But plenty of Jazz fans will enjoy hearing it.
×
Photos