SALT LAKE CITY — On Wednesday, the Utah Jazz wrapped up their preseason schedule with what is currently an NBA-worst 111.4 defensive rating.
On Thursday, Jazz coach Quin Snyder was voted as the coach who runs the best defensive scheme by the league's general managers.
It may sound strange, but those two things are related.
Let's flashback to the spring of 2013: the Memphis Grizzlies had one of the most stout defenses in the NBA and rode that to contender status. Marc Gasol, who would go on to be the league's defensive player of the year, served as the backline for the Grizzlies, orchestrating the entire unit with mini-slides, subtle reaches into passing lanes, and dancing in and out of the paint to deter opponents from the rim.
That system led to Memphis being one of the top defenses in the NBA, year in and year out — and it was that system that Mike Conley mastered. Now, he's learning how to defend with a different type of defensive player of the year behind him.
"In my case, it's trying to break habits of 12 years of the same kind of system with the same big man," Conley said. "I've been so used to different schemes and stuff like that, that I've been the culprit a lot of times of not being in the right position and thinking about something that was two years ago or last year."
The Jazz newcomers need to break defensive habits — not bad habits, as Snyder says, just less-effective ones. There's a luxury playing with someone like Gobert, who can gobble up practically any shot near the rim and use his size and mobility to guard two players at once. It's a luxury, but it takes some getting used to.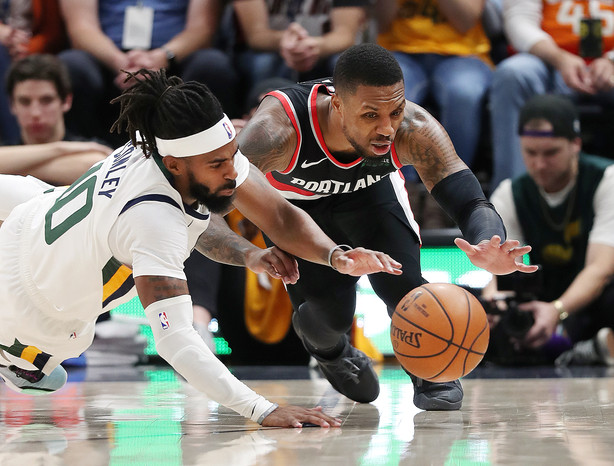 In the first half on Wednesday, Portland's C.J. McCollum quickly dribbled past Donovan Mitchell into the paint and Bojan Bogdanovic stepped in to help. It was natural, something the new Jazz forward has done for years. But it wasn't needed. Gobert rotated to the rim to stop McCollum, but no one was there to guard Bogdanovic's man as McCollum passed it out for an open corner 3-point shot.
"Having somebody like Rudy there is something you have to get used to," Jeff Green said. "There's no big quite like Rudy that can protect the rim like he can and cover space like he can with his wingspan and his height."
So it wasn't an uncommon sight during the Jazz's five-game preseason run for Gobert or Mitchell or Joe Ingles or any of the returning veterans to remind the newcomers that, "Hey, Rudy's got you."
"Anytime you want to improve something, change something, there has to really be a focus," Snyder said. "If it's a habit, there's a reason they call it a habit, right? Because it's unconscious and you do it. To change some of those habits does take time."
Practice helps, competition helps, games help; and it might be why Utah was better against Portland, even if the final stats don't show it.
Nearly half of the Blazers' shot attempts on Wednesday came from the midrange. That's where the Jazz's defense is designed to give up shots; the Blazers just made a lot of them (20 of 40). The Jazz ran into a hot-shooting team.
But after giving up 126 or more points in the four games against NBA teams, there are some questions to be asked.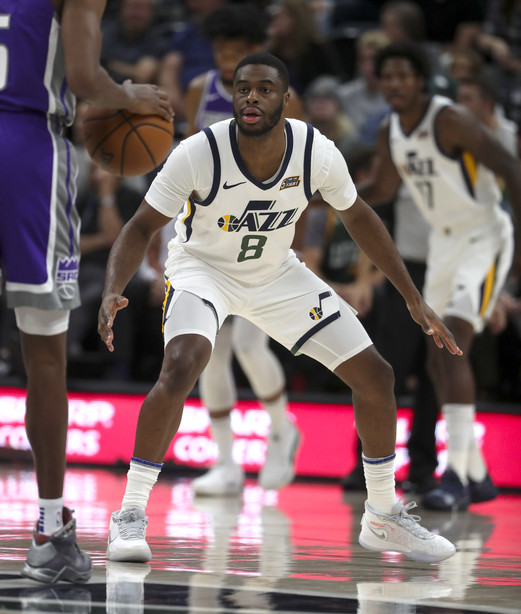 "I know our group cares," Snyder said. "I know what we're working on. It requires some patience, but it also requires high standards and accountability. And our guys don't have any problem with that; they embrace that."
Conley is a different defender than Ricky Rubio — that's not to say he's better or worse, he's just different. Bogdanovic is clearly not the same defender as Derrick Favors. The Jazz aren't as big or as long as they once were. Does that mean Snyder has to adjust the scheme to help his new player adapt? He's not above questioning that.
"The last thing I think I will do ... is let us not take responsibility for how we play — all of us — what we're teaching, how we're implementing, and how we're working on it," Snyder said. "And also, you can't be stubborn. If you've made some assumptions that you're finding maybe aren't playing out the way (you thought); that line, that balance, between do it better, do it harder, do it faster, and maybe there's a better way to do it."
It's also not a new thing for the Jazz to struggle early in the year. After playing 15 games last season, the Jazz had the 21st best defensive rating, per NBA.com — and that was with a team practically unchanged from the prior season. The Jazz would go on to finish second.
"I think tonight (Wednesday) that we had spurts that we played really good defensively," Conley said. "The more and more we see, the more we believe we can do. I think it's going to come."
×
Related Stories