This archived news story is available only for your personal, non-commercial use. Information in the story may be outdated or superseded by additional information. Reading or replaying the story in its archived form does not constitute a republication of the story.
SALT LAKE CITY — In the second quarter of Utah's preseason loss to the New Orleans Pelicans Friday, Utah's Jeff Green was called for a foul as he went up to block a driving layup attempt by Zion Williamson.
That call led to Utah Jazz history.
Green thought it was clean; so did his head coach. With a twirl of a finger, Jazz coach Quin Snyder initiated his first-ever coach's challenge.
After further review, Snyder was vindicated. The Jazz won the challenge, leading to a jump ball at center court and taking away two free-throw attempts from the Pelicans.
This season, each team will be allowed one challenge per game. Coaches will be able to challenge a foul at any point during a contest and an out-of-bounds or goaltending call outside of the last 2 minutes of regulation and overtime. Non-calls are not challengable.
"I'm going to help you guys with this analysis so you can criticize when I should have used it," Snyder cheekily said to a group of reporters before Utah's preseason game on Monday.
With just one available, coaches will have to be strategic in how and when they throw the metaphorical challenge flag (they'll really just be twirling a finger toward the referees).
Should they save it until the end in case of a game-altering foul call? Or use it early in the half so they don't burn a timeout (if neither team has taken a timeout prior to 6:59 of the first or third period, the first dead ball will lead to a charged home timeout)? Or only use it when points are involved?
There are still a lot of unknowns.
"Essentially, it's a bet," Snyder said. "It's a less than 50-50 bet. And so, when does it make sense to make that bet? There are so many factors that go into it that really are subjective and that are situational."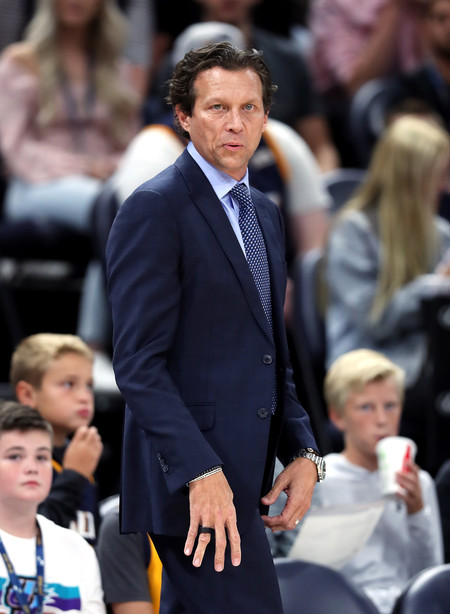 For example, Snyder said that reversing the foul on Green might be a situation where the Jazz could regularly use it. That challenge eliminated the chance for the Pelicans to score two points. That seemed like a good use of it. But then Snyder thought of a second-half foul call on Royce O'Neale that led to three free throws for the Pelicans — and well, that one might have been better.
"I didn't think Royce fouled Lonzo Ball on a 3-point shot, and that would have been a better opportunity to use it because it was three free throws. And then you could go to Zion's free-throw percentage and Lonzo's free-throw percentage and figure out, you know, potentially one of them misses, one of them makes," Snyder said.
Ball hit all three free throws; the Jazz lost by one. Sometimes it'll come down to guessing right.
Sacramento Kings coach Luke Walton was the first NBA coach to successfully win a challenge when he asked for a review of an out-of-bounds call during the third quarter of the Kings' game against the Indiana Pacers earlier in the preseason.
"I'm still getting used to if it's worth using unless it's toward the end of the game," said Walton who is now 1-1 on coach's challenges. "You lose timeouts either way. It's more something to get used to and try out in the preseason."
It's reasonable to want the challenge at the end of the game. Snyder spoke of a hypothetical situation when his team is called for a foul at the end of a game and he doesn't have the challenge to force a review.
"I think that as a coach, you don't want to be caught in a situation where you don't have an alternative. But at the same time, we don't know," Snyder said.
You can't predict the future. There might not be a better chance to use the challenge than in the very opening moments of a game. And points are points — if a challenge can take points away from an opponent (or give points to your team), does it matter if it comes at the beginning or the end?
So many questions. So few answers — at least not yet.
"There's going to be opportunities, in a very visible way, to analyze those situations," Snyder said. "We'll analyze the heck out of them, no question. And sometimes we're not going to have a right answer. You may hold it the whole game and not have a chance to use it at the end of the game."
The Jazz have already analyzed the heck out of it. Snyder praised the team's analytics coordinator Cory Jez for tracking down data to give the team a better feel of when and in what type of situations to use the challenge. And that data will only get better as the season goes on.
"There's a lot of things that play into it," Snyder said. "Do you prevent a guy from getting a third foul? How many times did Rudy (Gobert) foul out last year? One. Did he have any three-foul games in the first quarter? You know, those are all the things that Cory's helped us look into.
"Is it wise to challenge a block charge on a certain player? That could be his third foul, and does he foul out of the game? Do they take him out of the game? You're assuming that the other coach is going to put someone on the bench with three fouls. Maybe they don't. And so again, it'll be fun."
×
Related Stories