SALT LAKE CITY — In his 50 years of life, Kamal Bewar has never seen his people experience peace.
The one-time refugee, now president of the Kurdish Community of Utah, lost two brothers and a cousin in the war against terrorism, and has two other brothers still fighting.
"Iran kills us, Turks kill us, Arab kill us, Syria kills us. And throughout 100 plus years, we've always been persecuted and we've been, as we Kurds say, we are friendless. There's no friends, only mountains," Bewar said Saturday as members of Utah's Kurdish community and other supporters rallied against President Donald Trump's abrupt decision to pull U.S. troops out of northern Syria.
"But I don't want to believe that. I thought the United States actually was our main supporter."
Turkish forces launched a long-expected offensive against the Kurds on Wednesday. The attack included airstrikes and shelling that targeted Syrian Kurdish fighters who have played a key role in aiding the U.S.-led fight against the Islamic State militant group.
During Saturday's rally, about 75 people, including children, waved posters and the Kurdistan flag, which has a red, white and green stripe with a sun in the middle. Many of the signs called for protection for the Kurds in Syria.
Related:
"Our main goal is stop Turkish invasion. And United States should not abandon its allies, and it's immoral. And this is a strategic decision, wrong decision-making by this president that has a long strategic, bad implication internationally. What kind of message are we going to send to our allies?" Bewar asked.
He said the act is an abandonment of important allies, and that many children have been killed in the last few days in "random bombardment" during Turkey's attack.
Currently, between 70 and 80 Kurdish families call Utah their home, according to Bewar. But though they're far away from Syria, those at the rally in downtown Salt Lake City said they feel attacks against Kurds in Syria are attacks against them all.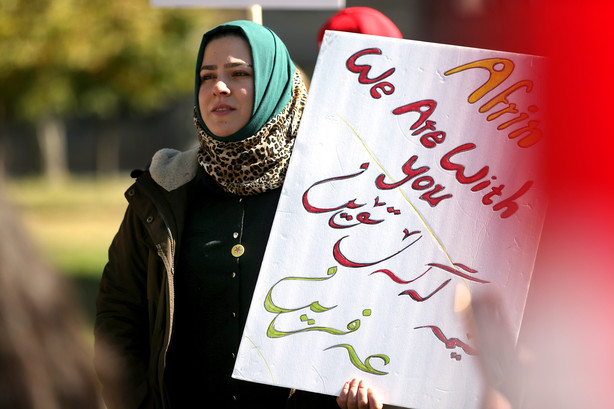 Liam Jaber, from Kurdistan of Iran, said "right now, the Turkish government is trying to kill our family in the north of Syria."
Though he doesn't have close friends or relatives there, Jaber said, "We're all a family. We have the same language, we are together."
Kurds mainly live between four countries, southeastern Turkey, northern Syria, northwestern Iran and northern Iraq. Bewar said the Kurdish people are just asking to be left alone to govern themselves, something they have not been able to achieve.
"I feel like all Kurdish, we are in the same boat. It doesn't matter. What Turkey's doing today, it's going to happen to Kurdistan of Iraq next day," Bewar said.
Sherkoh Abbas, from Syrian Kurdistan, said the issue is important because the Kurds have helped fight radical terrorists, and they are now "under assault."
"They want to live in their homeland for thousands of years. This is, we've been there for more than 4,000 years, and the Turks came in 700 years ago," Abbas said.
Pulling troops out of northern Syria represents Trump "selling morality" and abandoning America's friends, according to Abbas.
Ali Ibrahim said he hopes the president will take another look at what the Turkish government is doing to the Kurds.
"Because they're killing people right now," he said.
×
Photos
Related Stories