This archived news story is available only for your personal, non-commercial use. Information in the story may be outdated or superseded by additional information. Reading or replaying the story in its archived form does not constitute a republication of the story.
This story is sponsored by Robert J. DeBry—more than 200 years of combined experience practicing personal injury law.
Fall in Utah is an unforgettable experience. With colors changing, and crisp, cool air blowing through the canyons, it's a favorite time of year for many.
However, with fall comes an added degree of eeriness to those leaf-barren trees.
One often-overlooked characteristic of Utah is just how much spooky history is here. There are many locations statewide known for spotting and feeling presences from beyond the grave. Since Halloween is just around the corner, it might be best to know where Utah's most haunted places are should you want to pay a visit — or know where to avoid. Here are eight of Utah's most haunted places.
McCune Mansion, Salt Lake City
Located near Capitol Hill, the McCune mansion, in all its grandiose red sandstone construction, is impossible to miss. Seemingly towering over other nearby homes, railroad and business tycoon Alfred McCune wanted to make sure his power and success was on full display.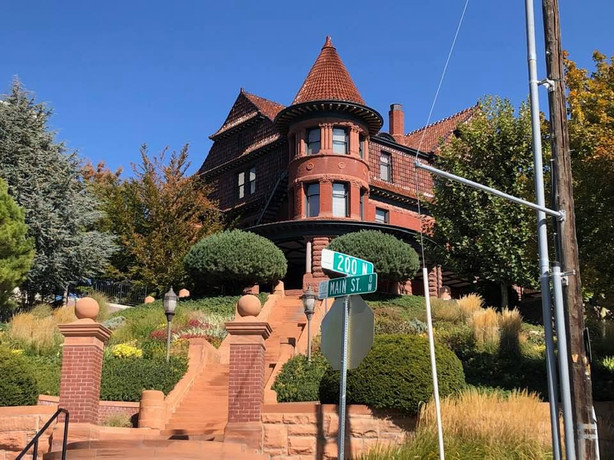 Since the McCunes moved from Utah in the 1920s, the mansion has changed ownership many times, including a stint as a school of music and a school of dance, notes Preservation Utah. However, it didn't take long after the McCune's move for hauntings to begin, although the identity of the apparitions remains a mystery.
As for the apparitions that live at the mansion, there's nothing to be afraid of. The Castle of Chaos says there are only two figures: a man in a black cape and a little girl. Visitors claim the girl dances to music at the many weddings that happen at the mansion.
Rock Canyon, Provo
Within one of Utah's most beautiful hiking trails is also a history steeped in creepy sights and sounds. Over the years many people have died in this canyon, and it seems a few have chosen to stick around.
According to BYU, many Ute Native Americans were killed during a battle in Rock Canyon. With a bloody history, it's no wonder many people report hearing screams and seeing eery beings in the canyon. Some people claim to hear phantom footsteps, beating drums and a woman crying loudly. Some see a man running down the mountainside.
Devereaux Mansion, Salt Lake City
Another beautiful, yet haunted mansion is the Devereaux Mansion, located off of 300 West and South Temple. William Stanes built the home back in 1857, but has since gone through renovations and updates. It is now a popular venue for weddings. Haunted Rooms claims that there are at least two well-known ghosts haunting the mansion.
The first is a little girl who seems playful — people who have seen her believe she was playing simple tricks on staff members and waving to guests.
The second is an older, more aggressive woman. People say her motive isn't to attack or harm visitors, but simply to protect herself and the home from those without good intentions.
Old Tooele Hospital (Asylum 49), Tooele
Perhaps one of the most haunted places in Utah, the old Tooele Hospital is famous in the paranormal hunting world for its high activity.
Today the asylum is a haunted attraction. Before that though, the Utah Ghost Organization's investigation reported shocking levels of paranormal activity, says Haunted Places To Go. Thousands of pieces of evidence, including photos and videos, were compiled showing shadows, apparitions, mists, orbs, and several other unidentified occurrences.
Moon Lake, Uinta Mountains
Moon Lake is a popular and peaceful site for hiking and family reunions. It's also one of the most haunted places in Utah.
Haunted Rooms says that it is not uncommon for campers to encounter a young girl, dripping wet, with almost blue skin looking for her family. Not realizing she is dead, these encounters with this young drowning victim leave campers with more melancholy rather than terror.
Rio Grande Depot, Salt Lake City
One of the most well-known ghost stories is that of the "Purple Lady." As the legend goes, a woman and her fiance were standing on the platform shortly after the depot's completion, waiting for a train. They got in an argument which resulted in her engagement ring being thrown onto the tracks. Inconsolable, the woman went down onto the tracks to retrieve the ring, only to get hit by the oncoming train.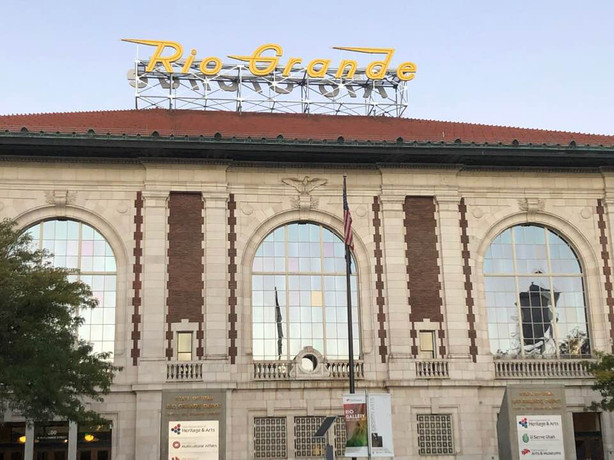 Employees at the Rio Grande have had hair-raising encounters with the apparition, claims a KSL article. Some people hear singing, crying or wailing coming from a women's restroom on an upper floor. Others say they've been locked out of the building late at night with no explanation.
Ben Lomond Hotel, Ogden
A lesser-known haunting locale, Ben Lomond Hotel, also has one of the best spooky stories. According to Haunted Rooms, a woman spent her honeymoon night in one of the rooms and drowned in the tub. Guests who've stayed there since say the water in the tub turns on by itself, and some even say they were pushed by an unseen hand.
Haunted Rooms says the son of the woman who died came to collect his mother's things and was so overwhelmed with grief he took his own life. Guests say they've heard someone (or something) talking in the room. Some say they've seen a ghost.
In addition to those events, Haunted Rooms claims that the elevators, despite passing routine inspection and testing, seem to have a mind of their own at night. People reported seeing them opening and closing erratically and moving to different floors with no apparent reason.
Mountain Meadows Massacre Site, near Enterprise
Of all the places in Utah that could be haunted, the Mountain Meadows Massacre site in Central is one of the most devastating. The location of horrific acts of violence against innocent people stands as a stark reminder of the black mark in Utah's history that this event was. According to the Smithsonian, early Latter-day Saint settlers attacked a group of people trekking across the country from Arkansas. Approximately 120 people died that day.
That being said, CBS News reports that it is not uncommon for visitors to hear the voices and cries from those beyond while at the memorial.
Whether you want to know the spots to avoid or you enjoy chasing thrills, these are a few of the most haunted places in Utah. Learn more about Utah's spine-tingling stories — read about these five weird Utah legends.
×