Estimated read time: 4-5 minutes
This archived news story is available only for your personal, non-commercial use. Information in the story may be outdated or superseded by additional information. Reading or replaying the story in its archived form does not constitute a republication of the story.
This story is sponsored by MountainStar Healthcare. Our hospitals and outpatient centers deliver high-quality, cost-effective patient care – when and where it's needed.
There's nothing like a runner's high — the feeling you get when your brain releases those happy endorphins after exercise. But before you lace up your shoes and hit shuffle on your running playlist, there are a few things you should know if you want to keep up the habit.
Running is one of the best exercises for getting in shape or losing weight, but it's also a sport where injuries are common. A study cited by American Family Physician found a one-year injury rate of 27% in novice runners, 32% in long-distance runners, and 52% in marathon runners (due to the higher number of training hours).
Whether you're a beginner or a seasoned professional, here are four mistakes you'll want to avoid if you plan on making running part of your regular routine.
Starting too much, too soon
Though it can be tempting to push yourself as hard as possible, patience is the key when you're getting back into running or just starting out. Even if you might have been able to run 4 miles every day in high school, that doesn't mean your body is ready to handle that level of intensity right away — especially if you haven't run in a while.
Dr. Traske Muir, an orthopaedic surgeon practicing at Peak Orthopaedic Clinic, says that one of the biggest mistakes runners make is trying to do too much, too soon.
"Most of the stress fractures I see are from people so enthusiastic about getting back into exercise that they overdo it," Muir says. "When you're starting out, you've got to give your body time to build tolerance. Start with low mileage and very few days a week."
Choosing poor footwear
One of the keys to a runner's success is the right gear, and fashion trends play a big role in the world of running. According to a study released by the Sport Journal, the type of fitness clothing you wear may affect your confidence level.
Perhaps this is why many runners look to the latest athletic trends for clothing and footwear to help them put their best foot forward — but it could be having adverse effects.
For example, the current trend toward lightweight running shoes may be popular, but Muir said it comes at the expense of stability.
"Lighter than air shoes don't provide protection from repetitive impact," he says.
When you're pounding the pavement, the last thing you want is for your feet to take a beating as well. For a shoe that will hold up to that kind of stress, Muir recommends something with a stiffer sole.
Not cross-training
Sure, running may be your preferred method of exercise, but if you expect to do it long term, you might want to consider branching out a little.
According to Muir, cross-training, or exercising different muscle groups through different sports, is one of the best things you can do for your feet and ankles. When you train your body to move in other ways than the repetitive motions in running, you'll be less likely to roll an ankle on uneven surfaces.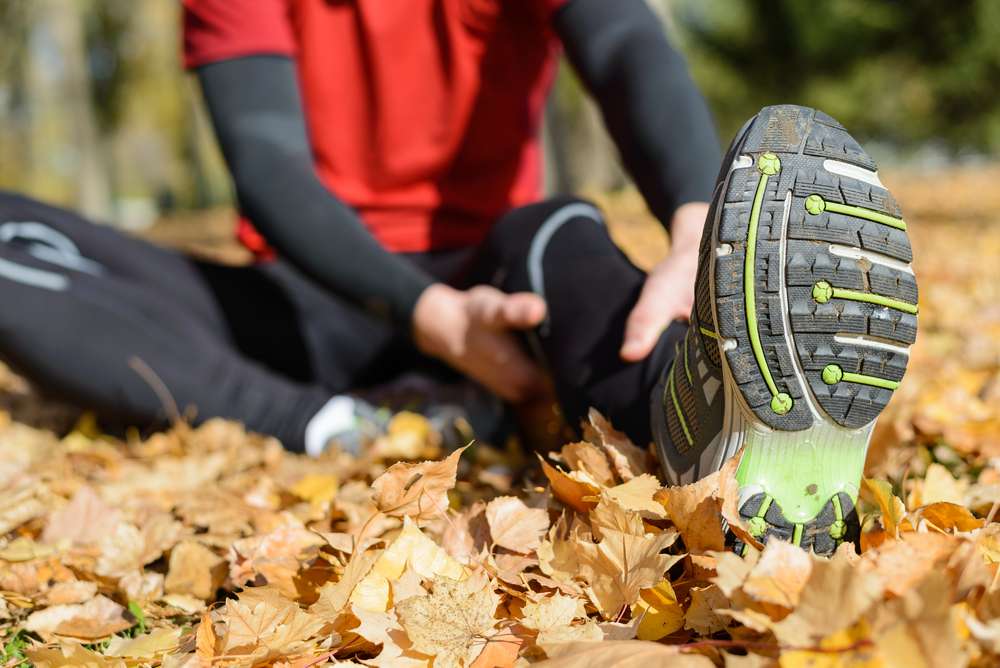 Not stretching properly
Some of the most common running injuries — such as stress fractures, plantar fasciitis and Achilles tendinitis — happen because of poor stretching techniques. You might think you're stretching correctly, but you could be wrong.
"The Achilles is a tricky thing to stretch because it's made up of two different muscles," says Muir. "If you're not stretching properly, you think you're stretching the whole Achilles, but you're only stretching half."
Healthline offers a list of stretching suggestions, but your doctor or an orthopaedic specialist can offer the best advice to help you avoid further harm if you're concerned about an injury.
Who to call if you have a foot or ankle injury
Of course, even if you take every precaution, injuries still happen. Your primary care doctor is well equipped to handle most minor aches and sprains, but there are times when you'll want to consider seeing an orthopaedic foot and ankle specialist.
"Anything that lasts more than two to three weeks after rest may be a sign of something more structural that may need to be seen by a specialist," Muir said.
When an injury has got you down, you need a doctor who can help you get back on your feet as soon as possible. MountainStar Healthcare delivers high-quality, cost-effective patient care when you need it most. Make an appointment with one of the orthopaedic physicians at PeakOrthoClinic.com for a specialized consult and treatment plan.
×