Estimated read time: 4-5 minutes
This archived news story is available only for your personal, non-commercial use. Information in the story may be outdated or superseded by additional information. Reading or replaying the story in its archived form does not constitute a republication of the story.
In today's fast-paced consumer world, the latest fads are rarely here to stay, but they leave an indelible impression long after the frenzy has passed. Americans spend more than $400 billion every year on home remodeling, according to a Harvard study. With so many people investing in their homes, both personal and rental properties, it's no wonder trends come and go.
When it comes to floor design, the 20th century had its share of the fanciful, the frivolous and the fashionable. No matter how hot they were in the day, these five flooring trends should stay in the past.
Linoleum
While an atypical household design element today, linoleum flooring offered a cushioned, low-maintenance, durable flooring option. It came in a parade of colors and patterns — even mosaics, tiles, marbles and carpet patterns, the Hagley Museum and Library notes.
Linoleum was a popular choice of 20th-century kitchens, bathrooms and rec rooms. Fabricated from solidified linseed oil, flax, cork, wood flour and pigments, it was all the rage between the 1920s and 1950s but lost its zeal in the1960s when vinyl entered the scene, says the Deseret News.
Critics agree that despite its past notoriety, you won't see designers of today doing much with this once popular flooring. Editors at Elle Decor say the linoleum flooring of yesteryear is "unnacceptable," and they suggest upgrading to something a bit more practical, like wood or tile. It would appear as if the trends agree.
Terrazzo
Terrazzo, inspired by Venetian design, captured the mosaic look of marble at a more affordable price. For decades, its speckled appearance spiced up American homes with its recognizable style and eye-catching chromatic patterns.
Made from concrete (or epoxy resin) and then speckled with various sizes of marble, quartz, granite, and glass, the marked look of terrazzo could be made into any color and pattern imaginable, Apartment Therapy says.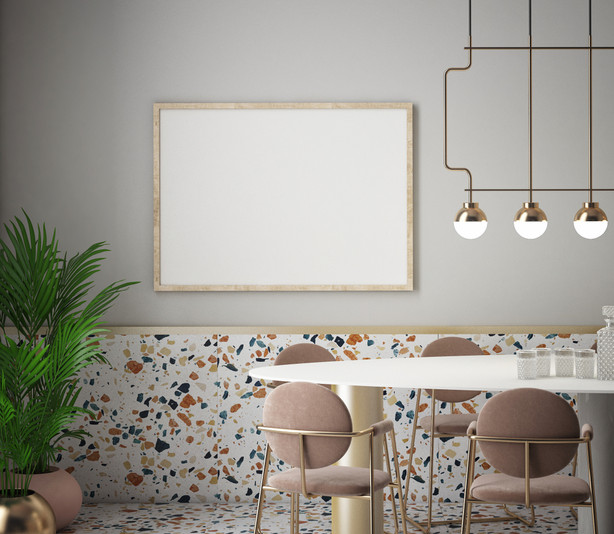 Terrazzo was most commonly used for commercial and institutional spaces. However, its popularity faded in the 1980s as carpeting, hardwoods, and tiles began to offer homeowners more options.
"If you don't want your home to take on the aesthetic of an office building, stay away from terrazzo. It was a popular design choice in the U.S. between 1930 and 1970," editors at Elle Decor say.
Carpeted bathrooms — and toilet seats
It is hard to understand how carpeted bathrooms (and carpeted toilet seats) were ever in vogue, but for a time they were the hallmark of a luxurious home.
While no one can argue that carpet feels soft underfoot, the Centers for Disease Control and Development advises against its use in the bathroom.
They warn that carpet absorbs moisture and its by-products during showers and bathing. This extra water creates a breeding ground for toxic mildew and mold. Some types of mold that thrive in carpeting can trigger illness and allergies in sensitive groups.
Faux-tile patterned flooring
Mid-twentieth-century design was all about flooring that was easy to manufacture, easy to maintain, and stayed fresh after years of wear. The 1970s had design architects experimenting with a combination of linoleum made with vinyl, or faux-tile patterned flooring.
Promoted in the no-wax flooring department, faux tile patterns prevailed in bright green, shades of blue and warm earth tones, a popular memorabilia site notes.
Shag carpet
The 1970s was a trendsetting decade that saw the entry of one of the most popular design features of the time — shag carpet. Think about your grandmother's basement or the Brady Bunch home. The forest green and burnt orange rug made any room pop, although, maybe not in the best way.
Not to mention shag carpeting is hard to clean. Its high pile can make vacuuming a little tricky since the long strands of carpet can easily become stuck in a vacuum brush. While shag carpeting itself is still a trend of the past, Vogue says shag rugs are back in style, though not quite as intense as previous decades.
Whether you are a trendsetter or a trend follower, new flooring will bring your home new life. Giant Carpet One carries the finest hardwood, laminate, tile, vinyl, area rugs, stone, granite, marble, VCT, sports flooring, and rubber base flooring to cover all your home design needs. Stop by a location closest to you for all of your home update options.
×