SALT LAKE CITY — As Larry H. Miller CEO Steve Starks began the search for a new Utah Jazz president, he canvassed the NBA to get some thoughts about choosing his successor.
The league looked at the Jazz and saw their rise to contender status. They saw how Starks had just led projects to renovate both their arena and their training facility. They saw the 74-game sellout streak and how the team had just sold out its home games for an entire season. And they came back with this recommendation: Keep the hire in-house.
Starks did just that. On Friday, he promoted Jim Olson from president of Vivint Smart Home Arena to president of the Utah Jazz and Larry H. Miller Sports and Entertainment (LHMSE).
"We are really proud of him, proud of our culture and the group that we have," Starks said to a group of reporters on Friday. "Proud to be able to promote from within. And we have people that understand the values, the things that make this organization successful, and Jim embodies all of those values."
Olson knows the position he is in — and who he is replacing. Starks oversaw major changes to both the Jazz's arena and practice facility and ran the Jazz in such a way that he is now running the entire company. That's not the easiest man to replace.
"I think about the point guard that had to replace John Stockton," Olson said. "You didn't want to be that guy — you wanted to be the guy that replaced the guy that replaced John Stockton."
But he is hoping he is up for the challenge.
"I think we can all capitalize on pressure to turn it into good," Olson said. "So, yeah, I'll feel the pressure every morning, every night, every day. But knowing the team that we have in place, gives me all the confidence in the world that will get it done."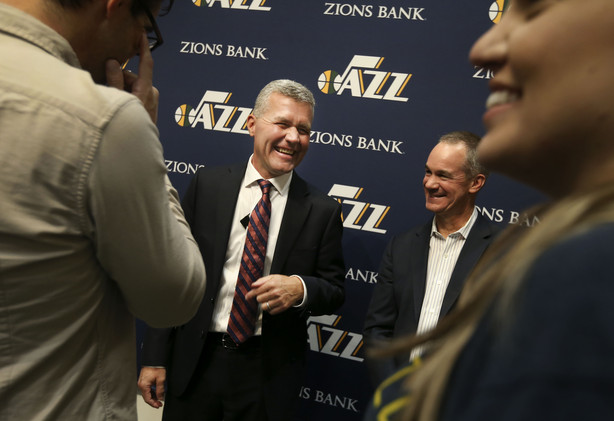 Friday was significant for Olson for another reason. It marked his 25th anniversary working at the Larry H. Miller Group. Back in 1994, he started in a small basement room selling tickets. It wasn't just a throwaway job; he thought of it as a way to get into the industry.
He had wanted to work in sports since his teenage days when his uncle, who was the University of Utah ticket manager, had him run tickets for Utah football and basketball games.
"Hanging out in the ticket office as a 14-year-old, I thought that was a pretty cool thing," Olson said. "And so my goal was absolutely to work in sports."
You could say he's accomplished that goal.
In 2003, he became the vice president of ticket sales. In 2006, he was promoted to senior vice president of sales and marketing. In 2013, he was named chief operating officer of LHMSE. And now, he's running the Jazz.
"To think all these years, they haven't gotten rid of me yet," Olson said. "It's been a lot of fun."
So how will he differ from his predecessor?
"I've been very fortunate within this organization to have great mentors, and Steve is one of them," Olson said. "And so I will absolutely follow many of the great things that he established within our organization. At the same time, I have a little bit of a different personality. And hopefully, if it's right, it might find its way in a few of the nooks and crannies of this place, but maybe not too much. We'll see."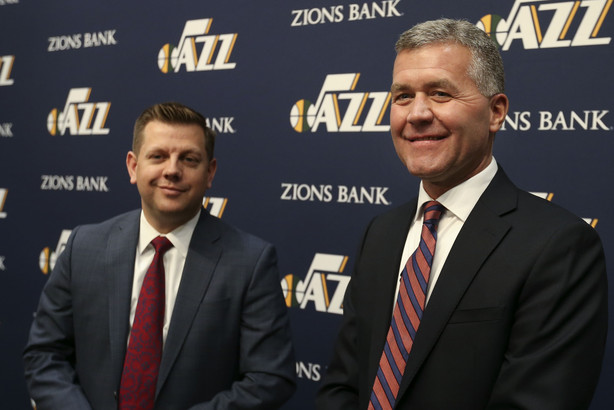 Olson said that he wants to focus heavily on fan experience. He was a key figure in the arena's most recent renovation and he wants to keep with the promise of providing a world-class environment for Jazz fans. And he also wants to find ways to keep moving forward.
"We love living in this digital age," Olson said. "As we continue to look for ways to innovate, technology is a great tool and we're going to continue to embrace that and look for ways that (help with the fan experience)."
Olson also touched on the upcoming television contract that the Jazz will have to soon negotiate. The Jazz's current deal with AT&T Sportsnet runs through 2021 and has been scrutinized for its lack of streaming options for fans. Olson said that it's going to be an "important part of what we do."
"There'll be some new elements to it and I look forward to seeing how that shakes out in a couple of years," he said.
Starks said it was good timing to get the role filled before the season started, in order to avoid potential distractions. But more importantly, Starks said, was choosing the right person. With Olson, he believes the Jazz have found that.
"We value continuity and somebody that understood that and could just keep that going and take us to new heights," Starks said. "And Jim has the ability to do all of that."
The height that Olson hopes to reach?
"With Steve's direction and Dennis Lindsey and Justin Zanik, Quin Snyder, Steve, they've put the team together," Olson said. "Our goal is to win an NBA championship."
×
Photos
Related Stories