SALT LAKE CITY — Mike Conley Jr. moves in a controlled way. He's calm, he prods, he's not in any hurry to get anywhere — and Donovan Mitchell can't help but make fun of him for it.
"When you're down South, everything moves slower," Mitchell said, referring to Conley's 12 years in Memphis. "I'm from New York where everything's quicker."
Mitchell, though, knows he needs to apply some good old southern living to his game in order to take the next step.
As dynamic and wowing as Mitchell has been over his first two seasons in the NBA, there have been the less-awesome moments, too. The times when he flew into the paint without a true plan; times when he picked up his dribble too early leading to contested, off-balance midrange floaters; times when he got caught trying to do a little too much.
Mitchell will be the first one to admit that. And for him to make the leap and be considered among the games' elite, he knows he needs to become more efficient.
"I think it's just decision-making as a whole," Mitchell said. "Obviously, shot-making is a huge part of it, but not turning the ball over goes into that, slowing down goes into that — just being patient. I think that's one of the biggest things that I've really started to focus on, as far as just being able to just get into the paint and take my time, find Rudy (Gobert), find Bojan (Bogdanovic), find Royce (O'Neale), Mike, Joe (Ingles) and being able to slow myself down."
The Jazz have built a team to help him do just that. Executive Vice President Dennis Lindsey and general manager Justin Zanik saw how Mitchell was bottled up during last season's playoffs — sometimes driving through two, three, even four defenders as he tried to make his way to the rim. With the Jazz suffering a massive shooting slump, the Houston Rockets collapsed onto the young guard and forced him to take tough shot after tough shot. The result was Mitchell struggling from the field and the Jazz bowing out early.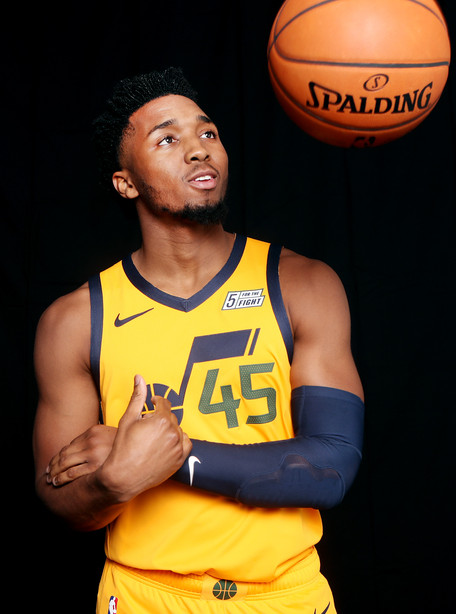 "It was fairly unanimous that what we needed to do as far as adding some skill, in particular, some spacing," Lindsey said.
The Jazz retooled, bringing in Bogdanovic and Conley to open the floor up with the hope that by surrounding Mitchell and Rudy Gobert with more shooting and more playmaking, the team can take full advantage of their skillsets.
Now, it's up to them.
"It's on me to be the guy that I've been defensively," Gobert said. "Offensively, to be the guy that I've been and keep showing that I'm getting better every year. For Donovan, I think it's on him to keep growing and keep making plays for himself and for all of us. If we do that and share the ball and play as a team and defend with the mindset that we know that every possession matters, I think we are going to be hard to beat."
Mitchell, to his credit, isn't just assuming the new additions will solve the problems that plagued him and the Jazz in the playoffs on the offensive end. He's too critical of himself for that. He's not going to blame his teammates (either current or former) for coming up short.
Sure, the floor should be better spaced this season, but if Mitchell can't find the shooters in the corner or find Gobert on lobs or take advantage of the extra room to work by getting more efficient shots, does it even matter?
"Not even the floor change, just me slowing down, I think that's the biggest thing," Mitchell said when asked about him finding Gobert more for alley-oops this season. "It's not that I didn't want to, I was going so fast that I just was not seeing it. Now I am opening my game up, slowing down, being able to see it, making the right play. That's what I mean by being more efficient."
His new teammates will make it easier for him to slow down and make better reads. Opponents can't just leave Bogdanovic or Conley alone in the corner, and they'll have to account for Gobert's rim-rolling ability. There will be plenty of times that they'll be forced to make tough decisions.
At least, as long as he makes the right ones.
So Mitchell might joke with Conley about his slow-paced ways, but he's really studying his style. Mitchell's looking at how Conley uses angles, how he sees the floor, how he finds the best shots for himself and for others.
"Here's a guy who goes at his own pace," Mitchell said. "It's one of the things I'm really starting to learn — just figuring out how to slow down a little bit, take my time. It's not really always about getting in there and, you know, scoring. He's great at finding guys who are open."
×
Related Stories