SANDY — The celebrations started long before kickoff, a culmination of cheers and applause and chants of "Nick Ri-MAHN-Do!" in the great goalkeeper in Major League Soccer history's final regular-season home match of his two-decade career.
The "Believe" anthem that normally accompanies the start of every match at Rio Tinto Stadium held each note a little longer, sang each chord a little stronger, belted each phrase a little louder.
Maybe for that reason, the announced crowd of 18,117 fans in attendance Sunday evening didn't even have a chance to sit down — before they were standing and celebrating, singing and clapping, once again.
Corey Baird scored just 35 seconds into the match, and Jefferson Savarino added a second-half match-winner as Real Salt Lake clinched a berth in the 2019 MLS Cup playoffs with a 2-1 win over the Houston Dynamo in the final regular-season home game of the legendary MLS goalkeeper.
"I don't think anyone is expecting to score that early," said Baird, whose goal was the second-fastest scored in RSL history and the fastest scored at Rio Tinto Stadium, the team's home since 2008. "But I think it's good to start on the strong foot, and we were looking to put some pressure on them. We forced a turnover in the midfield, and when you win the ball there, there's a lot of space to just count on your team."
Tomas Martinez scored for Houston (11-18-4, 37 points), which had already been eliminated from playoff contention long before Sunday's first kick.
Houston outshot Real Salt Lake 6-1 in the first half, dominating all but one minute before the break. But RSL (15-13-5, 50 points) regrouped at halftime, and Savarino struck inside the far post with a 75th-minute laser beam to put the hosts back in front.
Four days after an emotional home loss to the LA Galaxy, and a week removed from grinding out a road point at New England, RSL looked exhausted in the first half but rebounded to finish off the win.
"Great start, but I didn't celebrate at all," RSL interim head coach Freddy Juarez said of Baird's first-minute goal. "Usually you get that first goal and it's so early that you wonder how the team is going to respond.
"We were a little disappointed with the first half. It was lethargic. We weren't managing who needed to step where; that was the biggest key that we talked about prior to the game, and we didn't handle it well."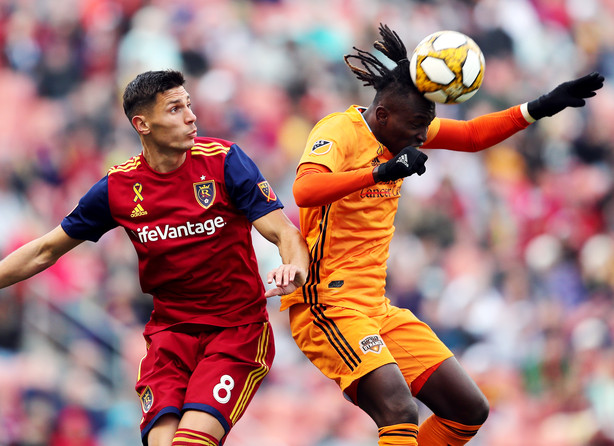 But RSL persevered, made a few halftime adjustments, and Rimando finished with three saves for Real Salt Lake, playing in front of what may be his final game at Rio Tinto Stadium. It was all enough for the club to hang against the Dynamo — and set off a celebratory party of pizza, wings and beer in the postgame locker room.
Except Rimando didn't partake of it. He was too busy cajoling with friends and family, entertaining a few last-minute media requests, and just simply enjoying what may be the final game of his 20-year career in front of the home crowd.
The goal, the fans, the near-capacity crowd, the family and friends that flew into Salt Lake International to be there with him: all brought different emotions in the MLS legend's evening.
But the greatest feeling for Rimando was at the end of the match, when his children Benny and Jett ran onto the field to celebrate another victory, another three points — and a postseason assured.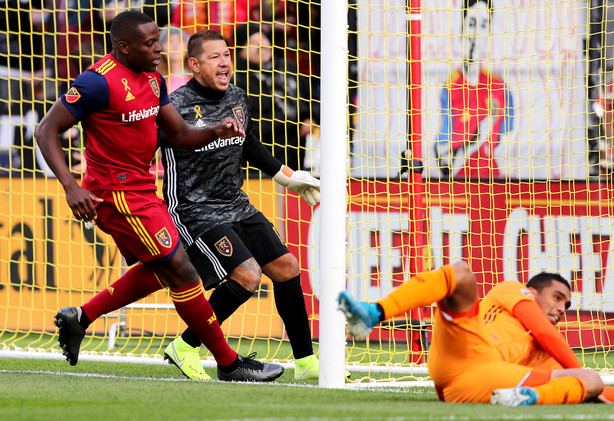 "Obviously the goal, Corey coming on, scoring right away for us, giving us momentum," Rimando tried to recount the feelings during the game. "But when that last whistle blew (was the best), for sure. Three points in the bag, and I'm looking forward to Vancouver."
Guaranteed at least the No. 5 seed in the Western Conference playoffs, RSL will play at division-worst Vancouver next Sunday, Oct. 6, in the final game of the regular season. A win could push RSL into the top-four in the West, giving them at least one home playoff game.
No matter what happens, though, Salt Lake is in the playoffs. And 10 years after capturing lightning in a bottle to claim the club's only MLS Cup title, the playoff bid is enough to fan a spark of belief in the locker room.
"Every team's goal is Supporters' Shield or MLS Cup. But to do that, you have to get into the playoffs," Baird said. "It's the smaller goals that get you to those bigger achievements; we've now hit this one, and it's on to the next."
Kickoff next Sunday is scheduled for 2 p.m. MDT on KMYU and streamed on KSL.com.
×
Photos
Related Stories