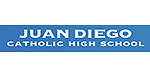 This story is sponsored by Juan Diego Catholic High School.
For the first time since 1997, a Utah school last week received the National Blue Ribbon Award from U.S. Secretary of Education, Betsy DeVos.
Juan Diego Catholic High School earned the award for outstanding test scores, curriculum, instructional methods, professional development, school leadership, and family and community involvement.
The award places Juan Diego among the top 15% of high schools in the country. This honor is the first for a Utah high school since 1997 when Judge Memorial Catholic High School received the award.
Although it might not be the closest school to your house or even a school that aligns with your faith, Juan Diego Catholic High School is one of the best institutions for teens in Utah and the nation.
Here are six reasons why Juan Diego Catholic School's private school education prepares students for success in the future.
Award-winning education
Because of Juan Diego Catholic School's high standards for their programs, they have been honored with many prestigious awards. In addition to the National Blue Ribbon Award, for the past two years, Juan Diego received the Utah Best of State recognition for private school education.
The National Blue Ribbon Award honors the very few schools that have demonstrated what it means to be an "exemplary high performing" school. The award affirms the hard work of educators, families, and communities in creating safe and welcoming schools where students master challenging and engaging content.
"Receiving this award is a testament to the hard work and dedication of our staff and students and the commitment of parents and the community to the education of our children," said Dr. Galey Colosimo, principal of Juan Diego Catholic High School. "Any recognition like this is a community effort and demonstrates the values we place on having our students be successful beyond the classroom."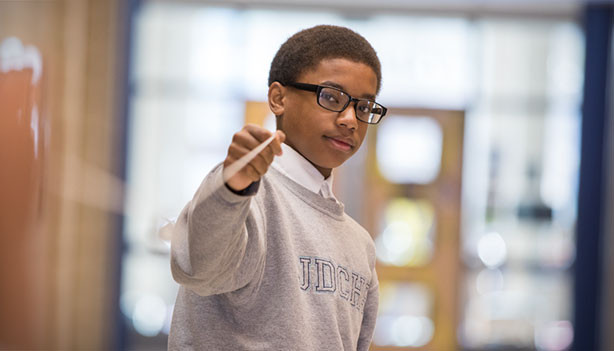 High moral values
Getting good grades is important, but growing into a competent, well-rounded adult is critical for children's success in life. One of the main focuses at Juan Diego is a well-rounded education. Academic subjects are emphasized and taken seriously, but the educators also understand that arts, ethics, morals, and faith are vital in preparing students to grow into adulthood.
Higher test scores
Due to the rigorous academic environment, Juan Diego students excel in the classroom. On average, their students earn four or more points higher on the ACT over their Utah and national peers, with an average ACT score of 28.
Students that attend Juan Diego have excellent chances of getting into a quality college or university. Their Academy Program prepares students for a higher education in science, fine arts, liberal arts, and humanities through AP courses and capstones.
Additionally, Juan Diego embraces a culture of reading. Every day, students meet in the auditorium and read anything they'd like for 40 minutes. It pays off, too. More than 97% of Juan Diego's students are admitted and enroll in public and private colleges across the nation, annually earning scholarships worth more than $15 million.
Focus on charitable giving and good works
While education is highly important, Juan Diego students also learn there's more to life than formal education. With a motto of spiritus donorum, meaning "the spirit of giving," students learn to embody this ideal through the service-centered culture and the service requirements each year. Seniors volunteer more than 40 hours to non-profit organizations throughout the Wasatch Front.
Real-world learning opportunities
Juan Diego boasts a high population of students from multicultural backgrounds and many international students who provide unique viewpoints and experiences that help the student community as a whole expand their worldview.
Additionally, Juan Diego has multiple computer labs, sports facilities, well-stocked libraries, and a full TV production studio to give students the tools they need to succeed.
Since learning about the real world is done best by engaging in the surrounding community, off-campus learning activities happen frequently for Juan Diego students. Class retreats and field trips are a regular part of the education experience at Juan Diego, something public school students might not get the opportunity to experience.
Unity through diversity
Founded in 1999, the private Juan Diego Catholic Schools are affiliated with the Catholic Diocese of Salt Lake City. While many of its students are Catholic, a majority represent faiths outside of the Catholic tradition. One of the institution's philosophies is to provide top-notch education to families of all races, religions, and financial backgrounds, preparing them academically, spiritually, and emotionally.
With Juan Diego's focus on well-rounded, award-winning education, and backed by an abundance of resources and well-qualified staff, there is no better Utah education for a student looking to be prepared for success in the real world.
See what Juan Diego Catholic Schools have to offer at an open house event on Oct. 22 from 6-8 p.m. Learn more about the schools, take a tour of the campus, and see for yourself why Juan Diego Catholic Schools can make all the difference in your student's academic and personal success.
×