SALT LAKE CITY — Like many Utah Jazz fans, Dennis Lindsey watched the FIBA World Cup with bated breath.
Yes, the Utah Jazz executive vice president of basketball operations enjoyed watching Donovan Mitchell, Rudy Gobert, and Joe Ingles play the tournament. He was even thrilled for them.
It was Mitchell's first international team experience; Gobert has a strong loyalty to his country and team; Ingles has played with this group of Boomers for years. It was important to them to play, but that didn't mean there weren't inherent risks involved.
"You kind of hold your breath," Lindsey told KSL.com.
The Jazz can now exhale. Gobert, Ingles and Mitchell all left China healthy. There were a few bumps and bruises (FIBA basketball is notoriously more physical than NBA play), but they are all set to begin training camp with the team next week.
So with no catastrophic injuries, the World Cup was a positive for the Jazz.
"You don't win championships with your preparation in Septemeber, but you can lose seasons," Lindsey said.
He was referring to the Jazz's own optional team activities (OTAs), but the World Cup has served that purpose well, too.
High-level basketball? Elimination games? High-intensity situations? That's not a bad way to prepare for a season — especially one that comes with such high expectations.
"They wouldn't have got that in open gym," Lindsey said.
There was plenty to like about the experience they got in China — like how Mitchell was named team captain and learned how to play alongside another scoring guard in Kemba Walker. Mitchell averaged 13.1 points while shooting 46% from the field and 40% from the 3-point line. But what stood out to Lindsey was Mitchell's playmaking ability.
In the United States' eight games in China, Mitchell had a team-high 40 assists with just eight turnovers. That's a 5.0 assist/turnover margin — a number that was best in the World Cup among players with 30 or more assists.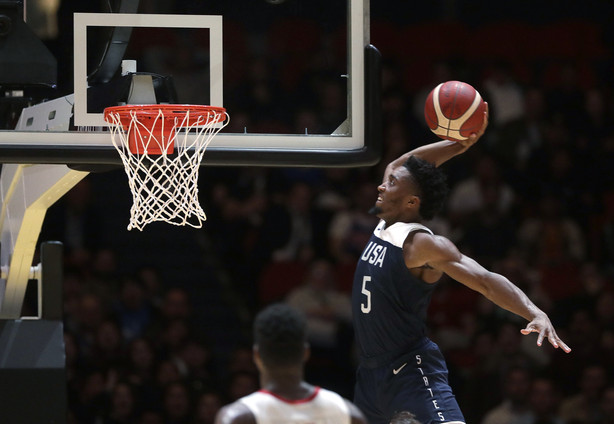 Then there was Gobert — who Lindsey said probably had the most similar role with his national team to what he has with the Jazz — and his 21-point, 16-rebound performance in France's historic win over the USA.
Lindsey was impressed with how Gobert was able to adjust to not having as much space to roll to the rim by making the correct pass out. Those types of plays led to six assists in France's game against Australia.
And Ingles was, well, Ingles.
"Joe is a playmaker that can shoot and is handy on defense," Lindsey said.
That about sums up Ingles' World Cup performance as he helped the Boomers to a third-place finish by doing a little bit of everything.
Over the last two weeks, the Jazz practice facility has been alive again. Players like Mike Conley, Dante Exum, Bojan Bogdanovic, Royce O'Neale, Ed Davis, Jeff Green and plenty others have spent time in Salt Lake for OTAs.
In exit interviews at the conclusion of each season, Jazz officials ask each player what the organization can do to be better. It's an all-encompassing question, and they have taken the answers seriously. They want to create an environment where players want to train, want to eat, want to recover, want to be at.
That's why the practice facility was renovated a couple of years ago and why the Jazz have brought in renowned chef Anthony Zamora, who the players rave about.
So, it might not be a surprise that Lindsey has been very pleased with the attendance during OTAs.
The sessions have given the Jazz coaches an early glimpse of how to best work with some of the new players. They have given a team with a lot of new parts — Conley, Bogdanovic, Davis, Green, to name a few — a chance to build some chemistry early. And it's given the younger players a chance to see how veterans do things.
Ingles, Mitchell and Gobert, not surprisingly, have not participated, and the Jazz will monitor their rest needs as training camp begins. That comes by testing, but —maybe more importantly — by polling the players to see how they are feeling.
"It's been proven that players know their own bodies pretty well," Lindsey said.
While the Jazz have had Ingles and Gobert return to camp following international duty before, it will be a learning curve with Mitchell. But it's not expected to be a steep one.
The Jazz might not have won the title this September, but they certainly didn't lose it, either.
×