Estimated read time: 4-5 minutes
This archived news story is available only for your personal, non-commercial use. Information in the story may be outdated or superseded by additional information. Reading or replaying the story in its archived form does not constitute a republication of the story.
Spilled wine, juice and food are just a fraction of the most stubborn stains to remove from carpet — if you can remove them at all. But accidents happen to even the most careful of people. Everyone has flaws in their home, but some people know the secrets to hide them.
Whether it's a tear, stain or scratch, there are different ways to naturally hide them until you can fix or replace your flooring.
Here are five tips to forget you ever had a flaw on your floor in the first place.
Try a topical treatment
Not all flooring types respond well to stain remover, especially if the stain is old. While a professional carpet cleaner can help remove stains — even the toughest ones — not everyone wants to pay for or accommodate heavy cleaning like that. There are topical solutions you can get online or at your local superstore that can help get different kinds of stains out.
With nearly 900 ratings, this instant stain remover on Amazon is a crowd favorite. For those with pets, Amazon shoppers recommend this Rocco & Roxie stain remover. If you have a carpet cleaner — any kind — there are different solutions you can add to the cleaner to help lift old and stubborn stains.
Repair scratched hard floors
As for wood and other materials that show scratches, the type of repair required depends on the type and finish of the floor. House Logic says small scratches can be repaired or concealed with a blending pencil or another similar tool, such as a crayon or Sharpie pen.
Unfortunately, larger imperfections may require a more involved approach. While there are many DIY solutions online, it's best to consult a professional so you don't do further damage to your flooring.
Design and disguise
Use furniture and design to your advantage. Well-placed end tables, rugs, chairs and couches are a great way to cover up a stubborn stain, rip, tear, or scratch. If you choose to get a rug, choose one that fits the space, décor, and style of the room.
It's important to remember that mixing and matching patterns is optimal, but you should follow certain guidelines. The Spruce recommends a plain rug for patterned carpeting/flooring and a patterned rug for solid flooring.
It should be noted that if the flaw is in a place that would look odd covered by a rug or piece of furniture, do your best to draw the eye away from the flaw altogether.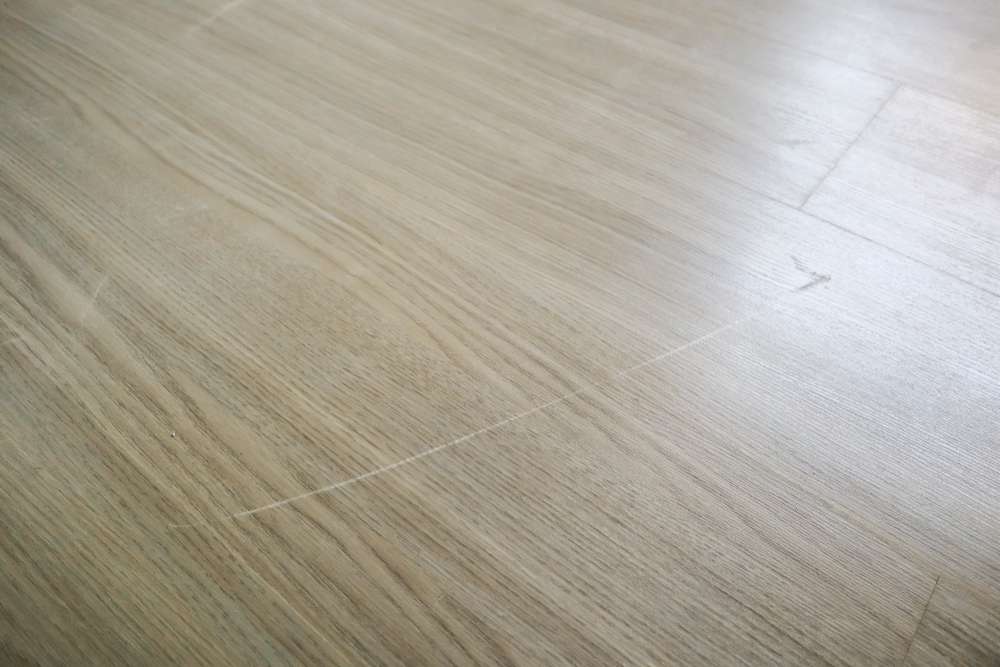 Distract from the flaw
The best way to distract from a flaw in flooring is to draw the eye away from it — upward. Apartment Therapy recommends a few different alterations, suitable for any room, that will bring attention anywhere but the floor.
Some people will wallpaper or paint the ceiling to literally have your attention go to the top of the room — instead of the floor with the flaw. Others will hang art and decor high and low on the walls to bring attention to the pieces, instead of a row of monotonous images at eye-level. The most important thing is to elevate your design creativity.
Try adding a temporary fix
If you're either renting or not in the position to replace or permanently fix your damaged flooring, there are temporary fixes. Experts at Domino suggests using peel and stick tiles for an affordable solution. Along those same lines, carpet tiles are an excellent solution to cover up any flooring options. You can even cover the whole floor with carpet tiles to update the look of a room.
When hiding isn't an option
Unless you have a newly constructed home, it's common to have flaws in your home and flooring. While some fixes can hide the problem, there are times when the problem is too big or the damage is too significant to cover up or repair. If it's time for new carpet, laminate, hardwood or more, take a look at the wide variety of flooring options at Giant Carpet One and start planning your updated, flawless home.
×