Estimated read time: 4-5 minutes
This archived news story is available only for your personal, non-commercial use. Information in the story may be outdated or superseded by additional information. Reading or replaying the story in its archived form does not constitute a republication of the story.
SALT LAKE CITY — Team USA limped to a surprising finish in the FIBA Basketball World Cup Saturday. The United States beat Poland to secure a seventh-place finish in the world competition.
Despite its superstars skipping the competition to rest, Team USA rolled out the more talented roster each time they stepped on the floor, even if they lacked experience relative to the more mature national teams they competed against.
Utah Star star Donovan Mitchell had the breakout performance many had hoped for with Team USA, and it should pay dividends for the Jazz.
Mitchell became the de facto go-to scorer for Team USA as the competition progressed. His true breakout performance came against fellow Jazz teammate Rudy Gobert's French team in Team USA's quarterfinal loss. Mitchell finished the game with 29 points, despite being largely frozen out of the team's offense by a cold-shooting Kemba Walker late in the game.
Of the team's eight performances at the World Cup, Mitchell was the leading scorer in three games, including two of the final three outings.
Overall, Mitchell finished as Team USA's second-leading scorer with an average of 13.1 points per game, which only trailed Walker's 14.4 points per contest. Likewise, Mitchell was the team's second-leading assist leader; again, behind Walker's 5.4 assists per game.
Mitchell's assist numbers were impressive, as he was often asked to assume the role as the lead ball-handler — a change from his role with the Jazz as a shooting guard. That versatility will bode well for him both internationally and with the Jazz, who don't appear to enter the season with a proven backup point guard.
Related
Perhaps most impressive for the Jazz was Mitchell's hot shooting over the summer. Mitchell finished the competition shooting 46% from the floor and 40% from the 3-point line. Those numbers coincide with his hot shooting to end the regular season for the Jazz last year when he shot a blistering 46% from the floor and 45% from the 3-point line after the All-Star break.
Mitchell has found consistency with his shooting stroke and has upped his season average, which will be a key to improving his already stellar offensive production this season. Mitchell was the team's most efficient player for Team USA and led the team in efficiency rating and plus/minus. Team USA was 96 points better over the life of the competition with Mitchell on the floor.
As a general rule, NBA teams have seen a bump when their stars have played for Team USA, as FiveThirtyEight illustrated in 2014 on the impact of international duties. NBA teams see a 1.6% bump in the player's win shares upon returning to the NBA.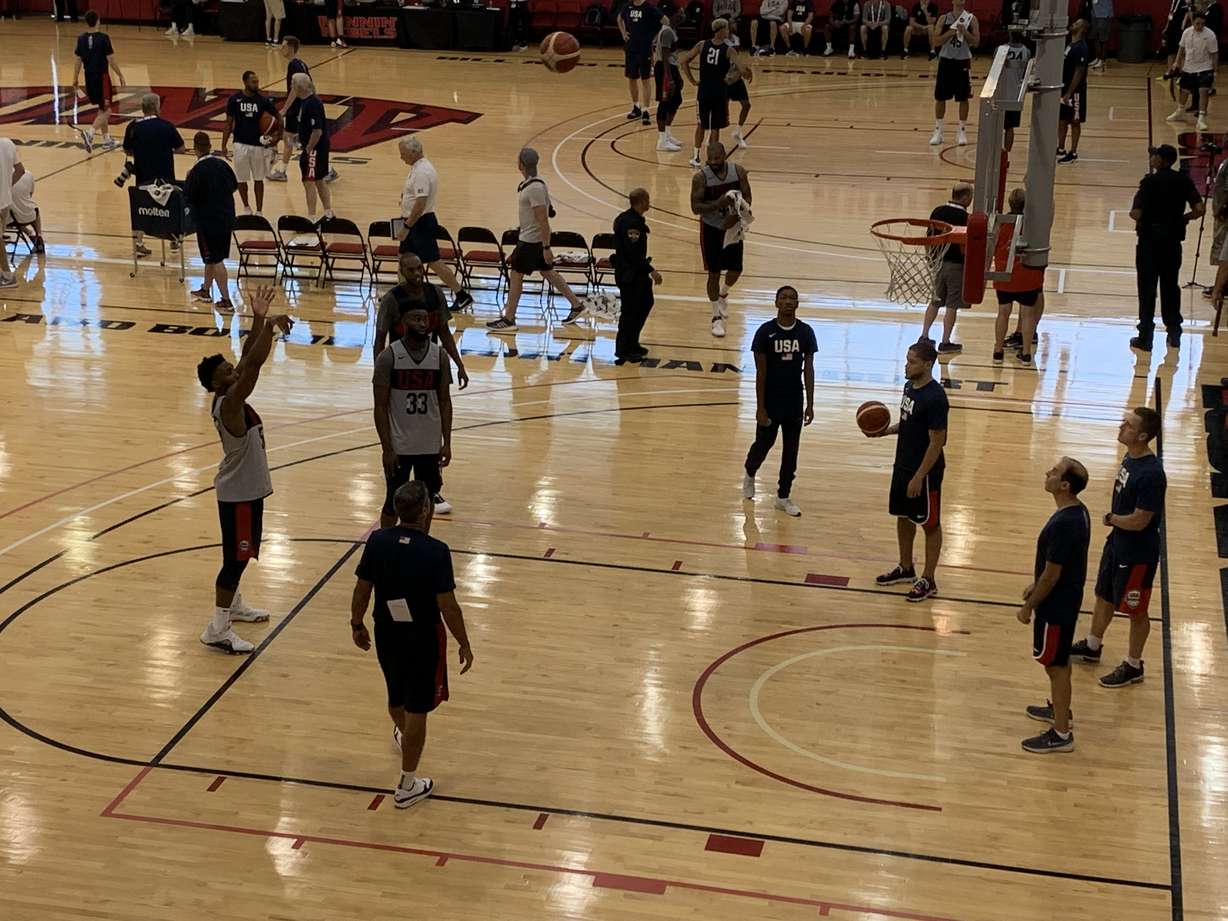 For Mitchell, individually, he made an extremely strong case to rejoin Team USA next year in pursuit of Olympic gold in Tokyo. The 2016 team featured a guard lineup of Kyle Lowry, Kyrie Iriving, Klay Thompson, Jimmy Butler and DeMar DeRozan, all of whom missed this year's FIBA tournament.
USA Basketball managing director Jerry Colangelo vowed to "remember" those players who withdrew from their commitment to Team USA ahead of the tournament, which may give Mitchell a leg up for next year's Olympic team.
There's likely to be considerably more interest from proven stars to compete on the Olympic roster, including guards Stephen Curry, Russell Westbrook, James Harden, Bradley Beal, Damian Lillard and the previous Olympic participants, including Walker, but none are locks to join the team — all of the previously mentioned players opted out of Team USA duties this past summer.
Mitchell's familiarity with head coach Gregg Popovich and USA Basketball's desire to include the next generation of stars on its roster may carve out a roster spot for the Jazz guard.
Team USA came up short in the FIBA World Cup, and fans were rightfully disappointed. But for Mitchell, individually, the competition proved to be a success. He left the tournament without injury and proved his value on an international scale — and perhaps he set himself up for Olympic gold next summer in Tokyo.
---
×
Related stories
Most recent Utah Jazz stories