SANDY — Consider Douglas Martinez's first big test with Real Salt Lake a pass.
The 22-year-old Honduran international made his first start with the Sandy-based club's first team Wednesday night. And even though Martinez didn't score the match-winning goal in a 1-0 win over the San Jose Earthquakes, even the goal-scorer — Damir Kreilach — was impressed by his younger teammate.
"It was not so easy to jump in and to play tonight," Kreilach said. "We knew before the game that San Jose plays a different style than anyone in the league.
"But he did well, and he just showed what he does in Monarchs games."
Real Salt Lake improved to 14-11-4 with Wednesday night's win and climbed into second place in the densely packed Western Conference, with five matches remaining.
But the fact they did so in a moment when many of the club's international players were still returning from representing their countries is a credit to the Real Monarchs forward, who played 64 minutes and had an agonizingly close chance swerve wide of the post shortly after the half-hour mark.
He'll get there. Martinez will get that goal. He even got four of them Saturday afternoon in a 5-1 win over Portland Timbers 2.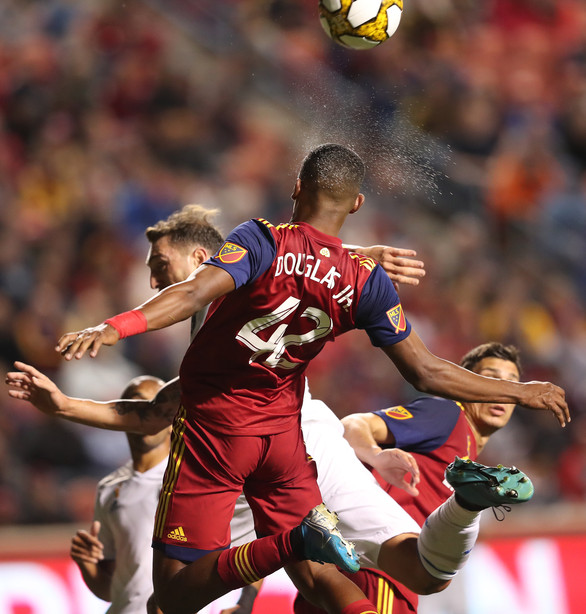 But for now, he left the locker room at Rio Tinto Stadium with something that is perhaps more important: the respect of his coaches and teammates.
They've seen what he can do, in training and in extra work at the RSL Academy in Herriman. They've watched him score 11 goals in 19 appearances, all starts, for the Monarchs — all off of his predominant right foot, with 10 of them coming from close range as the second division club's target striker.
They even watched him with the Honduran U23 national team, earning a 2-1-1 record at the Pan-American Games that will likely earn Martinez more call-ups as Los Catrachos, Honduras' national soccer team, prepares for 2020 Olympic qualifying.
But if you've seen him once, you've seen Martinez's quality, according to his teammate Nedum Onuoha.
"If you've seen him play in the Monarchs games, you know the types of things that he can do," Onuoha said. "We see him throughout the week, and he was very impressive in training. For as good as he was today, I think he's going to be a real asset for us towards the end of the season. There's a lot more in the tank.
"I think when people see that, they'll be really impressed."
With Sam Johnson in the stands after recently returning from representing Liberia during the international break, the announced crowd of 17,196 fans at Rio Tinto Stadium caught a glimpse of the future — and that glimpse proved to interim head coach Freddy Juarez and his staff that more looks will be forthcoming.
"The physicality kind of showed; he can get more used to that," RSL assistant coach Tyrone Marshall commented.
"But I'm proud of Douglas for stepping in and contributing tonight. We needed that. Going forward, hopefully, he continues to contribute to the club. And the effort from everyone was great tonight."
Next Game
MLS: Real Salt Lake (14-11-4, 46 points) at Minnesota United FC (13-10-6, 45)

Kickoff: Sunday, Sept. 15 at 3:30 p.m. MDT
TV: KMYU
Streaming: KSL.com
Radio: ESPN 700 AM
×