SANDY — It was the very definition of a "smash and grab."
Real Salt Lake absorbed a bunch of pressure early, flirted with several chances, and scored a late goal in the second half to steal 3 points from San Jose.
The only difference between that and a traditional "smash and grab"? RSL was the home team.
Still, a win is a win is a win.
Damir Kreilach scored in the 76th minute — on his fifth attempt of the match — and Real Salt Lake held on for a 1-0 win Wednesday night over the Earthquakes in front of an announced crowd of 17,196 fans at Rio Tinto Stadium.
"It was a great cross from Brooks, and I just found the ball. Luckily the ball goes in," Kreilach said. "It was frustrating, because I missed a couple of chances before that chance. But luckily it goes in."
With it, Real Salt Lake improved to 14-11-4 on the season, and vaulted back into a tie for second place in the Western Conference with 46 points. The Sandy side also holds the tiebreaker on Seattle, with a plus-6 goal-differential to the Sounders' plus-1.
San Jose (13-11-5, 44 points) falls to fifth in the West with the loss.
Through a scoreless first half, Kreilach had chances to give the home side an early lead. For whatever reason, they floundered.
"We started the game on the back foot," RSL assistant coach Tyrone Marshall said. "San Jose came out a bit more on the front-foot more than we did. We obviously had some changes to the lineup … missing some guys to international duty. We knew it was going to be a little bit rough. We didn't get the chance to train as a full squad, so you could see that from the get-go.
"But as the game progressed, I thought we got better. The second half, we came out and made the adjustments as we needed — and we were on the front foot in the second half."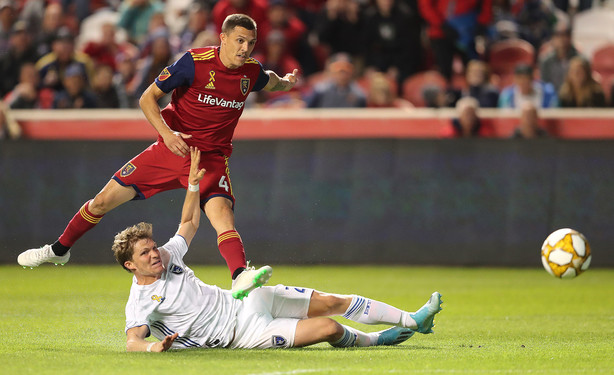 None of that seemed to matter in the 75th minute, though.
The Croatian international, playing as a target striker while Sam Johnson was held out following the international break, soared high over the San Jose defense and redirected a cross from Brooks Lennon past Vega for the go-ahead goal 75 minutes into the match.
It was the Croatian international's fifth chance of the night, but also the occasionally potent goal-scorer's first goal since July 13. And in the words of RSL color analyst Brian Dunseth, he "rose up like a salmon" to bury the go-ahead marker from close range.
"Like a salmon," Dunny? Kreilach's teammate Nedum Onuoha couldn't help but rib the striker for that one.
"Damir is good in the air, but he can't jump very high," Onuoha joked after the match. "Let's just say it's because he's so tall, and he has the desire that it looks like he's literally a salmon. But really? No, not quite."
Nedum Onuoha on Kreilach's goal: "He can't jump high, so it only looks like he's jumping like a salmon."

Take that, @BrianDunseth 😂😂😂#RSLpic.twitter.com/ccyM7N3Txf

— Salt City FC (@saltcityfc) September 12, 2019
Then on a less cheeky note, Onuoha continued.
"Looking at it from Damir's side, real good attackers have a true desire to score goals, and it doesn't matter which ones they miss," he said. "They always come back and have another chance. That was another example today that he (Damir) is one of the top strikers in this league."
Next up
Real Salt Lake heads to Minnesota for the first of back-to-back matches on the road, beginning Sunday at 3:30 p.m. MDT with Minnesota United FC. The match will be broadcast on KMYU and streamed on KSL.com.
The club's next home match is Wednesday, Sept. 25 against Los Angeles Galaxy.
×
Related Stories