SANDY — For 90 minutes, Real Salt Lake played to a sleepy scoreless outing with rival Colorado.
After 34 total shots, RSL goalkeeper Nick Rimando and Colorado counterpart Tim Howard were both en route to a shutout.
Then a frenetic stoppage time happened.
And Real Salt Lake? Well, they aren't complaining.
Joao Plata converted a penalty kick in stoppage time, Jefferson Savarino scored with the last touch of the match, and Real Salt Lake went on to beat the Rapids 2-0 to clinch the club's fourth-straight Rocky Mountain Cup in front of an announced crowd of 20,284 fans at Rio Tinto Stadium.
Rimando made six saves to earn the shutout for Real Salt Lake, which improved to 13-10-4 (43 points) on the season.
"If the game finishes 0-0, I feel like we lost the game," said RSL midfielder Albert Rusnak, who assisted on the second goal. "At this point, we needed three points more than anything. It wasn't the prettiest performance from us as a team.
"We had some chances that didn't go our way. But finally the breakthrough, the penalty. Sometimes you have to win games in this style. But those three points are huge."
The win vaults Real Salt Lake into a tie for second in the league with 43 points, and edging Seattle on goal differential.
Albert Rusnak: "It feels nice to be in second … at least for a little bit." #RSLvCOL || #MLSpic.twitter.com/DmA611wkNK

— Salt City FC (@saltcityfc) August 25, 2019
Of course, the Western Conference currently has nine points separating second and ninth place (the top seven teams make the playoffs).
"A couple of bad games in a row, and we could be sixth, seventh or even out of the playoffs," Rusnak said. "We're in second, but the playoffs aren't clinched yet. And we want to finish as high as we can so we can get home-field advantage — I don't think there's a team who wants to come here for a playoff game."
The Rapids sent one-way traffic straight to Rimando, who deftly defended an onslaught of 15 shots in the opening 45 minutes. That included one sequence in the 25th minute when the veteran netminder stood on his head to punch away three chances in succession and keep the clean sheet.
Rimando had four saves in the first half, equal to the number of shots his teammates put up on the other end. Meanwhile, Real Salt Lake did not put a single shot on target before halftime.
"They were doing a good job of closing the space, and we weren't finding the gaps to play more negative in the first half," RSL assistant coach Tyrone Marshall said. "As the game wore on, I thought we made adjustments like putting Damir up top and inserting Joao. But that made a difference."
RSL started to get back into the game after the break, and Plata's insertion as a sub in the 68th minute brought new life to the Salt Lake side.
But still, no goal came.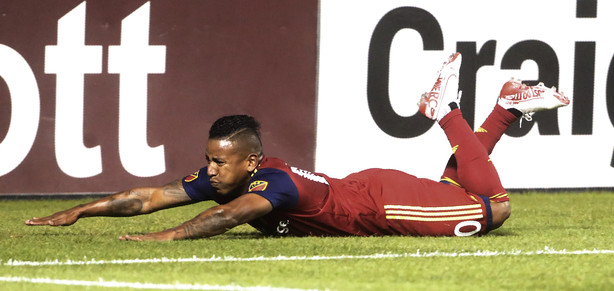 Then, in the final moments of regulation, Kei Kamara did the unthinkable.
The Colorado striker was sent off with a red card by head referee Ted Unkel for a "serious foul" and RSL played against the 10-man Rapids for the final 4 minutes of stoppage time. The hosts appeared to go ahead 1-0 moments after the red card, but Damir Kreilach's goal was called back on video review for an offsides call against Savarino.
Rather than hang their heads, RSL went on the attack again. Plata drew a penalty kick with a shot in the box that deflected off an arm, and converted from the spot for his first goal since last year's Rocky Mountain Cup, on Aug. 25, 2018.
Then Savarino put the icing on the cake with a goal on his final touch of the night, sending the announced near-sellout into a frenzy as they kept hold on the fan-made rivalry trophy that has been securely on the Utah side of the Rockies for most of the past dozen years.
"We'll look to keep it going this next week," Rusnak said. "But it feels good to be second (in the west) … at least for a little bit."
.@QSavarino10 adds another for good measure!#RSLvCOL //Heineken #RivalryWeekpic.twitter.com/YrhZIVBElb

— Major League Soccer (@MLS) August 25, 2019
Bringing back the '09
Real Salt Lake announced a special promotion at halftime of Saturday night's game, when it was revealed that the 2009 MLS Cup champion team would reunite Sept. 25 at Rio Tinto Stadium (in a match against the LA Galaxy, no less).
That includes several notable figures, including legendary midfielder Javier Morales. The Argentine maestro will have his name placed along the west wall of the stadium, right next to former RSL coach Jason Kreis. The two-day celebration of the 2009 MLS Cup championship team — which will also include Real Monarchs interim coach Jamison Olave, RSL defender Tony Beltran, and others — will cap off with a pregame celebration against the Galaxy, the team's opponent in Seattle during RSL's only Cup title in franchise history.
Next up
Real Salt Lake plays three of its next four games on the road, beginning next Saturday, Aug. 31, at Portland. Kickoff is scheduled for 8:30 p.m. MDT on KMYU and KSL.com.
The club returns to Rio Tinto Stadium on Saturday, Sept. 11, against San Jose.
×
Related Stories