SANDY — Lo'eau LaBonta doesn't like to celebrate scoring goals.
In college at Stanford, in her previous professional soccer life at FC Kansas City, and now as Utah Royals FC's box-to-box midfielder, the 5-foot-2 LaBonta has been — by her own admission — more of a "hugger" than a "celebrator" when she finds the back of the net.
That made it all the more surprising when a couple of weeks ago, after LaBonta scored the decisive goal on the road in a historic 3-1 win of Reign FC in Tacoma, Washington, she pulled out an imaginary baseball bat and belted a home run over the fence at Cheney Stadium, the home of the Triple-A Tacoma Rainiers.
All credit for that fire celebration, then, doesn't belong to LaBonta, but to assistant coach Scott Parkinson. The second-year Royals assistant joked with his team during pregame warmups that the goal was sitting right next to the outfield wall, then he pulled LaBonta aside and told her to smash a homer when she scored.
"Yeah, Scott, because I score so many goals," she replied with sarcasm, acknowledging that she hadn't scored since the club's home opener in April.
LaBonta fulfilled her end of the bargain — as she has all year.
LaBonta has fulfilled her job with the Royals by anchoring a midfield that has been dynamic in attack and gritty in defense during Utah's current five-match unbeaten run leading into Friday night's road tilt at Houston (6:30 p.m. MDT, KSL.com and Yahoo Sports).
While Christen Press, Amy Rodriguez and Vero Boquete — even center back Becky Sauerbrunn, who scored a rare goal and match-winner in last week's upset of league-best Portland — get the praise for the Royals' stellar attack, it's been LaBonta who quietly sits behind the front line, connecting the attackers with the defenders in a role that has become natural since her starring days with the Cardinal.
For much of the season, even leading up to and continuing through the FIFA World Cup break, LaBonta was stuck into the No. 6 role, playing the gritty, hard-tackling defensive midfield spot usually reserved for Canadian international Desiree Scott.
With Scott's return from France, LaBonta moved to No. 8, a more free-flowing, box-to-box midfielder where she can take pride in defense but also have the freedom to move further up the pitch. That's made all the difference for her.
"Now I get to play that," LaBonta said of the No. 8 position, "and it's really nice to solidify that spot, to work on that and build off what I already know."
LaBonta is growing in confidence with that goal, and adding an assist a week later in a 2-0 win over Orlando. So, too, is her team, as it closes out the final five matches of the regular season with a one-point edge on a playoff berth and only five points behind first-place Portland.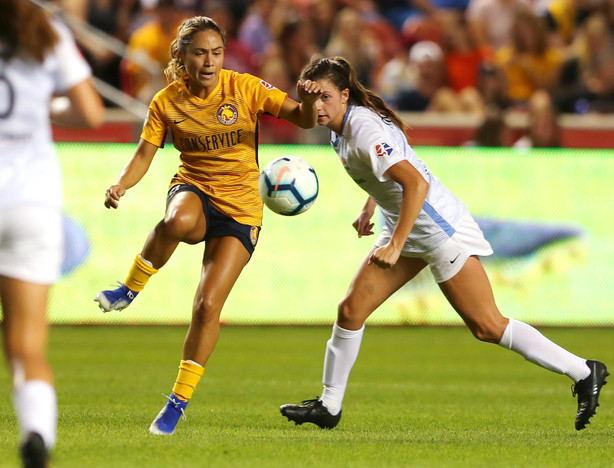 "I think we can kick on again from here," Utah coach Laura Harvey said after the team's 1-0 win over Portland. "We've got a huge four-game stretch now, leading to the end of September, where every game is as important as the next. Huge result tonight, and now we switch our attention to Houston and the Reign, with the midweek game that we have in a week's time."
Of course, LaBonta deflects much of her success to her attackers, like Rodriguez and Press, who sits on the left side of the field opposite LaBonta's lethal right foot for a perfect cross.
The duo has been dynamic in the attack, a pair of Stanford products who hope to lead the Royals to their first-ever playoff berth in Year 2 of the organization's history.
"She has a lot of class in her finishing and doesn't usually need five opportunities to score a goal. She just needs that one," LaBonta said of Press. "Thankfully, they come from me, because then I get the assist. But it's really nice to have that switch."
Regardless of the player of the goal scorer, the Royals are playing with a lot of confidence. With four wins in the last five games, there is hope that Harvey's side can keep the momentum as the National Women's Soccer League's four-team playoff approaches.
"We know that this league is insanely talented. Every single night is a battle," Sauerbrunn said. "The confidence and the momentum is something that we're growing from. The way that Laura wants us to play takes a little bit of time to jell, and so we might not start the season as strong as we want. But we're hoping that we end it very strong because we're starting to get the chemistry on the field, the relationships.
"We're at a good point right now, where everything is jelling a little bit more."
Game details
NWSL: Utah Royals FC (9-6-4, 31 points) at Houston Dash (6-9-4, 22 points)

Kickoff: Friday at 6:30 p.m. MDT
TV: KMYU
Streaming: KSL.com and Yahoo Sports
Radio: ESPN 700 AM
×
Related Stories