SANDY — Long before Utah Royals FC were a twinkle in owner Dell Loy Hansen's eye, when most of the club played on the banks of the Missouri river and the National Women's Soccer League had clubs in Kansas City and Boston, Becky Sauerbrunn scored a goal.
It was a rare occurrence for the U.S. international center back, a staple with the four-time World Cup champion women's national team known more for her defensive power than lethal left foot.
But 831 days after her last goal-scoring mark, Sauerbrunn did it again.
Sauerbrunn notched the first goal of the match 20 minutes in, and Utah Royals FC went on to a 1-0 win with Portland Thorns FC in front of an announced crowd of 10,897 fans Friday night at Rio Tinto Stadium.
Sauerbrunn scored her first goal since the franchise re-emerged on the Wasatch Front. The last time the U.S. international center back found the back of the net in NWSL play, she was putting on a shirt for FC Kansas City in the now-defunct squad's 3-2 win over Washington back on May 28, 2017.
"My job is to not let the other team score, and I take more pride in keeping the clean sheet than scoring the game-winning goal," Sauerbrunn admitted after the match. "It's not my job — but if it happens to me, I'm not going to be too upset about it."
And she picked a perfect time to notch the fourth goal of her NWSL career.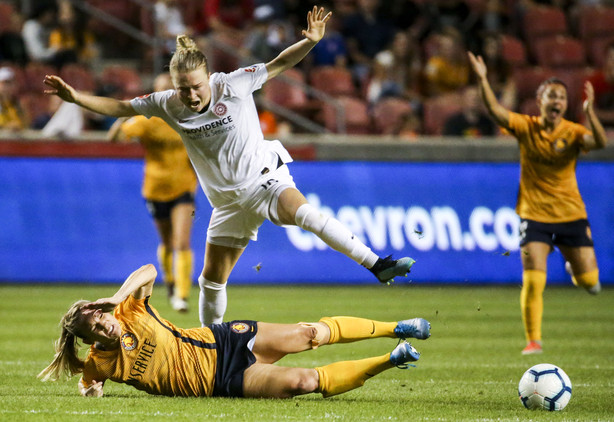 Christen Press, the reigning NWSL player of the month who had an assist earlier this week during a victory tour game for the U.S. women's national team, whipped in a cross from the right flank that found Sauerbrunn's head for the go-ahead goal midway through the first half. Press now has six goals and two assists on the season for Utah Royals FC.
The play started from a short corner kick, and Utah practiced short corners a lot this week. Ironically, Friday night's goal-scoring play wasn't one of those moments that the Royals had practice over and over again throughout the week.
But all goals count the same, right?
For Sauerbrunn, who has just four goals since the formation of the NWSL in 2013, this one will count a little better than others.
"It's been a while. Most of the time when I score, we wind up losing the game. This was a nice change," Sauerbrunn joked.
"I got pretty fortunate. Christen crossed it, a great cross, and I got my head to it. I thought it was going wide, but it skidded in. I'll take it."
Find you a captain that can do both pic.twitter.com/fJCHAnkioA

— Utah Royals FC (@UtahRoyalsFC) September 7, 2019
Behind six saves from Nicole Barnhart, Utah (9-6-4, 31 points) secured its league-best 10th shutout of the season.
Portland falls to 10-4-6 on the season, with league-best 36 points — or five more than second-place North Carolina (9-4-4) in the standings. Utah is also five points back, in third place by a 15-5 margin on goal-differential.
But Friday's win was the first in franchise history against the Thorns, and the fifth-straight result for Utah Royals FC, which hasn't lost since Aug. 3.
Thanks to Sauerbrunn's goal — and a ho-hum, business-like, stalwart defensive effort led by Barnhart and defensive midfielder Desiree Scott.
"I thought Becky, Barney, Desi were excellent," Utah coach Laura Harvey said. "For Becky Sauerbrunn to score a header from where she did, not a lot of people can do that. I've been giving (Royals goalkeeper coach Jason Batty) stick all year that we haven't scored off (a set piece), so I'm going to give him a shout out for that one."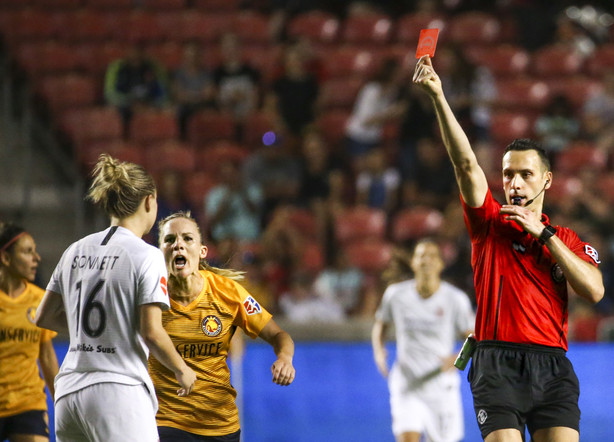 U.S. international Emily Sonnett earned a second yellow card and ejection for a hard tackle on Amy Rodriguez's breakaway attempt in the 77th minute, reducing the Thorns to 10 players for the final 15 minutes of the match.
It wouldn't be the only confrontation Rodriguez faced on the night. The physical former U.S. international also earned a yellow card for doggedly confronting Lindsey Horan in the 78th minute of a match that featured five cards and 22 fouls.
"I thought both sides really brought it. We really wanted to beat them," Rodriguez said. "Laura mentioned that we've never beaten them in franchise history, and we really wanted it tonight.
"Obviously, a game of this importance comes with passion. It's a heat of the moment, but at the end of the day, I'm OK with the Thorns and Sonnett. We're fine off the pitch, as far as I know."
Next up
Utah plays next Friday, Sept. 13 at Houston. Kickoff is scheduled for 6:30 p.m. MDT on KMYU and KSL.com.
×
Related Stories