KAYSVILLE — In the fourth quarter of Viewmont's football game Thursday night at Davis, a dog ran on to the field, did his business, and ran off, causing chaos to ensue right as the KJZZ television cameras went to a commercial break.
As a sideline official ran to the stands, grabbed a towel, and cleaned up the canine's feces, the Darts' student section began chanting "M-V-P! M-V-P! M-V-P!"
Viewmont's Kaden Smith would respectfully disagree. That title belonged to the Vikings' defense.
Smith had three tackles and two interceptions, and Viewmont shut out Davis in the second half en route to a 16-13 victory to claim Viewmont's first win of the season Thursday night.
"We have more of a chip on our shoulder and want to come out and win. We came out tonight with a refuse to lose mentality, wanted to win every down, and tried to go 3-and-out every time.
"We always want to have a reputation of being a scary defense, and also being a gritty and hard-nosed team. Getting 3-and-outs is a good thing."
Sam Trusty ran for 94 yards and a touchdown to lead the Vikings (1-1), and Will Schultz threw for 188 yards, including a 12-yard TD strike to Micah Johnson to open the scoring, en route to a 14-13 halftime edge for the visiting side.
And that was enough to get the job done for Viewmont, which allowed just 27 points in a 27-20 loss to Northridge in the season opener a week ago.
"We've always taken pride on defense, and we work our tails off on defense every day, all during the offseason and the summer. Defense is a big deal here," Viewmont coach Scott Ditty said. "But having said that, the offense has got to play up, too. We've got a new offensive staff and a lot of new players. But we have the tools on offense to be every bit as effective as the other side of the ball. We've just got to clean some things up."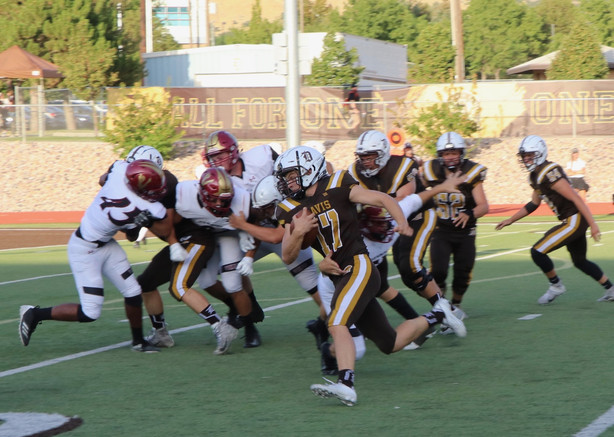 The Vikings added a safety on a bad snap with 4:36 left in the third quarter, and Davis' second-half drives ended in three punts, two interceptions and a missed field goal from 39 yards to end the game.
A sack by top recruit Alex Harrison, who finished with a game-high four tackles and a forced fumble. Another by Micah Johnson, and tackles for loss by Trusty and Jet Erickson.
Look around, and you'll see; the defense was lights out for the Vikings.
"It was a perfect pass to me," Smith said of his second pick. "The feeling was extraordinary. It's something I won't forget."
David Spjut, who caught three passes for 65 yards, scored on an 83-yard punt return with 1:56 left in the first quarter for the Darts, who also got an 89-yard breakaway TD from Chance Trujillo to Peter Stevenson.
Stevenson finished with 89 yards and a touchdown for the Darts (0-2).
Week 2 has begun: @Vick_the_Viking tops @DavisHSSports, 16-13.

📸 via @KSLcomSportspic.twitter.com/MpFEW9oJUr

— Utah Preps Zone Podcast (@UtahPrepsZone) August 23, 2019
×
Photos
Related Stories