SALT LAKE CITY — College football fans rejoice: KSL College Football Pick'em is back for the 2019 season.
KSL.com's hottest and most played contest is now in its fifth year. Football fans from Utah, BYU, Utah State and other schools will compete against each other, vying to end the week atop the leaderboard and represent their school's fanbase.
For those new to KSL Pick'em, it's simple: Guess the score for five college football games selected by the KSL.com staff each week throughout the season. Each week, the BYU, Utah and Utah State games will be included in the predictions, with other national games included in the mix.
The participant who picks the winning team and is closest to the final game score will earn the maximum number of points — 50 — allowed, with everyone else graded based on how close they are to the score. The maximum game score will be worth 100 points, either when two local teams (BYU, Utah or Utah State) play each other, or for all bowl games.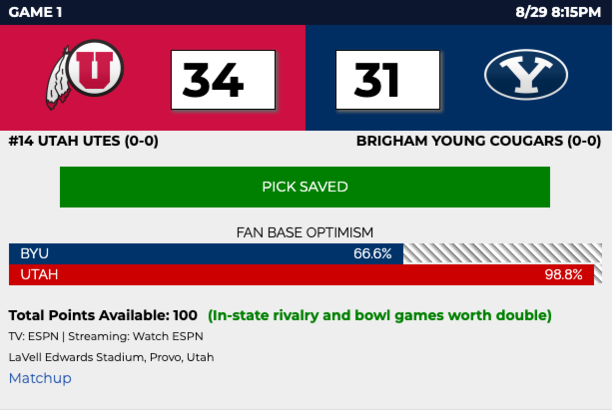 During bowl week, the slate will consist of six games to account for the National Championship game on Jan. 13, 2020, in New Orleans, Louisiana.
To make Pick'em even more rewarding, create or join a group of your co-workers, neighbors, family or friends for ultimate bragging rights from your living room all the way to the tailgate lot.
To get started, create your 2019 entry here.
Take note, the first game is Thursday, August 29th. The complete schedule for Week 1 is listed below.
**Game 1: #14 Utah at Brigham Young** 8/29 8:15pm - LaVell Edwards Stadium Provo, Utah
![](https://img.ksl.com/slc/logos/ncaa/utah.png)
\#14 Utah
![](https://img.ksl.com/slc/logos/ncaa/byu.png)
Brigham Young
**Game 2: Utah State at Wake Forest** 8/30 6:00pm - BB&T Field Winston-Salem, North Carolina
![](https://img.ksl.com/slc/logos/ncaa/utah_state.png)
Utah State
![](https://img.ksl.com/slc/logos/ncaa/wake_forest.png)
Wake Forest
**Game 3: Mississippi at Memphis** 8/31 10:00am - Liberty Bowl Memorial Stadium Memphis, Tennessee
![](https://img.ksl.com/slc/logos/ncaa/ole_miss.png)
Mississippi
![](https://img.ksl.com/slc/logos/ncaa/memphis.png)
Memphis
**Game 4: Boise State at Florida State** 8/31 5:00pm - TIAA Bank Field Jacksonville, Florida
![](https://img.ksl.com/slc/logos/ncaa/boise_state.png)
Boise State
![](https://img.ksl.com/slc/logos/ncaa/florida_state.png)
Florida State
**Game 5: #11 Oregon at #16 Auburn** 8/31 5:30pm - AT&T Stadium Arlington, Texas
![](https://img.ksl.com/slc/logos/ncaa/oregon.png)
\#11 Oregon
![](https://img.ksl.com/slc/logos/ncaa/auburn.png)
\#16 Auburn
×