Estimated read time: 5-6 minutes
This archived news story is available only for your personal, non-commercial use. Information in the story may be outdated or superseded by additional information. Reading or replaying the story in its archived form does not constitute a republication of the story.
SALT LAKE CITY — The Utah Jazz made serious upgrades to their talent level this summer, adding a pair of borderline All-Stars in Mike Conley Jr. and Bojan Bogdanovic, while adding veteran role players in Jeff Green and Ed Davis.
The Jazz rounded out their roster by adding fifth-year guard Emmanuel Mudiay, who at this point in his career has fallen short of the vast expectations placed on him after getting drafted seventh overall in the 2015 NBA draft.
Of the five new additions to the Jazz roster, a stunning three of those players are coming off career-high scoring seasons with their previous teams. Conley averaged 21.1 points per game for the Memphis Grizzlies; Bogdanovic averaged 18.0 points per game for the Indiana Pacers; Mudiay averaged 14.8 points per game for the New York Knicks. Both Conley and Bogdanovic finished the season as their team's primary scoring option in 2019.
With Donovan Mitchell already in tow as the Jazz's leading scorer and one of the top 20 scorers in the league at just 22 years old, it's highly unlikely any of the Jazz newcomers will step in and assume the role as the team's primary option. In fact, while Mitchell is the Jazz's high scorer, it's still the ultra-efficient Rudy Gobert who is the team's primary scoring option for each trip down the floor.
Gobert led the NBA in field goal percentage, true shooting percentage, and effective field goal percentage last season while setting an NBA record for dunks in a single season, with 292. Gobert was the Jazz's second-leading scorer last year at 15.9 points per game.
If all averages were to remain the same from last season to this year, Gobert would drop behind both Conley and Bogdanovic and be the Jazz's fourth-leading scorer, with the two new Jazzmen maintaining their prominent scoring roles on the Jazz roster.
Gobert isn't an isolation shot creator, meaning the majority of Gobert's points come as a result of assists or offensive rebounds that he turns into points on putback scoring opportunities — he was the league's fourth-leading scorer in second-chance points. Of Gobert's baskets last year, 73% came off assists from teammates.
While Gobert may see his shot attempts per game climb slightly, now that he no longer shares the paint with Derrick Favors, it would be surprising to see that number climb far beyond his 8.8 attempts he averaged last season.
The difficulty for Conley and Bogdanovic to maintain their high scoring averages from last season will simply come down to field goal attempt opportunities. In both Memphis' and Indiana's last season, Conley and Bogdanovic received artificially high field goal attempt numbers as a result of roster attrition surrounding them.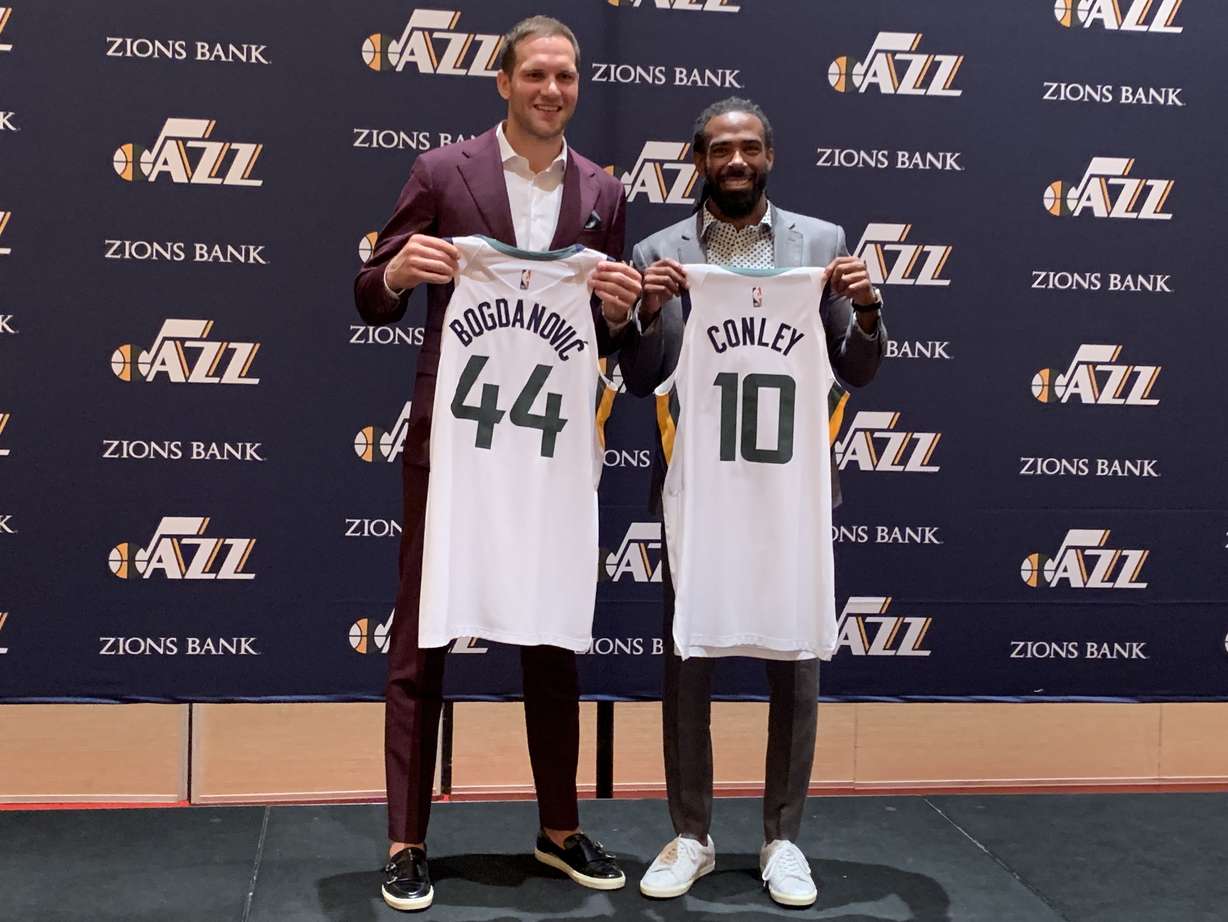 In Memphis, Conley saw his longtime running mate Marc Gasol shipped to the Toronto Raptors at the trade deadline, while fellow potent scoring options Jaren Jackson Jr. and Jonas Valanciunas were saddled with injuries. As a result, Conley averaged a career-high in field goal attempts at 16 per game, nearly 1.5 higher than his previous career-best.
Bogdanovic's scoring load increased after the Pacers' leading scorer Victor Oladipo went down with an injury 47 games into the year. Over the Pacers' first 47 games, Bogdanovic averaged a respectable 16 points per game on 11.5 field goal attempts per game. After Oladipo's injury, those numbers spiked to an impressive 20.7 points per game on 15 field goal attempts.
While there are examples of NBA teams with a shot distribution similar to those numbers (see the Golden State Warriors), the Jazz both lack the top-end talent of those rosters and are supported by better backend talent that creates a more egalitarian offensive shot distribution. With that said, there is a convenient view of the expected opportunity for both Conley and Bogdanovic as they will likely fill the roles vacated by Rubio and Crowder.
Based on both Conley's and Bogdanovic's points compared to their usage rate, we can (somewhat recklessly) insert that number for a rough understanding of what their points per game might look like for the Jazz if they were to assume the same usage rates of Rubio (22.1%) and Crowder (18.3%) from last season.
Conley used 26.2% of the Grizzlies possessions last year and contributed 21.1 points per game. At that rate, if Conley were to pick up Rubio's 22.1% usage, and score at a similar rate to how he used possessions in Memphis, he would average 17.7 points per game for the Jazz.
Bogdanovic used 21.9% of the Pacers possessions last year and scored 18 points per game. If Bogdanovic were to absorb Crowder's 18.3% usage rate and score at a similar rate to his time last season in Indiana, it would be expected that he averages 15 points per game for the Jazz next season.
While those per-game averages are a drop from last season for both Conley and Bogdanovic, they are sharp increases for both newcomers over Rubio (Conley +5) and Crowder (Bogdanovic +3.1.)
Conley's 17.7 points per game would be nearly right in between his career average of 14.9 points per game and his recent three-year composite average of 20.5 points per game. Bogdanovic's 15 points per game would likewise be above his career 13.3 points per game average and just a hair below his 15.3 average over his previous three seasons in Brooklyn, Washington and Indiana.
Two things are almost certain to remain the same from a Jazz perspective next season: Mitchell will remain the team's leading scorer and Gobert will remain the team's most efficient scorer. With increased talent for the Jazz at point guard and power forward, the Jazz could see a major uptick in scoring, despite individual regression from Conley and Bogdanovic.
Related:
---
×
Most recent Utah Jazz stories