HEBER CITY — Monday morning at the Wasatch High School basketball gym, Bryon Russell sat at a table as a line of kids formed ready for their chance to get an autograph and to talk with the former Utah Jazz player.
He was asked all the questions you'd expect: Can you still dunk? Who are your favorite players? Can I get a picture with you?
There wasn't much talk about his game-ending emphatic dunk to end Utah's Game 4 win in the 1997 NBA Finals; or his career-high 29-point performance in a playoff win over the Lakers in 1997; or hounding Kobe Bryant into a series-ending airball in Bryant's rookie season; or even the shot that he is most known for — the one where Michael Jordan … well, you know the rest.
Those conversations would come later at other stops on the Junior Jazz tour that Russell has been on this week — conversations with parents, the people that saw him grow from a second-round pick into a pivotal member of two Finals teams.
"It lets you know that people still like you and remember you," Russell said.
It's always been hard not to like Russell. He has a contagious smile and sweet-natured disposition that draws people in. Those were there long before he became a regular in the Jazz's starting lineup in the late 1990s or set a (now broken) Jazz record for most 3-pointers in a season.
Following Russell's first day of training camp with the Jazz in 1993, Karl Malone asked him to fulfill his rookie duties and get the Mailman's bags.
Russell's response: "I don't grab nobody's bags."
"Jerry Sloan was like, 'Son, you are going to get those bags,'" Russell remembered. "The bus didn't move until I went and got those bags."
The bus eventually moved; Russell caved.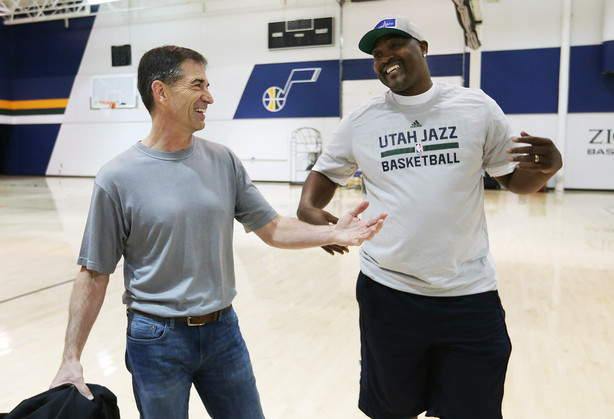 It's a story that draws laughter from him now — just like it did then. In a moment where it could have made for an awkward start to a relationship, it was just the opposite. Russell has that way about him.
"It kind of made everyone laugh, though, and it took off," Russell said. "It was just really good bonding from there. It was really a family-oriented team. You don't see that nowadays, you don't see teams sticking together. You see them all breaking up to form superpower teams. There was no such thing as superpower teams. You played for the team you got drafted by and you wanted to beat everyone else. That's how I looked at it."
That strong team bond has survived the decades, too. When the team got back together in 2017 to celebrate their first trip to the Finals, Russell said it was like they had never been apart.
"That's why when we all come back," Russell said, "the only thing different is that we are are a little bit older and a little bit bigger. As far as unity, it's still there."
And that's why Russell is back on the Junior Jazz road trip. This isn't the first year since his retirement he's traveled around Utah hanging out with excited young kids.
He likes giving back to the place where he made his name in the NBA and to the team that he still feels like he's a part of, even 17 years after his final season with the Jazz.
.@BRuss3 out here at @jazzyouth camps handing out that 🧀😂 pic.twitter.com/xGvv7ajcCE

— Utah Jazz (@utahjazz) August 6, 2019
"I think they want to keep us relevant," Russell said of the organization. "They want to make sure that, 'Hey, don't forget that these guys made it happen for these new guys.'"
When it comes to those "new guys," Russell sees a pretty bright future for his former team. He loves the addition of Mike Conley and is hoping that the 2019-20 Utah Jazz can get the two extra wins that his 1997 and 1998 squads didn't.
"It looks really good on paper," Russell said. "I think Mike Conley was a great addition. I'm excited to see the season. … I hope they do make it. I promise you I won't miss a Finals game. I'll be there front and center rooting for the Jazz, hoping they can get the one that we missed."
It's rare he doesn't hear about the ones they missed — about that Game 6 that slipped away from the Jazz and the shot that made him a household name.
"It's relived by those that are around me," Russell said. "Everyone always brings it up. It happened by supposedly the best player to play the game at that moment. It was an honor to guard him, I made it difficult for him. He just had something different."
Russell still has people give him a tap on the shoulder and then whisper quickly into his ear, "He pushed you off."
"It doesn't get old," Russell said with that contagious smile. "I go to restaurants — 'he pushed you off.' The waitresses, the general managers — 'he pushed you off.'"
To most NBA fans, that's the only thing he'll be remembered by — a footnote to the most famous shot in NBA history. But not in Utah. There's plenty more for Jazz fans to Russell accomplishing.
And that's why he's always happy to come back.
×