SANDY — Christen Press visibly wanted a hat trick.
It might be the only disappointment she leaves at Rio Tinto Stadium after Wednesday night's performance, though.
Press scored twice, and Amy Rodriguez added her first goal in nearly two months as Utah Royals FC snapped a six-match winless skid with a 3-0 victory Wednesday night over league-worst Sky Blue FC in front of an announced crowd of 7,715 fans at Rio Tinto Stadium.
Lo'eau LaBonta and Mallory Weber each had an assist for Utah (6-6-3, 21 points), which picked up their first win since a 1-0 victory June 5 at New Jersey-based Sky Blue (2-11-3, 9 points). Since then, the Royals accumulated four losses and two draws.
Press wasted little time taking the game into her own hands. The striker found the right end of a through ball from LaBonta in the 27th minute, and slotted home the match's opening goal before the half-hour mark.
She wasn't done, though.
Just two minutes later, Press was unmarked in the middle of the box. And after LaBonta dribbled to the end line, the box-to-box midfielder spun and delivered a right-footed cross to Press, who redirected the ball for her second goal of the night — and first brace in the 2019 season.
"I saw my amazing forwards get in the box, and I honestly was just trying to get anyone in there, because I know they are hungry for the ball," LaBonta said of the second goal, according to Deseret News. "Wherever it goes, they're going to try and get to it. Especially that second one, I saw them running in, I closed my eyes and I just dinked it in there.
"Press with the amazing finish that put us up."
Press, who had never scored a hat trick in her NWSL career, was agonizingly close to a third at the top of the 45th minute in Sandy. But her cheeky lob from just inside the 18-yard box — again, set up by LaBonta — flirted with the crossbar as it sailed high.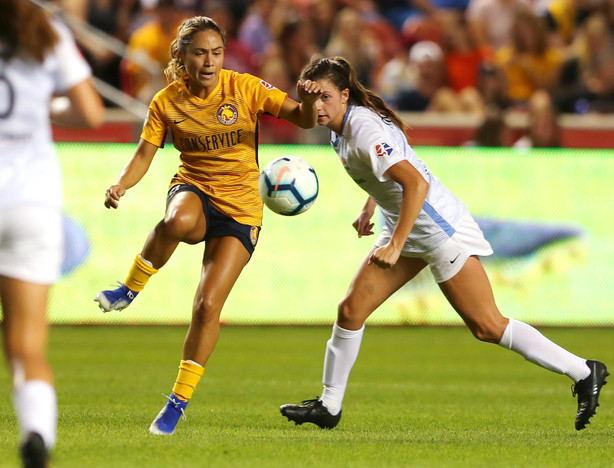 Instead, the third goal came three minutes after the break, when Rodriguez redirected a setup cross from Mallory Weber for her first goal since June 15.
Though it wasn't the match-winner, Rodriguez's goal gave the defensively-minded Royals their first three-goal appearance of the season.
Press played all 90 minutes for the Royals, searching for a third goal to add to her burgeoning collection of medals, trophies and other honors.
She nearly had it with less than five minutes to play. But the sprinting starlet saw her shot that beat goalkeeper Kailen Sheridan denied by the last-ditch hustle of Sky Blue defender Imani Dorsey.
Maybe the hat trick wasn't meant to be for Press, who had 11 of the Royals' 23 shots and seven of 13 shots on goal.
But the win was.
"We knew today was a do-or-die type game," Rodriguez said, according to Deseret News. "We felt like we had a must-win, and we decided before the game had started that we were going to leave it all out there.
"I think that's what you saw tonight, and I think that's why we walked away with three points."
Next up
Utah Royals FC prepares for back-to-back road games, beginning Sunday with Reign FC of Tacoma, Washington. Kickoff is scheduled for 2 p.m. MDT on KMYU and KSL.com.
×
Photos
Related Stories