SANDY — If there was any worry that Real Salt Lake might take its inclusion in another non-MLS competition that begins in the middle of summer with anything but serious intent, head coach Mike Petke wanted to quell those worries quickly.
Immediately following Saturday's disappointing, even "lackluster," 1-1 draw with Minnesota United, Petke told the team broadcast on KMYU that his club was all in on the forthcoming Leagues Cup match with Tigres UANL on Wednesday (8:30 p.m. MDT, ESPN+).
Then, moments later, he repeated himself with the print media.
"This organization is putting a lot of stock into the competition starting Wednesday," Petke said following RSL's 1-1 draw with Minnesota United. "I'm not even looking at Dallas right now. I'm looking at Tigres, at an assessment, at who is healthy, and then making some decisions (for the Leagues Cup)."
Petke later clarified what he meant by "this organization" on Twitter.
"I am part of this organization. It is not a mandate," he wrote. "It is a collaborative decision … it's what I said, and how I am interpreting it reading it back. Just want to be clear."
Even if another not-so-friendly competition means another week when Real Salt Lake will play three games in eight days, and with temperatures soaring close to 100 degrees on the Wasatch Front, the club is all in on the inaugural Leagues Cup.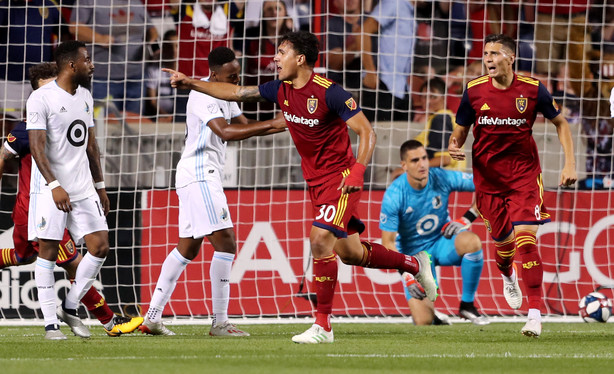 Motivation against a subpar opponent won't be an issue Wednesday. There's the cash prize on the line, a nationally televised championship match in Las Vegas, and another opportunity for MLS clubs to prove themselves as regional powers by taking on the class of CONCACAF, Liga MX.
The inaugural Leagues Cup takes four MLS sides and pits them against four challengers from Liga MX. Real Salt Lake drew its home match against Tigres UANL, one of the top clubs in Mexico and among the top brands in Latin American football, with seven Liga MX championships and three Copa MX titles.
The visitors from Nuevo Leon and reigning Liguilla champions boast stars like Andre-Pierre Gignac, Eduardo Vargas and Javier Aquino.
"They're one of the big clubs in Mexico," RSL center back Marcelo Silva said in Spanish. "It's great to have this competition and this chance to compete against a club that is recognized internationally. It's a team that's always good in Mexico and it's great to be able to see where we measure on their level.
"I'm looking forward to having other opportunities in the future to play other teams from Mexico, too."
So the head boss is taking the competition seriously, and that means he'll likely have to rotate his squad between a game played in dry-heat temperatures in Utah and another in the humidity-basked climes of North Texas just three days later.
But all of his first-choice starters were made available for selection when RSL released its official Leagues Cup roster prior to Wednesday night's kickoff.
"Last week, the only thing that we were focused on was the game (against Minnesota). But now that it's over, our focus in training will be on this game (against Tigres)," Silva said. "I have no idea how Mike will rotate us, if he'll rotate us or not. But whatever he does, we will all, as professionals, have to take advantage of the lineup he selects. We would like to do the best we can."
Leagues Cup: Tigres UANL at Real Salt Lake
When: Wednesday, July 24 at 8:30 p.m. MDT
Where: Rio Tinto Stadium
Streaming: ESPN+
×
Related Stories