Estimated read time: 4-5 minutes
This archived news story is available only for your personal, non-commercial use. Information in the story may be outdated or superseded by additional information. Reading or replaying the story in its archived form does not constitute a republication of the story.
SALT LAKE CITY — Mike Conley knows how special his new opportunity with the Utah Jazz is.
In his career, Conley has felt close to reaching an elusive championship. In 2015, Conley's Memphis Grizzlies led the eventual champion Golden State Warriors two games to one in the Western Conference semifinals. In 2013, he was in the conference finals.
In 2020? To be determined, but he's got a pretty good feeling.
"Other than the years that we had in Memphis that we were really close, this is the best opportunity I have had so far (at winning a title)," Conley said on NBA TV as he sat courtside of the Jazz's 83-81 loss to the Miami Heat on Sunday at the Las Vegas Summer League.
On Saturday, it finally became official: Conley is a member of the Utah Jazz.
The team announced the long-reported trade that sent Jae Crowder, Kyle Korver, Grayson Allen to Memphis in exchange for the star point guard. But it's been weeks since Conley knew where he would be playing come October. He's worked out with Donovan Mitchell, he's been in contact with other new teammates and he's gotten to check out the city a little.
"Memphis is a very tight-knit community," Conley said. "Everyone knows everybody; everybody is friendly. I'm catching that same type of vibe as I transition to Utah and Salt Lake City. I got to spend some time up there and have really been impressed with the organization and the city itself."
Impressed because of what the team has built. This offseason, the NBA's balance of power has shifted. Just in the West, the Clippers, Lakers, Nuggets, Rockets, Warriors, Blazers and, yes, the Jazz, see themselves as true championship contenders.
Without a true super team emerging this offseason, the league feels more wide open than it has in years. That has brought added excitement to the new season — three months before it even tips off.
"I think it's more wide open," Conley said. "I think Kawhi (Leonard) not going to the Lakers kept it a little more competitive for everybody. I think everyone around the league is excited. We know it's a possibility for any one team to make a run."
The Jazz might not have the top-end star talent of the Lakers, the Clippers, the Rockets or the Warriors, but they should be one of the deepest teams in the new West. And their own studs — Conley, Mitchell and Rudy Gobert — are a pretty fearsome trio in their own right.
"It's just a very clear direction of what (Jazz executive vice president of basketball operations) Dennis Lindsey wants to accomplish in forming this team," Conley said. "We are going to be a team that is going to space you out and Rudy Gobert is going to have a lane to go down to the rim and dunk everything."
That's the plan, at least.
And Mitchell should get in on the act, too — especially if he can turn his strong second half of the season into yet another jump. And that's something that Conley believes he can do.
"He's a bright young star in this league," Conley said of Mitchell. "Sky's the limit, I love it. We are going to do everything we can to help him and become what he can become. He's going to be a big reason why we are going to be really good this year."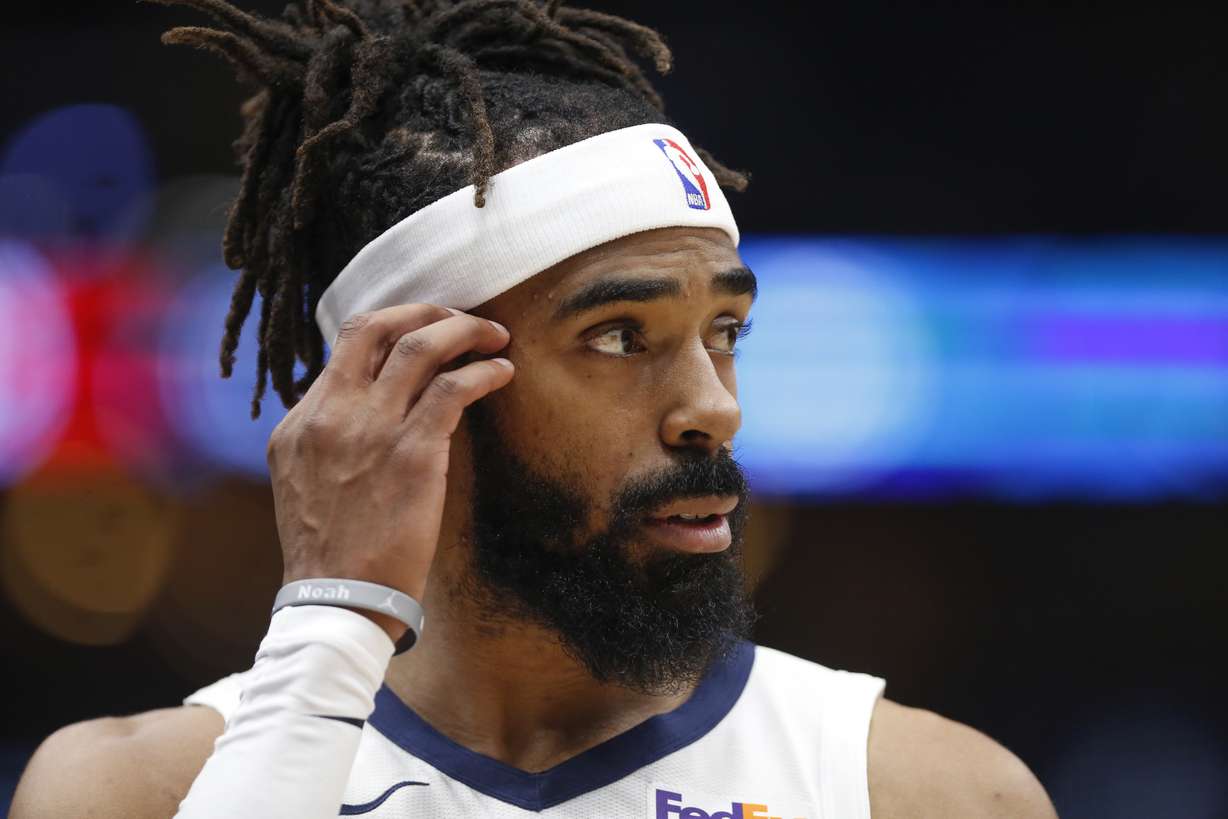 Conley has made a living off helping players reach their potential. He's not the flashiest point guard in the league, but he might be the steadiest. He knows how to run a team and know how to how to set up his teammates in the right spots for them to be successful.
"In 12 years, that's what he has done for (Zach Randolph) and (Tony Allen) and (Marc Gasol) and (Tayshaun Prince), every one of the guys that has come through Memphis, we all speak highly of him," said Vince Carter, who played with Conley for three seasons, on the NBA TV broadcast. "He's just a great guy, great point guard, great to be around."
So it's no surprise that Memphis owner Robert J. Pera had some positive parting words about the player that helped turn the Grizzlies from a struggling franchise to a proud team.
"Mike Conley represented the Grizzlies and the City of Memphis with true heart and class during his 12 seasons," Pera said in a statement. "His talent, determination and resilience elevated our team to a perennial playoff contender, and his altruism and sportsmanship helped shape the community-focused nature of our franchise."
Now, Conley gets a chance to shape the Jazz into a championship team.
"I think that's what is so impressive about this group," Conley said. "We are all trying to be as good as we can be and see how far we can go."
×
Most recent Utah Jazz stories