SANDY — Becca Moros did something unique recently for Utah Royals FC.
Blink and you probably missed it.
Look away, even briefly, and you probably didn't notice it.
It wasn't celebrated. It wasn't announced. It wasn't written on the back of a press release.
But with fewer than two dozen players in the history of the National Women's Soccer League having amassed 100 appearances, Moros' inclusion in the group is noteworthy.
Because the 34-year-old Duke product isn't the league's leading scorer. She doesn't rank in the top-10 all-time in assists. She hasn't scored in a World Cup, wrapped an Olympic gold medal around her neck, or even claimed a collegiate national title.
Still, Moros' value to her teams is difficult to measure. A technically sound, hard-working left back with a knack for positioning, Moros has been beloved by teammates in every one of her stops — and she's had a lot of stops.
Portland. Houston. Salt Lake City. Kansas City, before the team folded and moved its players to Utah.
Moros has been around the nine-team league as long as anybody, missing just the 2013 season with injuries. Along the way, she's learned a few things, too. Her 101 career caps ranks among the top 25 in NWSL history, and she'll shoot for 102 as the Royals look to build on last week's draw at Portland with a home match against fellow Pacific Northwest side Reign FC at 8 p.m. MDT Friday at Rio Tinto Stadium.
But it all started with one key ingredient: luck.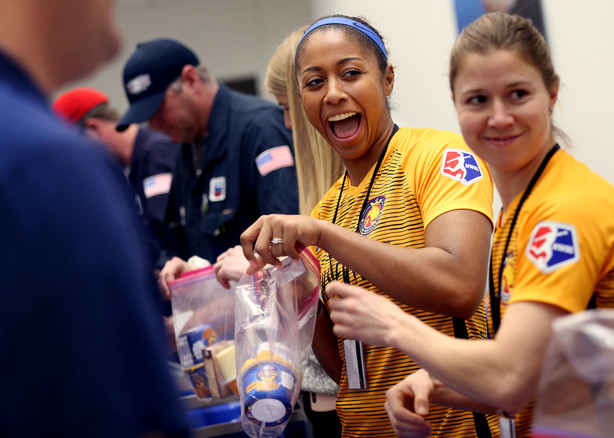 "We don't talk about that a lot," Moros said. "But every player knows talented players who didn't make it, whether for injuries, the mental grind, or bad luck in the beginning of your career that makes you throw in the towel.
"There are a lot of things that aren't in your control that have to go right — and injuries are probably the No. 1 thing. If you accumulate a lot of injuries at a young age, then it's an uphill battle and just hard to come back from."
Health and durability, speed and finesse, and a little bit of luck: That's how Moros has succeeded in a sport where so many others have failed.
A true professional, per Utah Royals FC coach Laura Harvey, Moros is also the ultimate teammate — something that comes naturally to left backs like herself, or doesn't.
"My goal is always to help out," Moros said. "I feel like outside back is a helping position, feeding the midfielders, finding a forward on a breakaway situation, or helping out the center backs. You're there for cover in certain situations; and if you aren't there, they are more likely to fail. My career has always been about helping other people do their jobs, and to want them to play with me."
Often the first one to arrive at training and the last one to leave, Moros can be seen putting in longer-than-usual hours at America First Field in Sandy, rebounding balls off her self-made and patented Footy Board training tool.
"She's just a student of the game, a 24/7 soccer player," Harvey said. "She's truly committed to trying to be the best she can be within any team she plays."
She's a true professional even when her profession throws her a curveball, Harvey added of her reliable fullback.
"She lives and breathes the game, and she takes care of herself, both physically and tactically," Harvey said. "I'm sure from the first game that she's ever played until now, the game has evolved dramatically — and she's evolving with it all the time.
Moros also played in WPS, the predecessor of the NWSL, primarily with the Washington Freedom but with brief stops at Florida-based magicJack and the Western New York Flash. After the league folded, she played overseas in Japan's Nadeshiko with INAC Kobe Leonessa. While there, she played with Japanese legend Homare Sawa and learned the value of improving her technical play, even as her limbs began to scream and her body began to fight back against a career that was approaching a decade in length.
"All the Japanese players are so much more refined and skillful. It's unbelievable," Moros said. "They touch the ball so many more times a day than we do, and they have since they were little kids. It makes a difference."
But Utah has provided a much-needed stability to Moros' career, as well. And it's a stable environment she hopes stays and improves the future careers of her younger teammates and colleagues in the NWSL.
"This club is definitely different than any other team I've played on, and it sets the bar in a lot of areas. There's no doubt about it," Moros said. "Hopefully that means that other teams reach for that bar.
"Portland set a bar, and a few teams came in and tried to reach for it. Now Utah has come and set the bar in other areas, so other clubs are chasing some things that (Utah Royals FC owner Dell Loy Hansen) has done here. I have really enjoyed my time here."
Reign FC (3-1-5, 14 points) at Utah Royals FC (5-2-2, 17 points)
When: Friday, June 28 at 8 p.m. MDT
Where: Rio Tinto Stadium, Sandy
Streaming: KSL.com
×
Photos
Related Stories