Estimated read time: 3-4 minutes
This archived news story is available only for your personal, non-commercial use. Information in the story may be outdated or superseded by additional information. Reading or replaying the story in its archived form does not constitute a republication of the story.
As the population of Utah increases, new housing developments are taking root all over the state. One of those in the southwest corner of Salt Lake County is Daybreak and a new community there is drawing attention for out-of-the-box elements.
Now in its 15th year, Daybreak has an estimated population of about 23,000 residents, according to the United States Census. With more homes and communities breaking ground every day, the already large community can be expected to flourish and is planned to include up to 20,000 homes at full build out.
With about 500 new homes being added each year, Daybreak is currently ranked as the #12 top selling new home community in the country according to the most recent report from industry tracker, RCLCO, in 2018. The large number of new homes means there's room for creativity and innovation for the community.
Developers call one of those creative plans The Watercourse at Daybreak — a new man-made network of channels, cascades, and ponds, says Daybreak. Everyone is invited to attend a family-friendly activity Saturday to learn more about it.
Where it will be
Developers call this new development the Upper Villages, which is west of Mountain View Corridor. The plans right now include a mile-long stretch of water that runs through the backyard of many homes and throughout the community. They say some homes will have a private entrance to the watercourse from their own yards.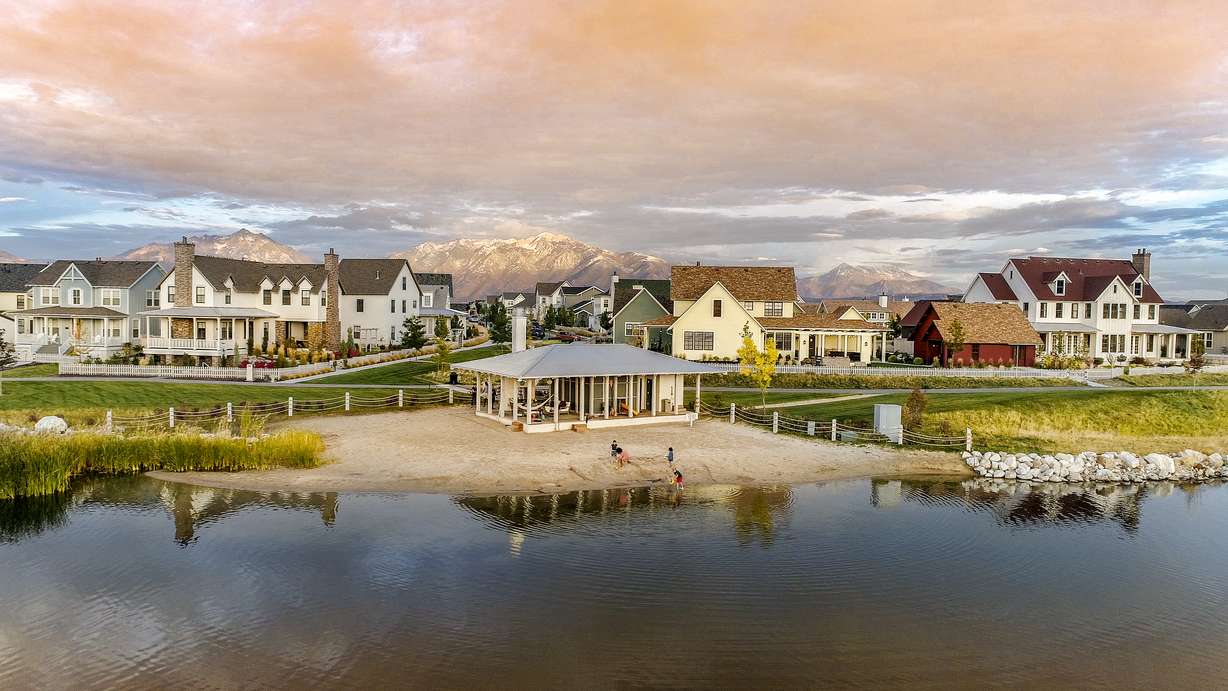 Who will benefit
Daybreak officials note that the man-made Oquirrh Lake is an inspiration of sorts for the project. While the lake has been well-loved over the past 15 years, the new Watercourse aims to make a more intimate recreation experience for residents and visitors.
Since it will be approximately one mile long, families and individuals wanting to paddleboard or kayak down the waterway can do that without the feeling of being in a crowded lake.
At the end of the lake, there will be a community event center. Developers hope it can be a place where outdoor concerts, neighborhood gatherings and even weddings can take place. They call it the Cove. While the final plans haven't been set in stone, people can expect to see ponds, beaches, a boat dock, playground, and a large pavilion.
When it will be ready
Although construction on the Watercourse hasn't yet started, developers plan to dig in later in 2019. Daybreak expects the construction to take about two years, but those wanting to claim their stake in the real estate can get involved now.
June 29 from 11 a.m. to 3 p.m., the community is hosting a family-friendly event with information on the new developments. There will be model homes to walk through, food trucks, ax-throwing, live music and more. For those interested in learning more about the Watercourse and where it will run, 3D renderings and more information will be provided at the event.
Learn more about the community, construction plans and events on the Daybreak website.
The Watercourse at Daybreak from Daybreak Utah on Vimeo.
×