Estimated read time: 5-6 minutes
This archived news story is available only for your personal, non-commercial use. Information in the story may be outdated or superseded by additional information. Reading or replaying the story in its archived form does not constitute a republication of the story.
SALT LAKE CITY — Whoosh.
The ball left scorch marks as it singed the back of the net on a magical night, giving the club an 8-0 lead on the biggest stage of world football: the World Cup.
Applause, cheers and laughter rained down on the pitch, both from the stands, the bench and the players on the field.
Bern Schneider was positively beaming.
No, we're not talking about the much-maligned United States women's national team's epic 13-0 rout of 34th-ranked Thailand in the first round of the group stage at the 2019 Women's World Cup. This equally epic rout happened nearly two decades previous in 2002 when Germany whipped Saudi Arabia 8-0.
In a match that has stood up as the third most lopsided in men's World's Cup history, the fixture's commentators offhandedly chided that Germany was playing "local park-standard players," while referring to the Saudis as "absolutely clueless" in a match that most have forgotten to this point.
But none of those terms have been applied to USA-Thailand. The winning team is the only one that has had to defend itself from an onslaught of pundits, commentators and analysts across the world.
Alex Morgan scored five goals, tying an all-time record with legendary U.S. international Michelle Akers. Rising American star Mallory Pugh, who controversially skipped a collegiate career at UCLA in favor of playing professionally as a teenager, scored her first World Cup goal.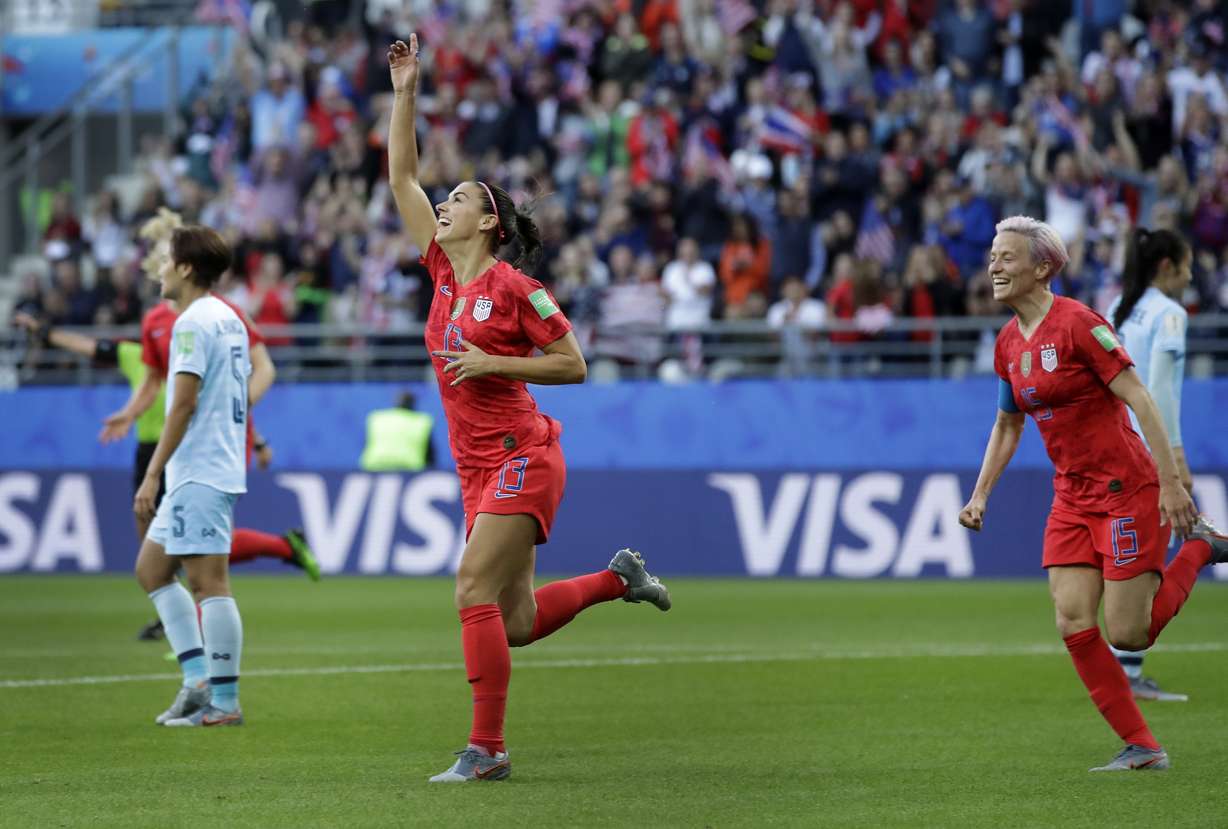 No matter how you view it, head coach Jill Ellis' side meant business Tuesday afternoon.
"You know, winning a World Cup and being back there for the third time, we want that fourth star," said Morgan. "So tonight we were that any goal could matter in this group-stage game. And when it comes to celebrations, I think this was a really good team performance and I think it was important for us to celebrate together."
No men's soccer team has faced criticism like the United States faced since Tuesday night. Not since the '92 Dream Team crushed little-known Angola 116-48 has an American sporting team faced as much scrutiny over a final scoreline.
For a sport that has achieved new heights, both in its professional league and internationally, criticism at the U.S. women's soccer team has been shockingly unbalanced compared to their male counterparts.
The United States just doesn't do that, many argued. Show some class was both the implicit and explicit retort. The Canadians were particularly upset, with a TSN broadcast that included Utah Royals FC forward Diana Matheson calling the Americans classless for their unsporting behavior.
"If anyone wants to come at our team for not doing the right thing, not playing the right way, not being a good ambassador, they can come at us," U.S. winger Megan Rapinoe said in a follow-up interview with Fox Sports. "It was an explosion of joy. If our crime is joy, then we will take that."
"Take your foot off the gas pedal" was essentially the retort.
And yet, where were the same calls when men's teams did similar feats? Where was the call for "sportsmanship" when the German women beat Argentina 11-0 in 2007, for that matter — or after Germany's epic 7-1 thrashing of host Brazil in the 2014 World Cup?
History is littered with heavily lopsided losses in the World Cup.
Hungary 9, South Korea 0 in 1954. Yugoslavia 9, Zaire 0 exactly 20 years later. Hungary 10, El Salvador 1 in 1982.
Even Thailand's own 13-0 win over Indonesia in a friendly a year ago hasn't been held to the same scrutiny as the Americans.
Australia walloped American Samoa 31-0 in an Oceania qualifier in 2001, the largest margin of victory in an official (non-friendly) match in FIFA history (the Samoans went 0-0-4 in qualifying that year, with a minus-57 goal differential, for those wondering). The United States didn't come close to that level of imbalance.
There was little public celebration after the U.S. win with all the hand-wringing. In a moment when Americans — and the rest of the world — might have focused on Morgan tying all-time legend Michelle Akers for most goals scored in a single match, the focus quickly shifted to whether the Americans did the right thing.
Related Story
The U.S. women's national team is the top-ranked team in FIFA's world rankings, the defending world champions, and one of the favorites to win back-to-back titles. Several of the best players in the world — Ballon d'Or winners in their own right — have come through the program. Yes, they blew out Thailand. And they should have. That's the purpose of sport, especially at the highest level of the game like the World Cup.
Drama will happen, and so will blowouts.
Don't expect Ellis to dampen the tip of the Americans' spear, especially not after questions arose over its goal-scoring in the sendoff to France.
"A lot of this is about building momentum, and so as a coach, I don't find it my job to reign my players in," Ellis said. "This is what they've dreamt about. This is for them. This is a world championship."
For their part, the Thai players and coaches handled the loss with dignity. They know what the World Cup means, both to them and the defending champs.
Thailand coach Nuengrutai Srathongvian knows that horrendous defeats can help teams get better. American Samoa has risen back to where it only lost 4-0 in the most recent qualifying cycle, for example. So, too, will Thailand. They'll move on from the defeat, move forward.
"In football games, everybody is following the rules, and everyone is trying their best," Srathongvian told reporters after the match. "We have to accept that, this team is very good. We don't have any excuse, except they are better."
×
Related stories
Most recent Soccer stories