Estimated read time: 4-5 minutes
This archived news story is available only for your personal, non-commercial use. Information in the story may be outdated or superseded by additional information. Reading or replaying the story in its archived form does not constitute a republication of the story.
If you have a high hairline there might be times when you wish you could shrink your forehead a few inches. In the past, the primary solution was a hair transplant where hair follicles were added to your forehead. While that remains an option, now a new procedure could be your ticket to confidence — no more bangs or hiding under a hat.
As the procedure becomes easier to do and recover from, both men and women are opting for forehead reductions. With several simple steps and a short downtime after, this procedure provides dramatic results with less hassle than it was in the past.
Why more are getting the procedure
Hairline lowering or advancement treatments, also known as forehead reductions, are procedures that have been adapted and honed from the scalp reduction treatments of old.
"Although the high hairline can be found in both men and women of all races and ethnicities, hairline advancement is best suited for individuals with a lifelong history of a high hairline," according to the U.S. National Library of Medicine.
While it can be effective for people who have a receding hairline, it's best for those who've had a high hairline or high forehead for the majority of their lives. "It is a procedure that is both effective and efficient in lowering the congenitally high hairline with very high patient satisfaction," the study continues.
But the key to taking the leap into surgery is knowing what happens once you're unconscious. Many people are hesitant to go under the knife, but with endoscopic options, it's not nearly as invasive as it used to be.
Steps in the procedure
Even though forehead reductions are less invasive than in times past, it's still a procedure that should be performed by a plastic surgeon specialized in facial surgeries. The American Society of Plastic Surgeons gives a general idea of what to expect during this procedure, starting with the anesthesia.
An anesthesiologist will provide either intravenous sedation or general anesthesia to keep the patient asleep and pain-free during the operation. The specific timing and type of anesthesia depends on the doctor and the patient's needs.
After the patient is prepped and under, an endoscopic incision is made. This small cut allows for the insertion of a small tube with a camera on the end, which can be precisely manipulated. With this line of vision, specific, small cuts can be made where needed without the long recovery time — and scarring.
Some doctors may choose to take a coronal incision route, which involves an incision from ear to ear across the top of the head just behind the hairline.
The procedure itself involves the surgeon lifting and repositioning muscle and tissue higher up on the forehead, removing any fat and excess as needed, according to the American Board of Cosmetic Surgery.
When the surgeon stitches the incision, he or she may use removable or absorbable sutures, skin adhesives or special clips. The patient will be monitored in the weeks following to ensure that the incision heals correctly. If there is any scarring, which is typically minimal, it is usually hidden by the patient's hair.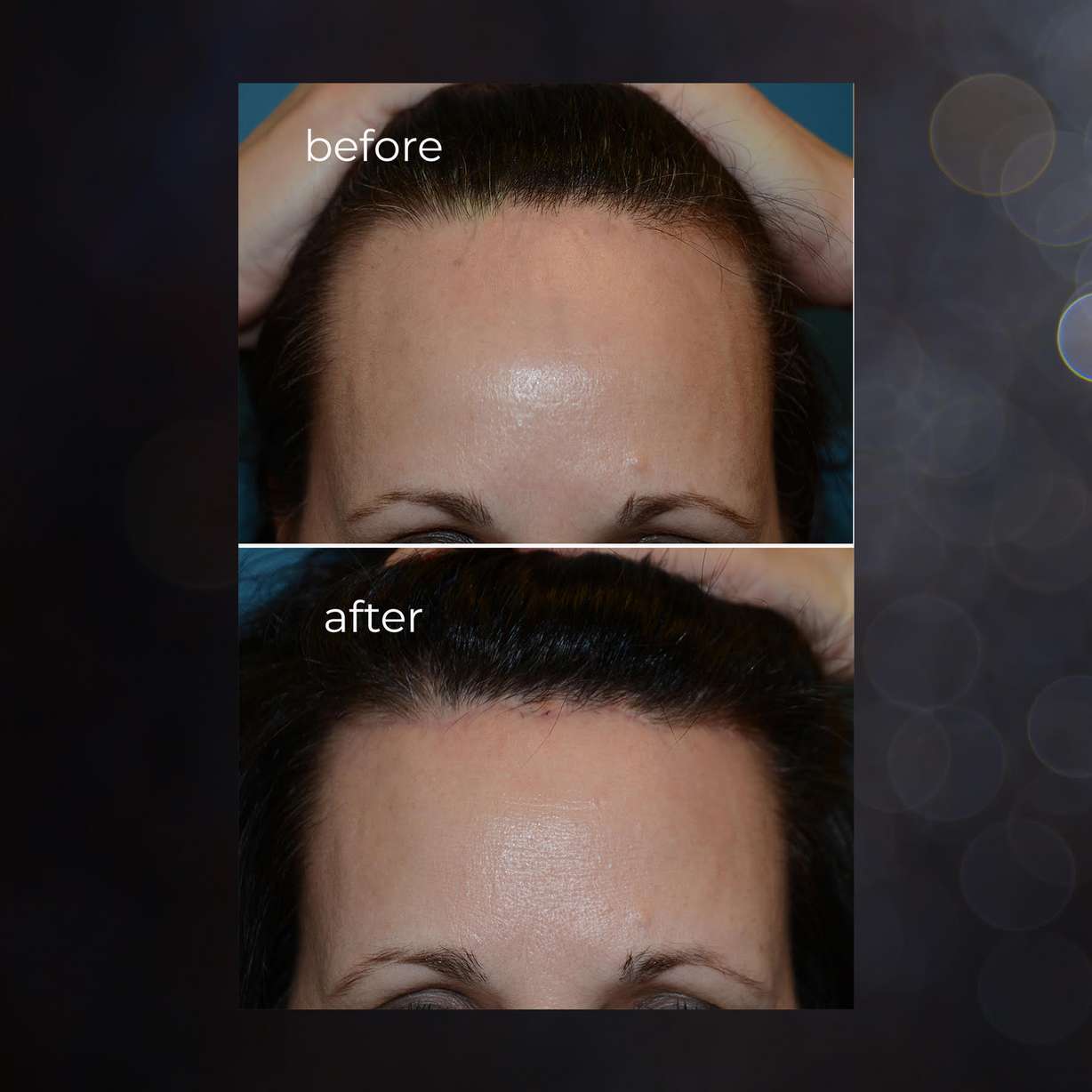 Recovery
Before endoscopic technologies pushed medical procedures forward, this surgery used to involve more downtime and scarring. Now, experts at Utah Facial Plastics say patients can go to work after two weeks of downtime, with minimal bruising and pain.
A drain and dressings are applied to the face but are removed the next day. Sutures are removed a few days later.
Results for men and women
This procedure is popular for both sexes because regardless of gender, everyone wrinkles with time. Patients will notice fewer wrinkles on the forehead and around the eyes.
Forehead reductions often also involve a midface lift, which helps bring the brows up as well, giving a more youthful overall look to the patient, says Utah Facial Plastics. "The brow is restored to a more youthful position and the frowning muscles are weakened."
In some cases, hair transplant surgery may be a better option to lower the hairline. This can be done as a stand-alone procedure or in combination with forehead reduction surgery depending on the patient. This method harvests individual hair follicles from the back of the scalp (where balding is rare) and transplants them to the hairline. Hair transplants can also help to fill in the side regions to create a natural, round appearance.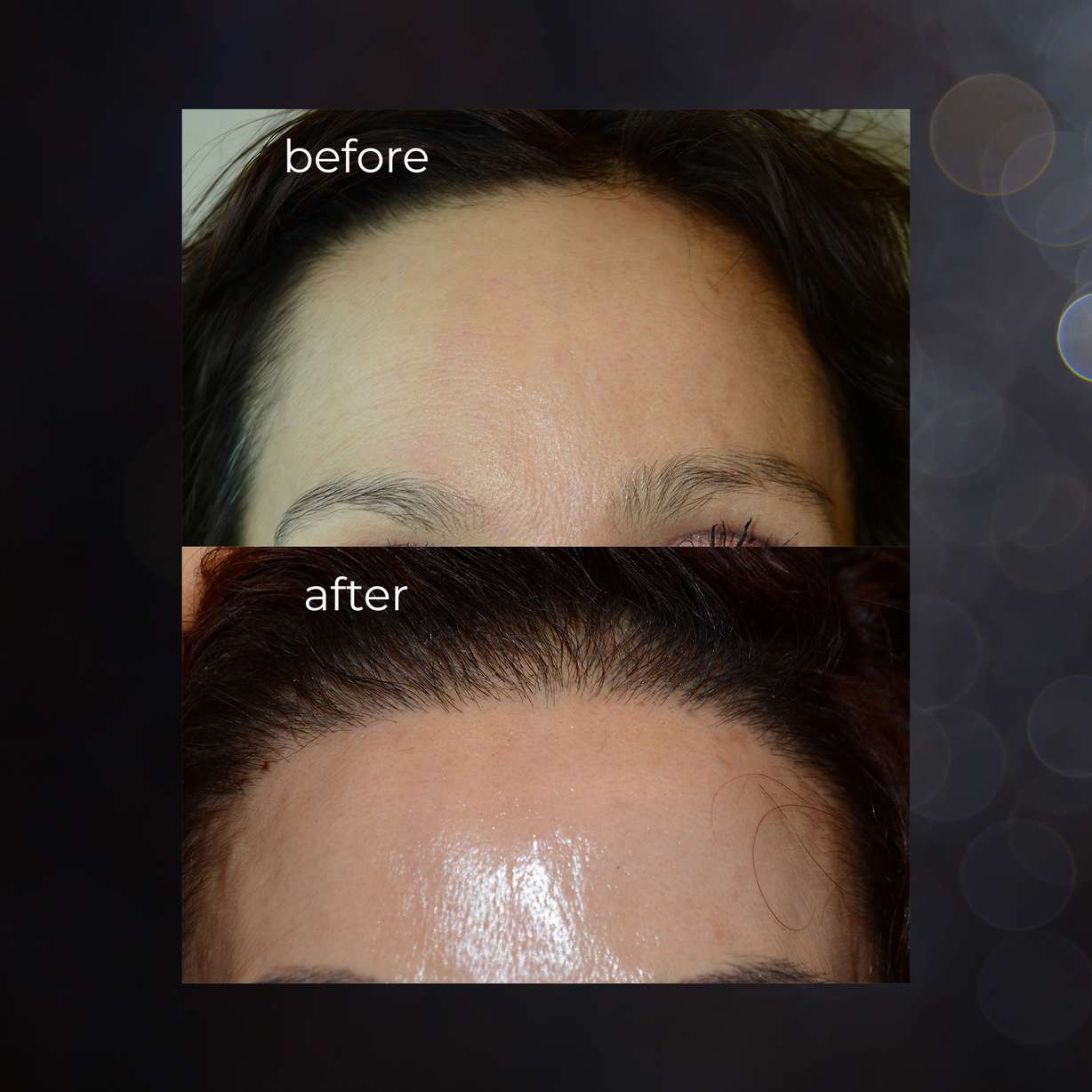 Qualifications and local professionals
If you're considering forehead reduction surgery, these are qualifications for people who end up getting the procedure, according to Utah Facial Plastics.
A high hairline
A large forehead
Some laxity in the forehead skin and scalp
Men with thick hair density and no family history of male pattern balding
Heavy eyebrows.
If you meet some or all of these criteria, contact Utah Facial Plastics to schedule an appointment. Dr. Scott Thompson and Dr. Douglas Henstrom of Utah Facial Plastics have the expertise to guide you through the consultation to the follow-up visit post-surgery.
×