Estimated read time: 5-6 minutes
This archived news story is available only for your personal, non-commercial use. Information in the story may be outdated or superseded by additional information. Reading or replaying the story in its archived form does not constitute a republication of the story.
SANDY — Real Salt Lake's run in the Lamar Hunt U.S. Open Cup ended almost as soon as it began Tuesday night.
Carlos Vela, Lee Nguyen and Adama Diomande scored a goal in either half, and LAFC rolled through Rio Tinto Stadium en route to a 3-0 win over RSL in front of an announced crowd of 15,039 fans in the Open Cup's fourth round.
Vela gave the visitors an early lead just eight minutes into the match, scoring a right-footed shot inside the far post off an assist from Eduard Atuesta for the 1-0 advantage that helped propel LAFC into the Open Cup's Round of 16.
It didn't get much better from there for RSL, which was playing without head coach Mike Petke, who was in Minnesota for a U.S. Soccer coaching course. Los Angeles held 55 percent of possession in the first half and held the hosts without a shot on target until just before the 60th minute.
"There were moments it was good, and there were times that we could've been a little bit tougher," said RSL assistant coach Freddie Juarez, who has been Petke's second in command for much of the duo's time together. "It wasn't just 1-2 players; it was 10 and 11 guys. But there were moments of good fighting spirit.
"Obviously, it wasn't a great game. But it was something that we took very serious, and we got some young guys, some guys coming out of injuries, and some very important minutes."
Goalkeeper Pablo Sisniega made one save up to that point, and Nguyen did the rest with a goal in the 64th minute to help ice the game and advance the Angelenos to the Round of 16 of U.S. Soccer's annual tournament that spans every division of the game in the United States.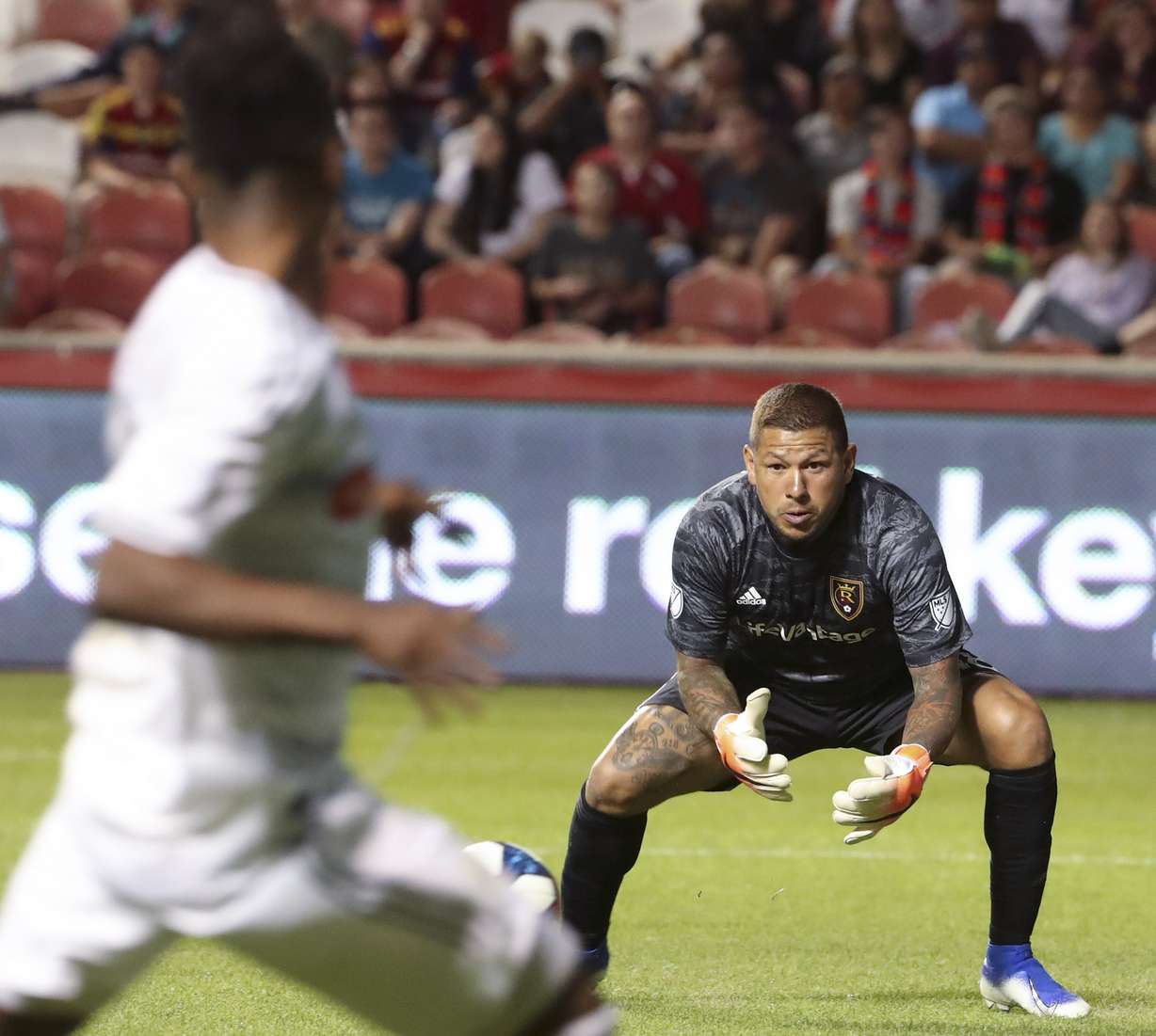 "Any opportunity you get against LAFC is a good opportunity," said RSL forward Tate Schmitt, one of several rookies and lower-division players in the lineup. "You're playing against one of the best teams (in MLS). We want to compete to be the best. It's always a good opportunity to go against them, to see what we can do to slow them down, and to create opportunities to go forward."
In the absence of a competitive match for 10 days, Real Salt Lake started several regular features, including goalkeeper Nick Rimando, midfielders Kyle Beckerman and Damir Kreilach, and forwards Corey Baird and Sam Johnson.
But the hosts also put out a makeshift back line of Donny Toia, Marcelo Silva, Erik Holt and Real Monarchs callup Andrew Brody — and LAFC's starting forward trio of Carlos Vela, Christian Ramirez and Diego Rossi sank their teeth in early.
The club also started rookie striker Tate Schmitt and brought in Cache Valley-born teenager Julian Vazquez made his first-team debut in the final minutes.
The results, then, could have been relatively predictable. RSL was out-shot 9-4, held to just 44 percent possession, and put just one shot on target.
Yet until that second goal, the side that relied on a good portion of academy products and Monarchs players was a goal away from changing momentum. The fight was there, just not the execution or the finishing.
"We treat every game as serious as the next one," said RSL midfielder Luke Mulholland, a second-half sub who came on with 13 minutes remaining. "Obviously the mindset is just knockout football and you have to treat it as one-and-done. We tried our best to get the win, but you have to take your hat off to LAFC. They're a quality team, we let them score on either side of the half, and put ourselves in a hole."
Schmitt nearly equalized around the 60th minutes for Real Salt Lake, a goal that would've changed everything about the match. But LAFC goalkeeper Pablo Sisniega made his first save en route to the shutout. Less than five minutes later, Nguyen finished off a pass from Latif Blessing to double the lead and take the wind from the home side.
"We were pushing, finding those opportunities, building momentum, and finding a little more success," Schmitt said of the team's play up to the 60-minute mark. "But they found one of those big side midfielders, received the ball, and we were a little too far back. They slipped it through, and it was just unfortunate."
RSL returns to MLS play June 22 at Chicago Fire, and they'll return to Rio Tinto Stadium at 8 p.m. June 29 against rival Sporting Kansas City.
In the meantime, there will be a lot of film to dissect, a lot of experience from play against Vela, Rossi, Ramirez and other top players in MLS.
And they'll learn from it.
"I know they aren't weak-minded. That's the first part. They won't take that loss and dig themselves in a hole," said Juarez, the former RSL Academy director and Real Monarchs coach. "They're fighters, they're warriors. They're going to leave disappointed … and that's what motivates them. Those guys will be in the gym and then leave after everyone. That's what we need from them."
Next up
Real Salt Lake heads to the midwest June 22 to face the Chicago Fire. The match, which will tipoff at 6 p.m. MT, will be broadcast on KMYU and KSL.com.
×
Photos
Related stories
Most recent Real Salt Lake stories