Estimated read time: 7-8 minutes
This archived news story is available only for your personal, non-commercial use. Information in the story may be outdated or superseded by additional information. Reading or replaying the story in its archived form does not constitute a republication of the story.
PROVO — BYU had a takeover at the NCAA track and field west preliminaries in Sacramento, California, when the No. 4-ranked Cougars qualified six runners for the national championships in the 10,000-meter run.
Four of those runners were expected, with Rory Linkletter, Connor Mantz, Connor McMillan and Clayton Young consistently ranking among the top harriers in the country — both during the cross country, indoor and outdoor track and field seasons.
But as Young turned around following his heat, saw his qualifying time on the big board at Sacramento State, and immediately spotted two of his teammates, his heart leaped with joy.
There was Connor Weaver, admittedly "freaking out" as he confirmed with his father in the stands that his time was, indeed, a national qualifier.
And then there was Dallin Farnsworth, a fellow senior who came to BYU with Young, revving up the crowd with sheer joy.
"To be able to have a BYU takeover moment was pretty unreal," Young said.
Farnsworth's career at BYU may as well have started in Austin, site of the NCAA track and field championships, when the former Pocatello-area standout qualified for the NCAA West preliminaries in the Texas capitol in 2015. And his BYU career will end in Austin, as well, beginning with the Cougars' six-man rotation in the 10,000 semifinals Wednesday night on ESPN2.
Related Story
In between, the former Highland High (Idaho) standout has been on a roller coaster of a journey, one in which he wasn't sure he'd finish his career with the Cougars.
"For me, I feel like this is coming full circle," Farnsworth said.
Once considered to be among the top prep harriers in the west, Farnsworth's BYU career was sidelined by a rare foot injury — not once, nor twice, but three times.
Naturally, he doubted if he'd ever come back. Of course, he wondered if it was all worth it.
But when he crossed the tape in Sacramento, looked at the scoreboard, and punched his ticket to Austin, Farnsworth knew it was all worth it — to be one in a race where a quarter of all entrants will be wearing the blue oval-stretch Y on their bibs.
"I've always said that BYU has given me everything I've ever wanted," said Farnsworth, who will pursue an MBA at Utah State next year. "I would never change the decision I made to come to BYU. For this to happen, it's the cherry on top. It's really special."
***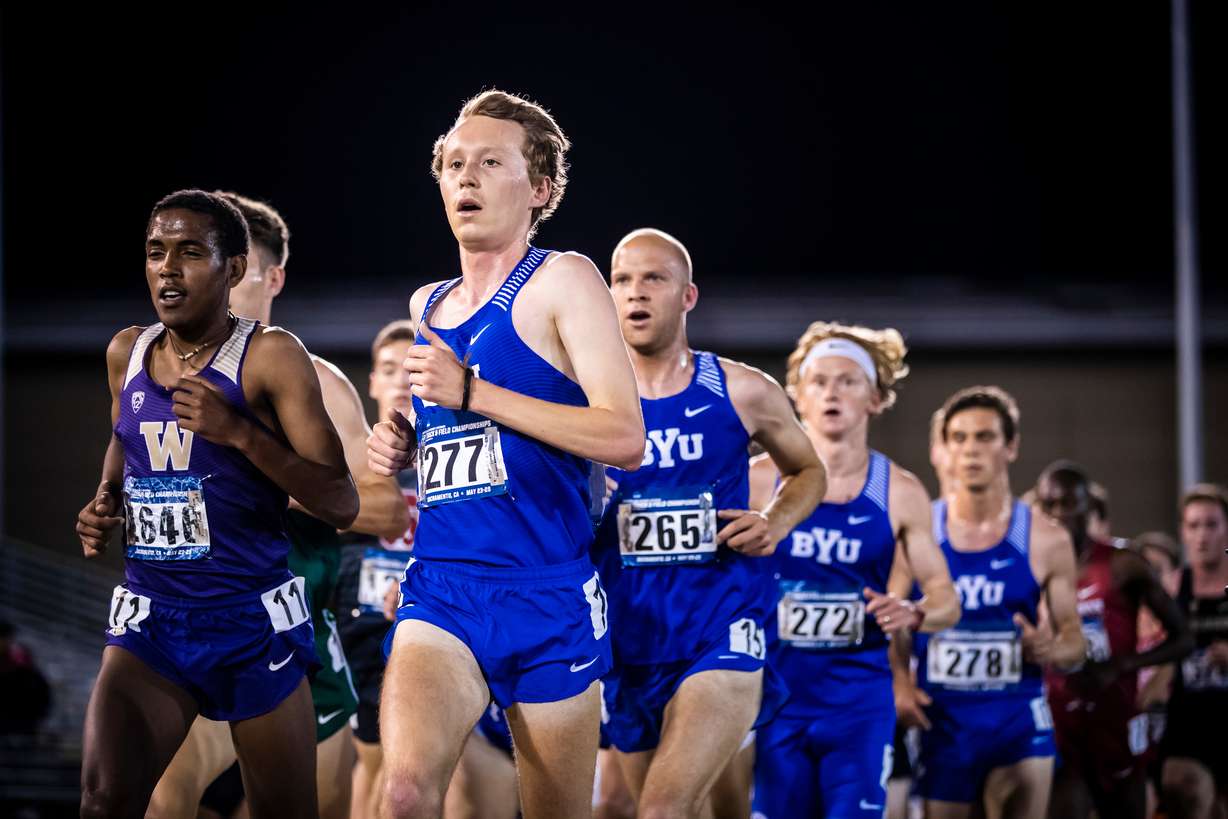 For Farnsworth, just making it to nationals is a minor miracle. The fifth-year senior from Pocatello, Idaho had surgery to repair a bilateral navicular stress fracture in his foot in October 2016, a rare injury with equally rare treatment.
The Cougar harrier suffered the same unique fracture less than a year later, in April of 2017, and again by the time his junior season rolled around in 2018. By the dawn of his would-be senior season, he wasn't sure if running another year after three stress fractures was in the cards.
A once-promising career — Farnsworth was a five-time Idaho state champion at Highland High in Pocatello, and he was among the top harriers at BYU as a freshman — could've been over at that point. First diagnosed in the 1970s but with a rise in occurrence since 2000, Farnsworth's foot injury was painful and debilitating — and coming back after what eventually became three surgeries took a toll on him, both mentally and physically.
"There were definitely times when he didn't think he would make it back," said Young, an American Fork High grad who signed with BYU in the same class as Farnsworth. "He started looking at other options, whether it was being the team manager, taking a secondary role, or just calling it quits."
Prior to the 2018 outdoor season, he even told a few teammates that he was hanging up the spikes at the end of the year.
"I definitely had those thoughts and even doubts," Farnsworth admitted when asked if he questioned if he'd run again. "I hadn't even ran in uniform for the last two years. I was in a lot of pain still."
He even sat in BYU head coach Ed Eyestone's office prior to the 2018 season, full of doubt, fear, anger, pain — or a mixture of all three — wondering (naturally) if another comeback was worth it.
In the end, it was.
"To have him be one of our six qualifiers was pretty special," Eyestone said of Farnsworth. "It just showed a lot of grit and determination."
But a conversation with former teammates following the 2018 season changed things. Nobody tried to convince Farnsworth to stay. Everyone know why he harbored his concerns — wouldn't we all do the same after such physical adversity, let alone the mental stress of recovery and rehab?
Yet BYU stood by him through it all. It's because of his spot on the Cougars' cross country and nationally renowned men's track team that allowed Farnsworth to go to Palo Alto, California, where he had surgery three times to repair a navicular from one of the world's leading foot specialists. Farnsworth credits the Cougars' hard-working athletic training staff and highly skilled medical specialists for helping him return — again and again and again — to the sport he loves.
And he credits his teammates, perhaps more than they will ever know.
His squad reciprocates that love, too.
"He was a leader on our team," Young said. "To see him push through that, both last year and this year, he's a great example of setting high goals and achieving those goals."
Farnsworth will move to Logan next year for his MBA program, competing for a coach he's known since high school in Aggie distance coach Artie Gulden — who lived in the same Pocatello neighborhood where Farnsworth grew up, and coached at Highland in 2012-13.
But he'll always be a Cougar, he adds, as he's grateful for what BYU gave him.
"It's still a slow process," Farnsworth said. "I still get pain (in his feet). But the experience I've had here, especially this year, is unparalleled to any. I don't think there are many people who get this opportunity and experience, and I'm fortunate."
***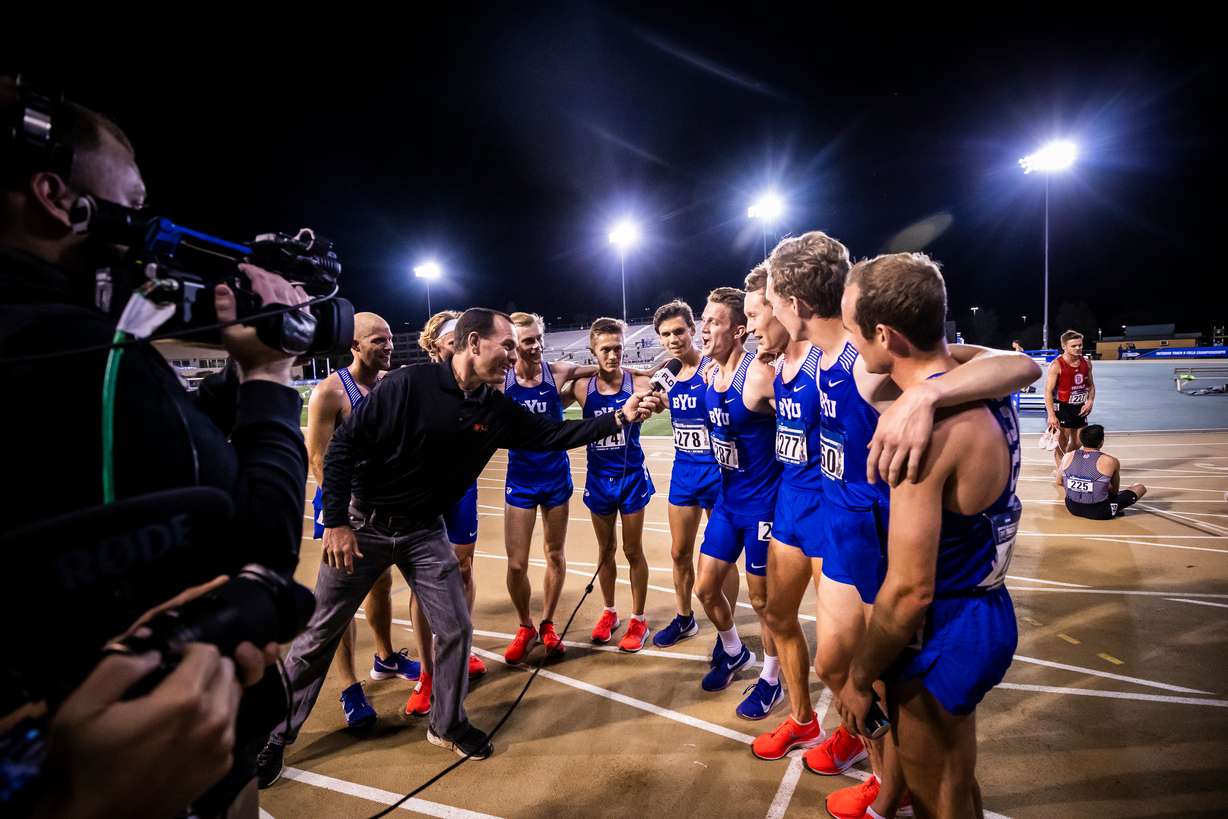 The Cougar distance runners won't be alone. BYU's 16 entries in the men's track and field championships are the third-most in the nation, vaulting them into unique territory for a Cougar athletic program as one of the top teams in the country.
In addition to the 10K sextet, Jacob Heslington, Matt Owens, Kenneth Rooks and Clayson Shumway will compete in the steeplechase beginning Wednesday evening, Talem Franco will add a berth in the 1,500-meter run, and the 4x400-meter squad of Michael Bluth, Blake Ellis, Abram Schaap and Colten Yardley will round out the track season's final meet, along with decathlete Brian Matthews.
"Usually there's a big difference in training from regionals to nationals. It's not as big of a group, and it just feels different," Young said. "But this year, when you've got six 10K guys and four steeplechasers — it's as if our team hasn't changed. It's been awesome to be around the same people and in the same runs."
In the field events, Rickey Fantroy Jr. will add his name to the NCAA triple jump books after recording a career-best leap of 51' 0.25" on his final attempt at the NCAA West Regionals in Sacramento, California two weeks ago.
It has the Cougars hopeful for a strong performance and a strong finish to the end of an incredible season.
But simply being in the national spotlight is a reward one harrier is just happy to enjoy with the squad.
"It's not just a quantity game, but we also have great quality athletes, as well," Eyestone said. "They're ranked in the top 3-8, and they have good opportunities to score. The expectation is for them to go in and come away with some points.
"As they just focus on the process, not the outcome, I think they will ultimately be pretty pleased with their performance and we're going to score some points."
×
Related links
Related stories
Most recent BYU Cougars stories