Estimated read time: 5-6 minutes
This archived news story is available only for your personal, non-commercial use. Information in the story may be outdated or superseded by additional information. Reading or replaying the story in its archived form does not constitute a republication of the story.
PROVO — When the BYU baseball team was named outright West Coast Conference regular-season champions — its first such honor since 1989 — there was no ceremonial dogpile on the pitcher's mound, as most teams are wont to celebrate.
There was no jumping up and down, screaming and hollering, and infielders flying into one another's arms.
Of course, part of that is because of the setting — when the news finally came through, the Cougars were on board a flight home after wrapping up their final regular-season series at Santa Clara.
"That would've been awkward," head coach Mike Littlewood deadpanned in recalling the moment to a small group of reporters this week. "But I heard a little cheer from the back of the plane, and that was pretty much it. I think this team has good perspective."
Maybe it's that perspective that kept them from celebrating too hard. To the Cougars, ranked No. 24 in the country by Baseball America with a 36-15 record, all they had done was clinch the No. 1 seed and the right to wear home white uniforms for the upcoming West Coast Conference Tournament — where the four other teams will also pitch their ace on opening day, including Thursday's opponent Loyola Marymount, beginning Thursday at 5 p.m. MT (TheW.tv, BYU Radio).
Gonzaga and Saint Mary's will duel in the other WCC Tournament contest immediately following the Cougars and Lions.
Winning the WCC Tournament? Now that would be an achievement, BYU super sophomore Jackson Cluff said.
"The conference tournament is definitely a lot more important than the regular-season title," said Cluff, who boasts a team-high .340 batting average with 56 RBI. "I think the conference tournament says a lot more about a team. That's when it matters. That's when you have to play your best, and it's winning when it matters."
The Cougars had a pretty good idea they'd win that top seed, too. A win Saturday over the Broncos gave BYU a 19-8 record in conference play, their best mark since going 20-7 in 2017 and earning an automatic berth to the NCAA Regional.
Getting back to that postseason stage is also what matters most to the Cougars.
If you ask Littlewood, his team has done enough to earn an at-large bid, even if they fall short at Banner Island Ballpark in Stockton, California, site of the conference tournament.
But you never know how at-large berths are going to play out, and BYU's no-Sunday play policy doesn't lend itself to many favors in college baseball. Neither does their RPI, which dropped to No. 41 after losing a game to Santa Clara, the worst team in the league that finished its season with a 12-40 overall record.
So the conference tournament is more crucial, or at least getting to the championship game — which means likely beating LMU ace Cody Paiva, the senior from Hawaii who was voted the top pitcher in the conference by league coaches after posting a 1.78 ERA and a .230 opponents' hitting percentage in 13 outings.
"It doesn't really matter which seed you are going into the tournament, because each team is going to throw their No. 1 pitcher first," Cluff said. "That first game is huge, and hopefully we can take care of business in the first one."
Cluff has been a "huge" part of the Cougars' turnaround, from last year's 22-28 team that went 11-16 in WCC play into the conference champion. The sophomore from Meridian, Idaho returned from a two-year mission for The Church of Jesus Christ of Latter-day Saints to Atlanta in June, and before the end of the summer, he met Littlewood on campus during a summer baseball camp to discuss his role on the team.
WCC Awards
That role didn't begin with him playing shortstop, his preferred position. But the middle infielder took to second base with aplomb, even mentoring his replacement Carson Mathews at short, and Littlewood casually remarked to his wife that the Cougars were going to be a completely different ballclub than from the year simply with the addition of Cluff.
Seniors provide the bulk of a team's leadership, and BYU is no different, with Brian Hsu, Noah Hill, ace pitcher Jordan Wood, who leads a historic pitching staff, and Brock Hale, the WCC player of the year who has a .340 batting average with a team-high 11 home runs that has boosted his stock for this summer's Major League Baseball amateur draft.
But put Cluff right in that rotation of leadership, Littlewood said. He's earned it.
"He's one of those guys who, when you watch him work, he doesn't take a play off," Littlewood said of his middle infielder with the .971 fielding percentage. "Whether it's taking ground balls, or diving for balls, getting upset at himself for a bad swing; he sets the bar so high for himself. And then I see others watch him and do the same thing. If he's not that example, the younger guys aren't doing that."
He's consistent, too. Cluff has started all 51 of the Cougars' regular-season contests, joining Hale as the only two players on the last (Hsu is right behind them, with 48 starts at third base). He's been trusted to in his position, even as the draft will likely come calling for his name, too (as a returned-missionary, fourth-year sophomore, Cluff will be eligible to leave school if drafted, should he choose to do so).
"That's what I wanted to do and that's what I was hoping to do," Cluff said. "I just had to work out the kinks in the fall, but they've been pretty patient with me in figuring out what I could do to contribute on this team. That was my goal. The goal is to get Ws, and I want to be able to help the team every day."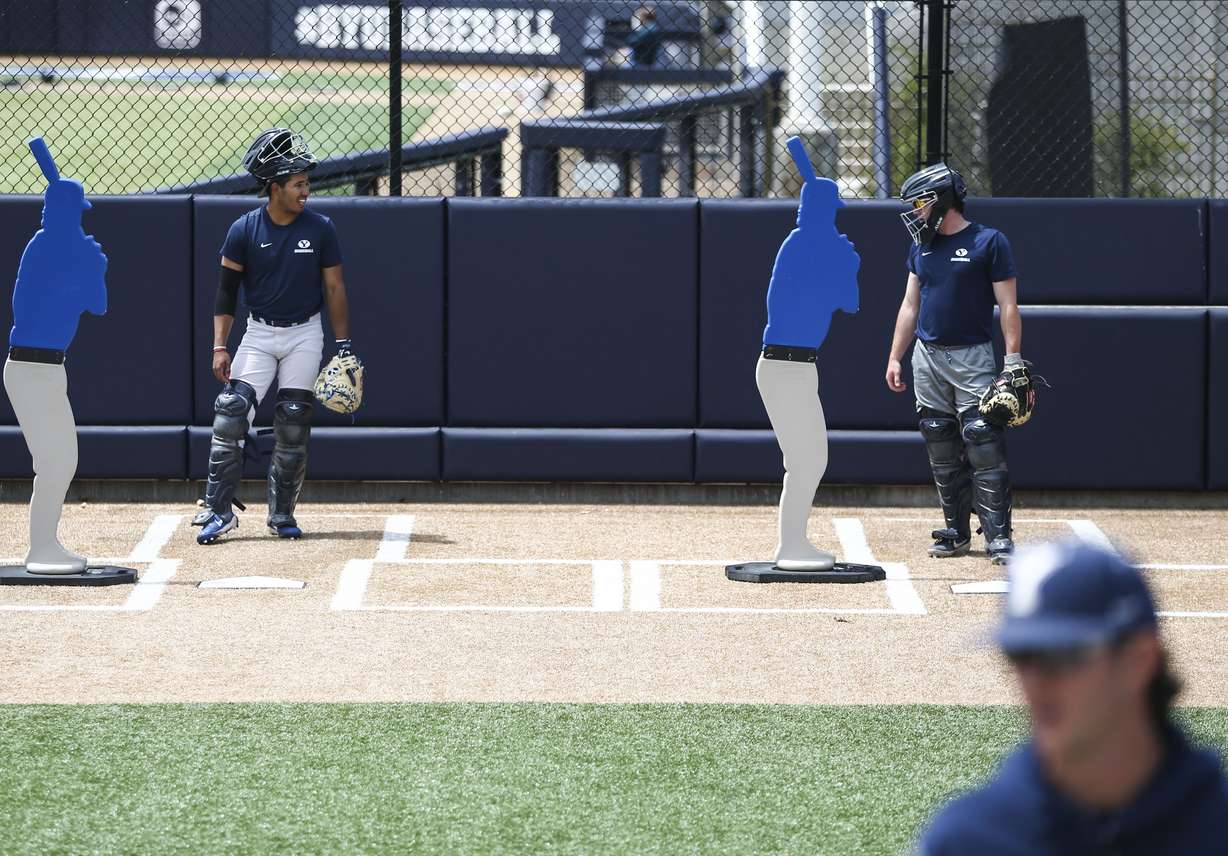 WCC Tournament: No. 4 LMU at No. 1 BYU
Where: Banner Island Ballpark in Stockton, California
When: Thursday, May 23
Streaming: TheW.tv
Radio: BYU Radio
×
Related stories
Most recent BYU Cougars stories