Estimated read time: 4-5 minutes
This archived news story is available only for your personal, non-commercial use. Information in the story may be outdated or superseded by additional information. Reading or replaying the story in its archived form does not constitute a republication of the story.
Measles was declared eliminated in 2000 in the U.S., but the dangerous virus is making a comeback through imported cases. It's a serious health concern for communities and especially dangerous for young children.
While many still think measles is just a simple rash and fever, about 1 in 4 people who get measles will be hospitalized, one out of every 1,000 people with measles will experience brain swelling, which can lead to brain damage, and one or two out of every 1,000 will die even with good medical care.
What is measles? Measles is a highly contagious virus that lives in the nose and throat mucus of an infected person. It's spread in the air by people coughing and sneezing or by touching a surface where droplets from the coughs and sneezes have landed. The virus can live for two hours in the air where an infected person has been and 90 percent of those who are not immune will catch the illness when they are exposed.
Symptoms of measles
Symptoms of measles generally won't appear until about 7 to 14 days after a person is infected which means the virus can spread quickly when a person doesn't realize they're sick. Typical symptoms include:
High fever
Rash – flat or raised red spots starting on the face and spread to the neck, trunk, arms, and legs
Cough
Runny nose
Red, watery eyes
White spots inside the mouth.
How can I be protected from measles?
The best protection against measles is the measles-mumps-rubella (MMR) vaccine. The vaccine is safe and has been proven to be the most effective way to provide protection against all strains of measles.
Children should get two doses of MMR vaccine, starting with the first dose at 12 to 15 months of age and the second dose at 4 to 6 years of age, although the second dose can be given as early as one month after the first dose. Teens and adults should also be up to date on their vaccines.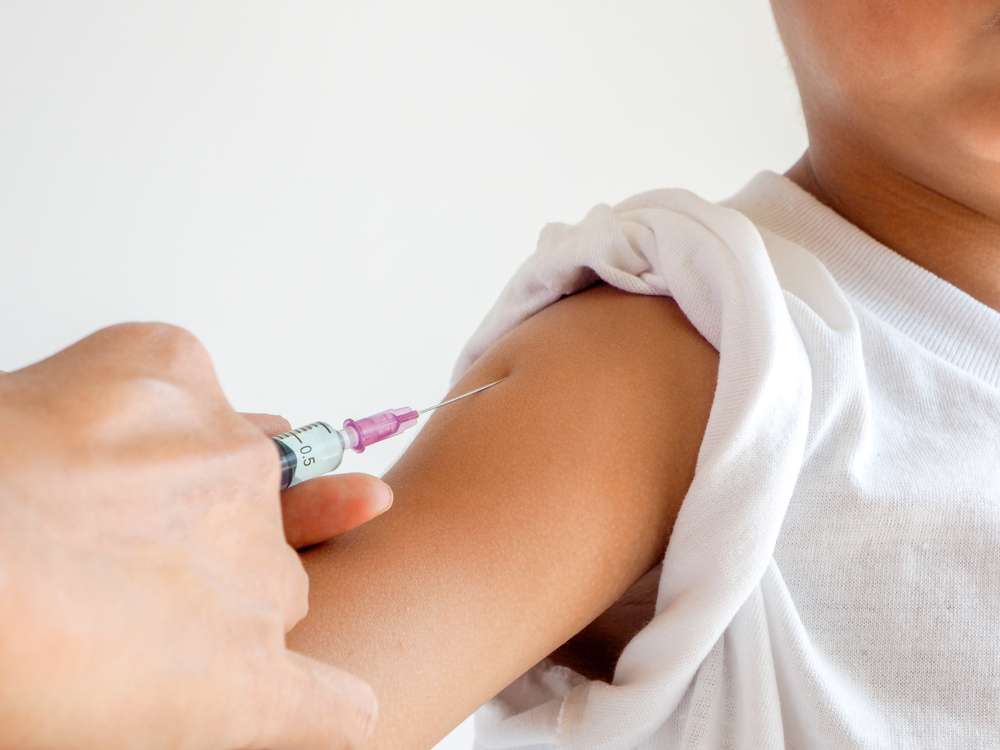 The MMR vaccine can be administered by your local health care provider, some pharmacies, and your state and local health departments.
How long do measles outbreaks last?
The duration of a measles outbreak depends on the level of vaccination in the communities where the outbreak is occurring and how quickly contacts are identified and quarantined.
It's important to stay at home for four days after the measles rash develops. Since the rash tends not to appear for 14 days after being exposed, those who've been exposed who are not immune can be infecting others without knowing they have the virus and need to limit their contact with others in order to prevent the spread of the virus.
The faster a community becomes fully vaccinated, the faster the outbreak can be stopped.
Can I still get measles even if I've been vaccinated?
As long as you have a good immune system and you're vaccinated, it's very rare to get measles once you have had two doses of vaccine. One dose is 93 percent effective, two doses are approximately 97 percent effective. That means 3 out of 100 people who are fully vaccinated and are exposed to the virus will catch the disease compared to 90 out of 100 people who are not immune. The good news is fully vaccinated people who get measles tend to have a milder illness and are less likely to spread the disease to other people.
Is my child going to get measles?
If your child is not vaccinated and is exposed to someone with measles, they have a 90% chance of catching the virus.
What if I travel to a place having a measles outbreak?
If you travel to places having measles outbreaks and are in contact with others who may have measles such as in a plane coming from a place where measles is circulating, you have a greater chance of being exposed and catching measles. Your best option at protection is to get vaccinated against measles with two doses of vaccine.
Additional Resources
×