This archived news story is available only for your personal, non-commercial use. Information in the story may be outdated or superseded by additional information. Reading or replaying the story in its archived form does not constitute a republication of the story.
SANDY — There are five languages spoken on Layton Christian Academy's boys soccer team: English, Spanish, Portuguese, Korean and Dutch.
But there is one common language spoken at 2352 State Route 193 in Layton: soccer.
Marco Fransisco and Rafael Silverio scored a goal in either half, and the Eagles never looked back en route to a 2-0 win over Rowland Hall in the Class 2A state championship match Friday at Rio Tinto Stadium.
"It was a hard game. They played very well," Fransisco said. "But we did a good job.
"We are a family. We love each other. They are like brothers to me."
The Eagles (18-0-1) won their second state title in three seasons.
But after a disappointing finish a year ago, falling to Waterford in a semifinal shootout, Layton Christian retooled.
With a roster that included players from as far away as Korea and the Netherlands, as well as Venezuela and a bevy from Brazil (not to mention the handful of Utah-born families), the Eagles went to work.
Early morning practices in a park in August? Check.
Pick-up soccer organized by the players? Of course.
An unbeaten record in Region 16, where LCA only dropped points once via a scoreless draw with St. Joseph? That was just a warmup for the playoffs.
The regime is less difficult when you go through it with your brothers. And at Layton Christian, with a roster that might feel as comfortable on a United Nations council as on a soccer field, the players formed a unique bond of brotherhood.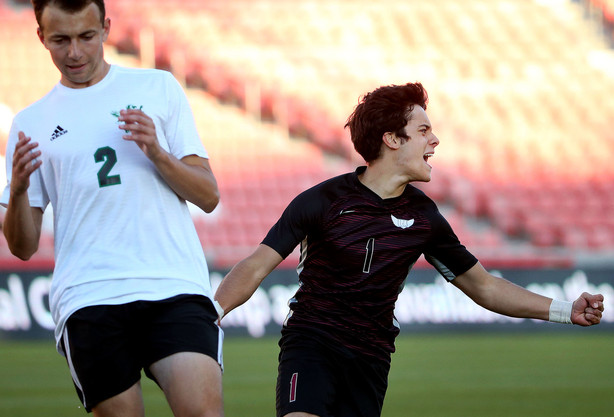 "I have been here (at Layton Christian) coaching for 14 years and I have never had a group of kids that love each other more than this group," LCA coach Chris Tatro said. "Even that 2017 state championship group didn't have the same brotherhood that this group has. I know they are going to go back to their countries, remember this moment, and stay in touch for the rest of their lives."
Then, in the postseason, the Eagles soared.
Layton Christian ran through the 2A playoffs, outscoring its first two opponents by an aggregate score of 18-0. In the semifinals, the Eagles met more resistance from a stubborn Millard side.
But thanks to Frank Dufitumukiza's extra-time header, Layton Christian found itself back in the championship finals with a 2-1 win over another Eagles side — the one from Fillmore.
In the title bout, the private school never looked back.
Fransisco finished a cracker of a shot from distance two minutes before the halftime break, giving the Eagles a 1-0 lead on their third shot on target of the game.
🏆 🏆 @TheLCAEagle 🏆 🏆 #kslprepspic.twitter.com/zSECwjj2ts

— KSL.com Sports (@KSLcomSports) May 11, 2019
"I didn't believe in the moment," the goal-scorer from Brazil said. "But when I saw the scoreboard say 1-0, it was heart. We love soccer."
Goalkeeper Matheus Silva made it stand up — though not without several challenges from the Winged Lions (15-3). The long-armed shot stopped parried attempts from Rowland Hall's Jason Nkoy and Charlie Retzer early in the second half, and Silverio gave the Eagles a bit of space with a goal in the 56th minute.
In the 60th minute, he got a little help from the wind. Retzer dribbled through to the end line. And with Layton Christian struggled to keep up with the Winged Lions' counter-attack, he crossed a ball back to a wide-open Mats Lindgren. But the captain's first touch sailed the ball just over the crossbar and into the Real Salt Lake supporters' section chairs behind the goal.
In the end, it was enough. For a trophy, for a title, and most importantly for Layton Christian Academy, for family.
"These guys truly love each other like brothers," Tatro said. "That, right there, is what brought them together on the field."
×
Photos
Related Stories