Estimated read time: 4-5 minutes
This archived news story is available only for your personal, non-commercial use. Information in the story may be outdated or superseded by additional information. Reading or replaying the story in its archived form does not constitute a republication of the story.
SANDY — Officially, the shutout goes to the goalkeeper, making it perhaps the most valued of statistics in soccer on the defensive side.
But talk to any goalkeeper in any league in the world, and they'll set you straight.
Shutouts belong to the team or, more specifically, to the team's defense.
So maybe that's why Utah Royals FC goalkeeper Nicole Barnhart blushes a little when asked to describe her defense. To her, the fact that she owns three shutouts just a month into the 2019 NWSL campaign is a team achievement.
"As defenders, we walk away from the game knowing if we put up the shutout, we've done our job," Barnhart said. "The rest of it relies on attacking players to finish it off and get the win. But we pride ourselves defensively and being really tough to break down and tough to beat."
She's got a great defense in front of her, from Scottish captain Rachel Corsie to fellow center back Becky Sauerbrunn, who was just called into pre-World Cup camp with the U.S. women's national team.
There's Sam Johnson, the other half of the Royals' blockbuster trade a year ago that brought in U.S. striker Christen Press, who has also seen time at center back. And then there are the variant fullbacks, from New Zealand international Katie Bowen to rookie Michelle Maemone to U.S. standout Kelley O'Hara.
Even Meghan Cox, the 24-year-old national team replacement player officially signed with the club for a week, has already seen a few minutes on Utah's formidable back line that has posted three-straight 1-0 wins.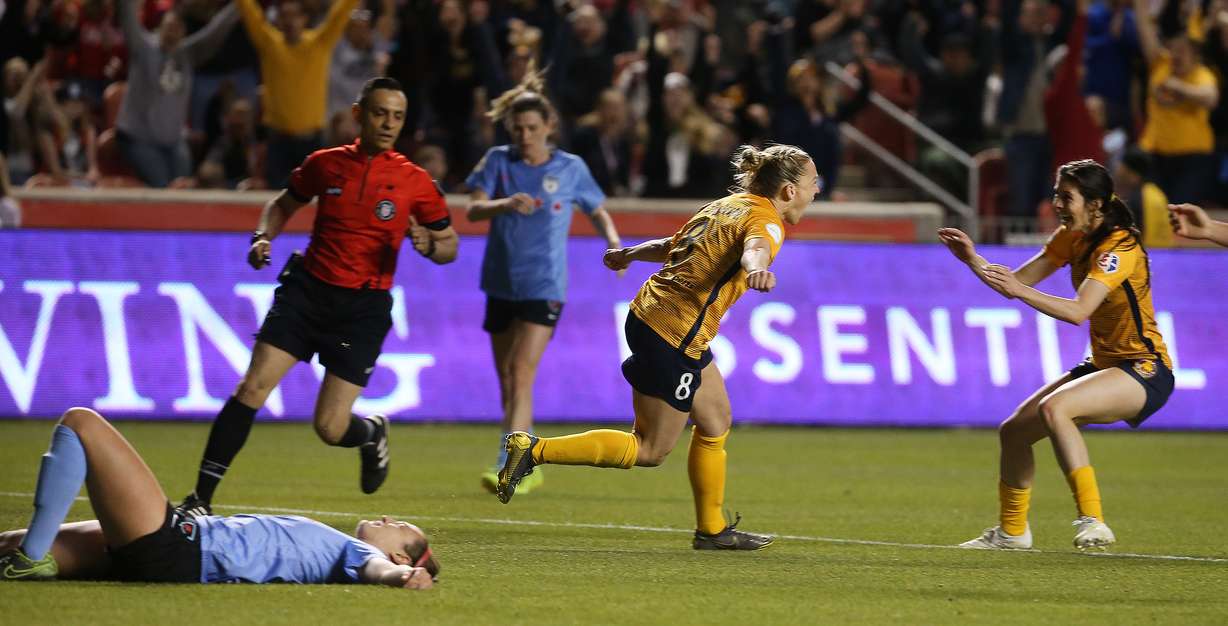 So you can see why Barnhart gets plenty of help to post each clean sheet.
"We typically rotate through, to give people rest — and obviously there is going to be a lot of rotation throughout the season," Barnhart said. "So it's good to get people working next to each other, and get reps in — for knowledge of each other and how they play. It helps to know each other going into the games."
But the end result always falls back on the 'keeper — often for good, and for bad.
Right now, it's a good thing for the Royals (3-0-0, 9 points), who will host the Houston Dash in a battle of two of the top three teams in the league Saturday at Rio Tinto Stadium (1:30 p.m. MDT, KSL.com).
But take nothing away from the 'keeper nearly everyone calls "Barney" and only a few refer to as "Nicole." She's earned her shot at the starting job in Utah, a spot earned after coming back from offseason ankle surgery a year ago.
Fellow goalkeeper Abby Smith fared remarkably well in her absence back then. But now that Barnhart has taken the posts for the Royals, she isn't doing anything to give up her position. Part of that is instinct, as it is with all goalkeepers. And part of it is just what Barnhart brings, specifically, to Utah, according to goalkeeper coach Jason Batty. More than 300 games of experience. An eye for angles, particularly against attacking players. Positioning to match any offensive surge or counter-attack.
"I don't think she's always been the most athletic keeper in the world," said Batty, a former New Zealander international who also worked in MLS with the San Jose Earthquakes. "But she has a big frame, she fills the goal, and she makes the saves she needs to make at the right time."
It's a winning combination for the Royals — and not one they are willing to take lightly.
And with the Dash (2-1-1, 7 points), led by former Alta High star Kealia Ohai and England international Rachel Daly, they can't afford to let up.
"To be honest, we want more. We're hungry," Royals midfielder Erika Tymrak said. "Three shutouts, three clean sheets and three wins feel great. But it's just a starting point for us, and we're ready for the rest of the season."
NWSL: Utah Royals FC vs. Houston Dash
When: Saturday, May 11 at 1:30 p.m. MDT
Where: Rio Tinto Stadium
Streaming: Yahoo Sports and KSL.com
×
Related stories
Most recent Real Salt Lake stories