This archived news story is available only for your personal, non-commercial use. Information in the story may be outdated or superseded by additional information. Reading or replaying the story in its archived form does not constitute a republication of the story.
SANDY — Michelle Maemone was sick.
Like, really sick.
As in, 101-degrees, can't-get-out-of-bed, still-struggling-to-speak-three-days-later kind of sick.
But she knew she needed to take the opportunity Utah Royals FC coach Laura Harvey had given her.
After all, it's not often that a rookie player in the National Women's Soccer League gets to start a match — and even less so when it's the opening game of the club's sophomore season.
So even though she couldn't train, even though she spent more time in bed than on the pitch the day before, and even though she refilled her 64-ounce Hydroflask at least five times trying to flush whatever virus had invaded her body, she made her way to Rio Tinto Stadium last match.
And she performed more than admirably, helping the defense keep a shutout in a 1-0 win over the Washington Spirit that gave the Royals three points and a game in hand on the rest of the league.
"I don't know when my time is going to come. You just don't as a rookie," Maemone said the next week in training before the Royals departed for Saturday's road kickoff against the Orlando Pride. "But I wanted to be prepared for when my time did come.
"It came a lot sooner than I thought it was going to."
Maemone played 60 minutes in her Royals' debut, starting the match at left back as U.S. international Kelley O'Hara works her way back into full fitness from injuries sustained last year (and in time for this summer's Women's World Cup in France).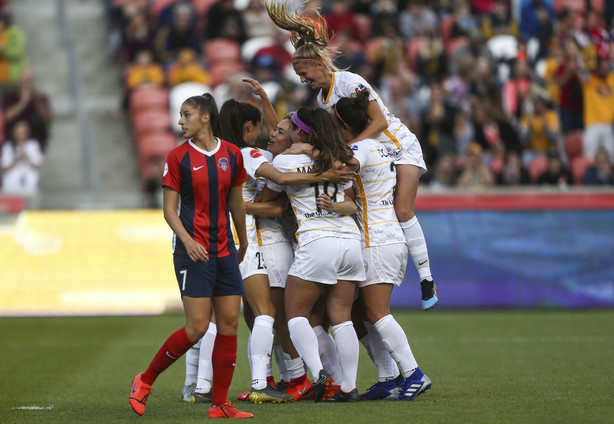 Her touch on the ball wasn't always there, her passing serviceable but imperfect, and it was all she could do to all-but crawl to the sideline as O'Hara replaced her in the 61st minute. But she made it — and no one doubted her hustle, her effort or her heart in keeping the shutout while protecting Lo'eau LaBonta's 10th minute goal.
Of course, it helps having three World Cup-caliber defenders on the same backline — and Maemone gave plenty of credit to the trio of U.S. international Becky Sauerbrunn, Scottish captain Rachel Corsie, and New Zealand's Katie Bowen, who all started in defense next to her.
But the trio gave her props after the game, as well, and even patiently waited for her as she pulled herself off America First Field a few days later following training, still hoarse from a bout of laryngitis that accompanied her sickness, but slowly working her way back to 100 percent.
"To say that I am honored and humbled doesn't even sum up with it feels like to play alongside them," Maemone said. "I truly believe that I am playing next to the best defenders in the world."
And next to "the best defenders in the world," with goalkeeper Nicole Barnhart behind her, Maemone held her own.
That will bode well as Harvey prepares to lose seven players — and many sooner rather than later — to international duty ahead of the quadrennial tournament this summer in Paris.
"You don't just want to throw people in when it's World Cup time," Harvey said. "For her, for Mandy (Laddish), getting on the field was a huge opportunity for them."
Maemone will have a heavy load on her shoulders as she tries to fill in full time for O'Hara. But she knows she has support — not the least of which coming from the 30-year-old fullback and Olympic gold medalist, herself.
Home opener
"In practice, she's been really coaching me," Maemone said of O'Hara. "She took me to get my nails done one day, and we just talked. To do that with someone who I looked up to and watched in the World Cup and the Olympics for years, it was surreal, honestly."
Harvey isn't opposed to drafting rookies, or even playing them early in their careers. She did it during her time in Seattle, where she won two NWSL coach of the year awards, and she's now done it with Maemone just one game into Utah's sophomore season.
The coach who has developed a reputation across the league for relying on experienced veterans and international players, like going out and signing U.S. international Christen Press in the middle of last season or Spain's Veronica Boquete prior to this year's training camp, believes there's still value in the NWSL college draft.
"I always feel like there are some diamonds in the rough that nobody knows about," Harvey said. "I think I've got a good reputation for that and finding low-round draft picks that are great."
Perhaps Maemone is that latest diamond. She sparkled enough to earn early playing time, through the Royals' preseason and training camp. It was enough to earn one of three contracts prior to the season, alongside fellow draft pick Madeline Nolf from Penn State and training camp invitee Gaby Vincent from Louisville.
Now the next step will be seeing more playing time — something else Maemone deserved.
Well, after she pushes aside that bug, too.
"I'm getting there. It's a process," Maemone said. "I feel really weak, so it's been difficult. But that being said, I'm out here at training, getting touches, and getting the tactical side down for the game Saturday.
"I'm definitely not 100. But I'm getting there."
NWSL: Utah Royals FC (1-0, 3 points) at Orlando Pride (0-2-1, 1 point)
When: Saturday, April 27 at 5:30 p.m. MT
TV: KMYU
Streaming: Yahoo Sports, KSL.com
×
Related Stories