Estimated read time: 5-6 minutes
This archived news story is available only for your personal, non-commercial use. Information in the story may be outdated or superseded by additional information. Reading or replaying the story in its archived form does not constitute a republication of the story.
PROVO — BYU pitcher Easton Walker hates to lose.
Fortunately for his Cougar teammates, he hasn't done that very much.
The 5-foot-9 sophomore from Pleasant Grove is 6-0 in 2019 and posts a 1.30 ERA in seven starts — the sixth-best mark in the nation.
"He hates to give up runs," BYU pitching coach Michael Bradshaw said. "And he hasn't given up many."
Walker isn't the only one lighting up pitching radars in Provo, though.
The Cougars have a combined 3.51 ERA, .249 opponent's batting average, and allow just 4.07 runs with 3.09 walks per game — the best marks in program history in the modern era, or at least going back to 1969.
The Cougars are led by senior Jordan Wood (4-2), who boasts a 4.39 ERA in 12 starts, allowing just 34 earned runs on 74 hits in 69 innings pitched. He's the rock of the pitching staff — Bradshaw calls him their "Thursday guy," their first starter, their ace — and the one the Cougar arms look to throughout the first-year pitching coach's practices and game prep.
But BYU hasn't just boasted a strong starting rotation, either.
"In four years, I've seen a decent amount of pitchers. And I think this pitching staff has worked the hardest I've seen," Wood said. "Other years, we might have had more talented arms — but this year, we have talented arms whose hard work has shown on the mound."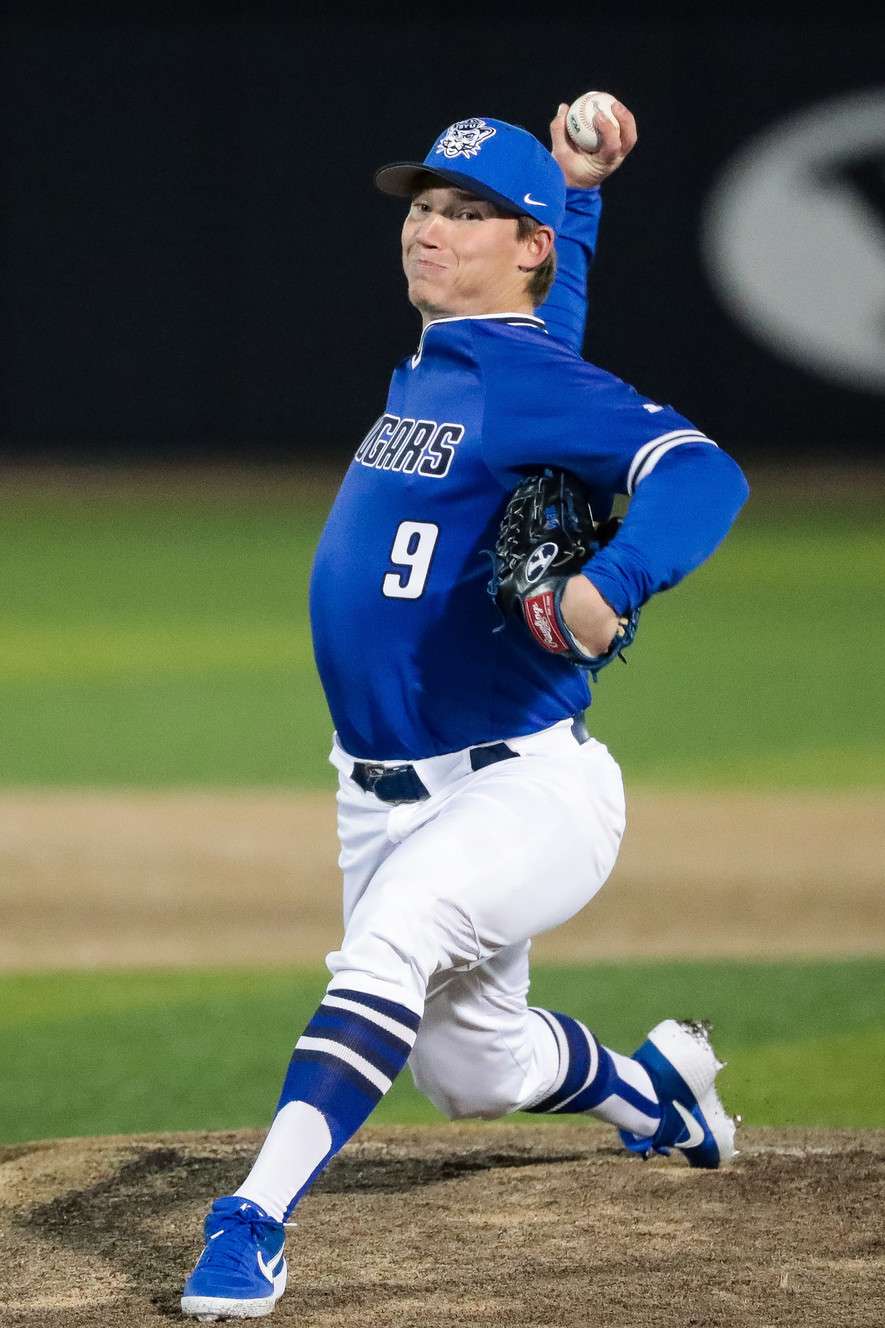 Relief pitcher Reid McLaughlin is 5-1 as a freshman, and the right-hander from Scottsdale, Arizona boasts a 2.06 ERA in 20 appearances — the fourth-best freshman mark in the nation.
If the season ended today, McLaughlin would have the fourth-best ERA among BYU freshmen in program history, too.
Sure, he'd love to be a day-one starter. But McLaughlin, like the rest of the Cougars' arms, knows his role — and he's more than embraced it. While most of the outside world questioned BYU's pitching depth before the season, the freshman was confident his brothers-in-arms — or is that, brothers' arms — would be a strength of the team in 2019.
"In the fall, I thought we had a little bit of an edge on hitters. But it was also my first fall and I had no idea how that plays into the season," McLaughlin recounted with a grin. "Then after 3-4 weekends, we started to realize we had some guys back there. We took that and ran with it."
It's ran the Cougars to a 31-13 record, including a 15-6 mark in West Coast Conference play prior to Thursday's WCC tip against San Francisco (6 p.m MDT, BYUtv) in the finale home series at Miller Park.
Barring a monumental collapse, a team that flirted with the Top 25 (the Cougars were voted No. 25 nationally twice during the season, only to fall out of the polls in the same week) could find itself in the NCAA Tournament for the second time in three seasons — with or without a WCC tournament title.
Even when Wood, Walker and McLaughlin aren't on the mound, the Cougars keep rolling, too. Justin Sterner. Drew Zimmerman. Mitch McIntyre out of the bullpen.
It's a shocking amount of depth for a program like BYU.
Well, shocking to almost everybody.
"I knew there was plenty of talent to win here. I was actually very impressed with the depth of good arms," said Bradshaw, who was the assistant director of baseball operations a year ago before moving to BYU. "I knew it was my job to just help them improve. Especially coming from a program where you have an idea what it takes to be elite. When I got here, I immediately noticed that the pieces are here.
"I think people can see that now."
The staff is incredibly close, as well. Whether hanging out after practice or going to movies together, the group has bonded over baseball and life.
They're comfortable enough to even coach each other, offering improvement and tips to making each other better.
"Easton was a good example of that. I had a patch where I struggled, and my mechanics were just off," said Wood, who Bradshaw jokingly refers to as the assistant pitching coach. "But Easton came up to me and talked to me about how I was falling on my front side a little bit, and not sitting on my back leg. It was great to hear that from him so I could go and work on it and get better."
But give credit where credit is due, McLaughlin adds.
BYU's pitchers have been good. But Bradshaw's role in their development — especially over a season where the Cougars have trailed in 14 of their 31 wins — can't be understated.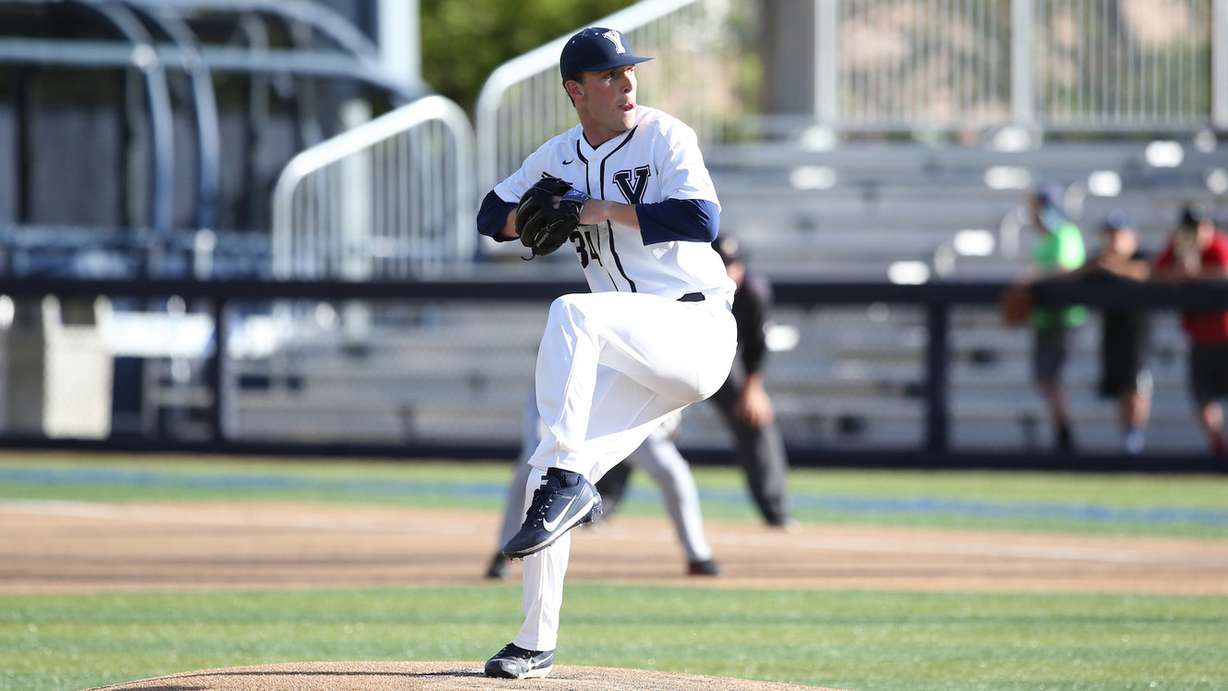 It's noticed by the players, mostly when they check into the clubhouse an hour before practice, see Bradshaw at his desk, and notice him in the same spot well after practice has ended hours later.
It's noticed by the clipboard he carries around, with names, stats, pitch counts and other minutiae of each of his pitchers.
It's also noticed in the immense detail he puts into planning every practice, down to the minute, to every throw his pitchers will make on a given day.
"I love how hard of a worker he is," McLaughlin said of Bradshaw. "He's here every day when we walk in, and every day when we leave, he's still in his office. He's always watching film, doing scouting reports, doing everything that no one really wants to do and no one sees. Maybe the pitchers get a lot of credit. But it's because of coach Bradshaw."
×
Photos
Related stories
Most recent BYU Cougars stories