Estimated read time: 4-5 minutes
This archived news story is available only for your personal, non-commercial use. Information in the story may be outdated or superseded by additional information. Reading or replaying the story in its archived form does not constitute a republication of the story.
In case you haven't heard, smartphones aren't helping make anyone smarter. Recent studies are showing that they are doing the opposite — especially when it comes to their impact on children.
As it turns out, all of the texting, snapping, tweeting and scrolling are not only making your dinners with teens difficult, they're decreasing kids' cognitive function. Fortunately, on May 15, a Utah-based startup, Gabb Wireless, will launch a Kickstarter campaign for a safe-cellular phone that solves many of the issues that make smartphone use risky for children.
Here are some of the common ways smartphones make life harder for you and your kids, as well as a few simple suggestions to combat these effects:
Smartphone use at an early age stunts brain development
Tablet and smartphone apps offer parents a wide range of educational tools that could offer children endless hours of education-entertainment, but the risks might outweigh the benefits. While well-intentioned parents may reach for digital teaching tools to give their child a step up, early introduction to technology can hinder development.
Excessive exposure can damage the developing brain of children, according to Dr. Aric Sigman, an associate fellow of the British Psychological Society and a Fellow of Britain's Royal Society of Medicine quoted in an article for Psychology Today.
"Too much screen time too soon is the very thing impeding the development of the abilities that parents are so eager to foster through the tablets. The ability to focus, to concentrate, to lend attention, to sense other people's attitudes and communicate with them, to build a large vocabulary—all those abilities are harmed," Sigman says.
Social media apps take advantage of dopamine-driven learning
When social media giants were creating their platforms, they weren't thinking about the fallout of their design. They were focused on attracting users — and keeping them. Part of the reality of the design of social media apps is that they get users hooked. Literally.
"Platforms like Facebook, Snapchat, and Instagram leverage the very same neural circuitry used by slot machines and cocaine to keep us using their products as much as possible," Harvard University reports. "By using algorithms to leverage our dopamine-driven reward circuitry, they stack the cards — and our brains —against us."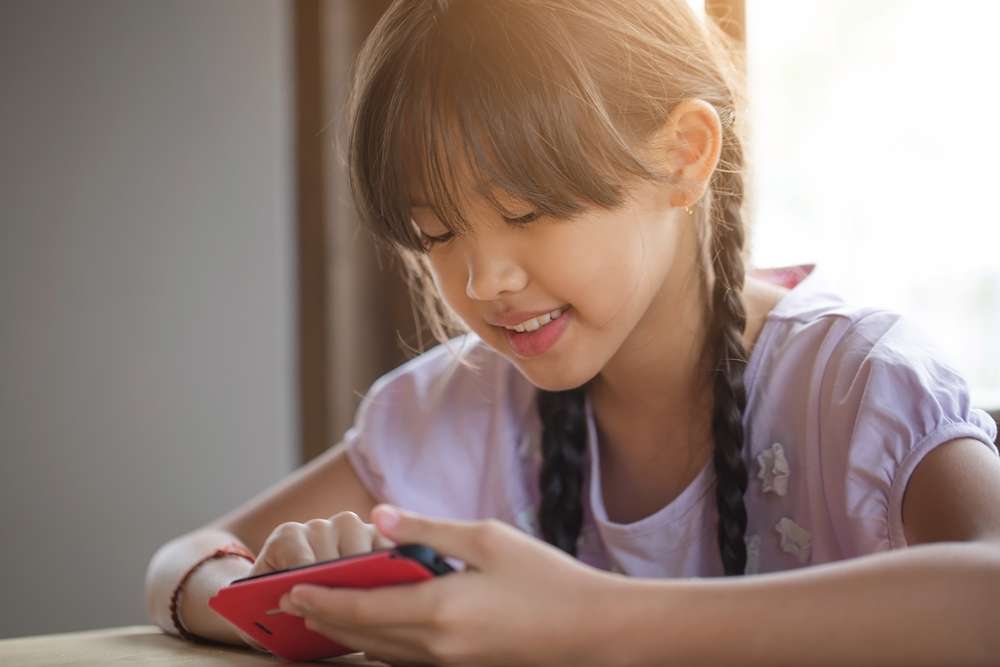 Practice mindful use of the technology
Practicing mindful use of technology means that you are aware of your habits and behaviors; that you monitor and think meaningfully about your actions. Mindfulness with smartphone use is essential for a healthy relationship with the device.
Take advantage of your smartphone's screen time report to gauge your behaviors and make necessary changes. Screen time settings allow users to set app limits, schedule downtime away from the screen and see the amount of time spent on a device that day.
Consider a touchscreen phone with talk and text, but no access to internet
Do you think parental controls are safeguarding our child from pop-up pornography or social media access? Think again. Today's teens know how to get around monitoring apps and controls. In addition, when parents actively regulate phone usage they become wardens, adding to their already busy lives.
One answer for parents is to choose a phone that doesn't grant them internet access but provides texting, contacts, calendar, calculator, radio, camera, and alarm clock features. Gabb has a solution, all for under $100.
"With Gabb, kids get a first phone they are excited about, and parents can communicate without worrying about untethered access to the internet, pop-up pornography, social media pressure, online bullying, academic distraction, and cell phone addiction," GabbWireless says.
Set your kids up for success by empowering them with the tools they need to stay healthy in a digital world.
GabbWireless offers a product to help parents and teens stay connected responsibly. They will have nationwide service similar to the major carriers and will be working with major manufacturers. Gabb Wireless will start preselling on Kickstarter on Wednesday, May 15. Parents, finally someone is fighting on your side to help kids stay kids.
×