Estimated read time: 7-8 minutes
This archived news story is available only for your personal, non-commercial use. Information in the story may be outdated or superseded by additional information. Reading or replaying the story in its archived form does not constitute a republication of the story.
This story is sponsored by Robert J. DeBry—more than 200 years of combined experience practicing personal injury law.
When pioneers arrived in Utah, no doubt heaven was top of mind. After a perilous journey where they often witnessed death, they reached a promised land where they hoped to find freedom from religious persecution and something akin to the Garden of Eden.
Upon arrival, rather than the heaven on earth they hoped for, they instead found a harsh and inhospitable land. Survival was a struggle, and the names they gave to many locations reflected how they viewed their new home. Apparently many believed their hoped-for utopia was closer to hell than to heaven.
As a Deseret News article notes, "Utah has 61 geographical places and landmarks that contain the word 'devil' — but only 11 names with the word 'angel.'" Of those with devilish monikers, here are six that are worthy of a visit in spite of their unwelcoming names.
Devil's Slide and Gate
The easiest of the devil locations to reach from the northern Wasatch Front, Devil's Slide is visible from Interstate 84 about halfway between Morgan and Henefer. The slide consists of two parallel ridges of limestone about 40 feet high, 25 feet apart and hundreds of feet long.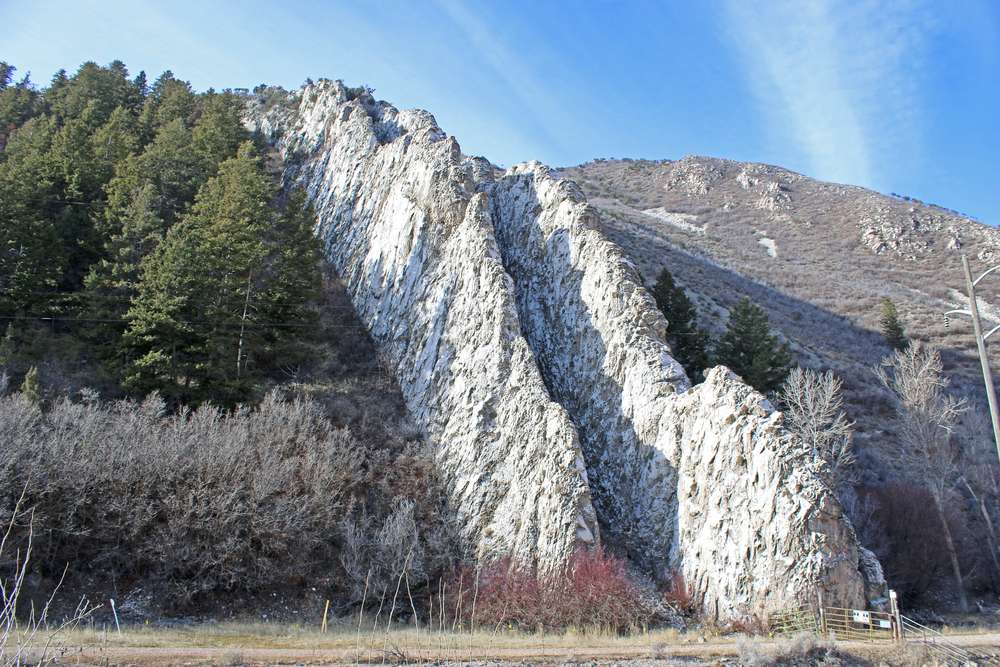 The formation looks "like a large playground slide fit only for the Devil," according to the Utah Geological Survey.
If you approach Devil's Slide from the north end of I-84, a few miles into Weber Canyon you'll drive through a narrow, rocky formation known to pioneers as Devil's Gate, which made the canyon virtually impassible. In fact, according to some accounts, Brigham Young and the first group of Utah settlers planned to travel to the Salt Lake Valley through Weber Canyon until Devil's Gate forced them to detour south to Emigration Canyon.
Devil's Playground
Few Beehive State residents are familiar with the unique rock formations in Box Elder County known as the Devil's Playground. Located west of the Great Salt Lake, the site is easily accessible, but also extremely remote.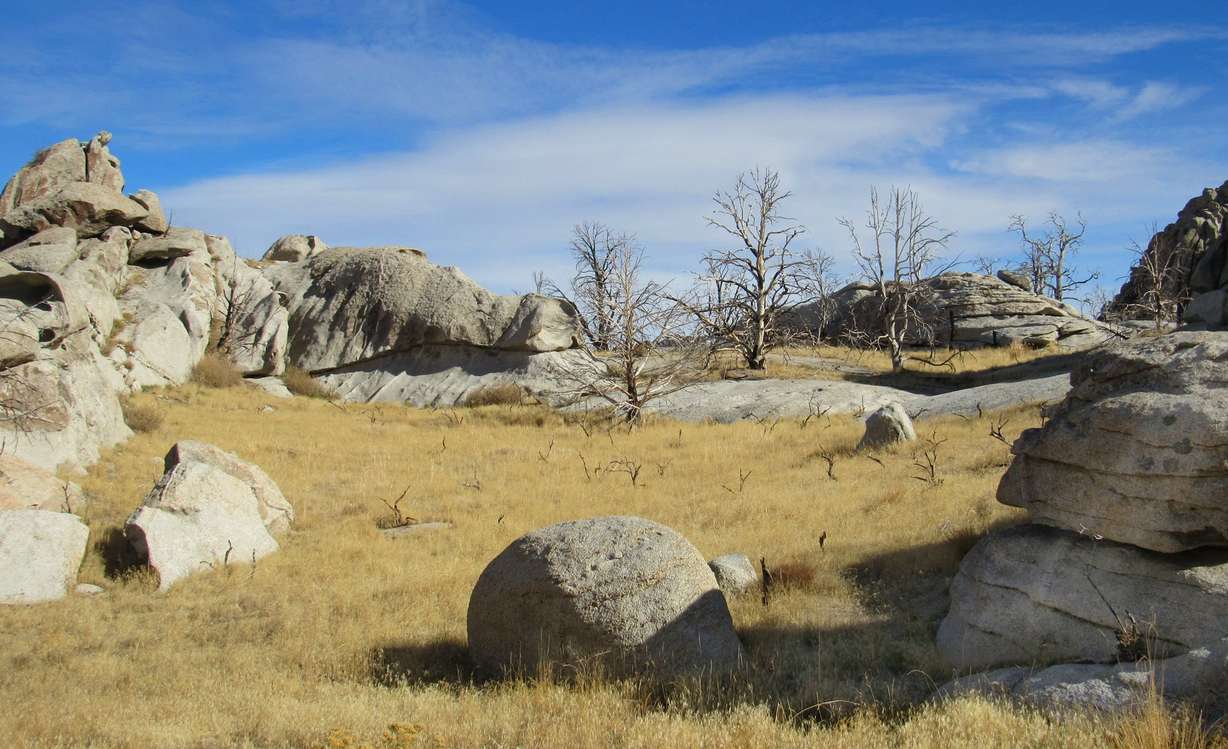 The simplest way to get there from Salt Lake City or Utah Valley is to head west on Interstate 80 to Oasis, Nevada, and then head northeast on route 223 back into Utah where the road turns into Utah State Route 30. It's about 95 miles from Wendover. From Layton north, the preferred route is to take Interstate 84 west to state route 30, then southwest. It's about 145 miles from Ogden.
Situated primarily on BLM and state land, it's easy to see how the area got its name. In summer the area is hot, dry and seemingly unliveable. At the same time, the amazing rocks are an irresistible draw.
"The weathered granitic rock forms fantastic forms and eerie shapes. Devil's Playground is a remote and relatively unknown geologic curiosity," explains the BLM.
If you go, make sure you are well provisioned with food, water, fuel and whatever else you might need, because it's a long way from available services. One cautionary note: the signs on the main road marking the turnoff to the Devil's Playground are easily missed.
Devil's Kitchen
Found along the Scenic Nebo Loop in Utah County, Devil's Kitchen looks like someone took a chunk of Bryce Canyon and dropped it onto the mountain. Signage for the trailhead is easily visible on the loop road.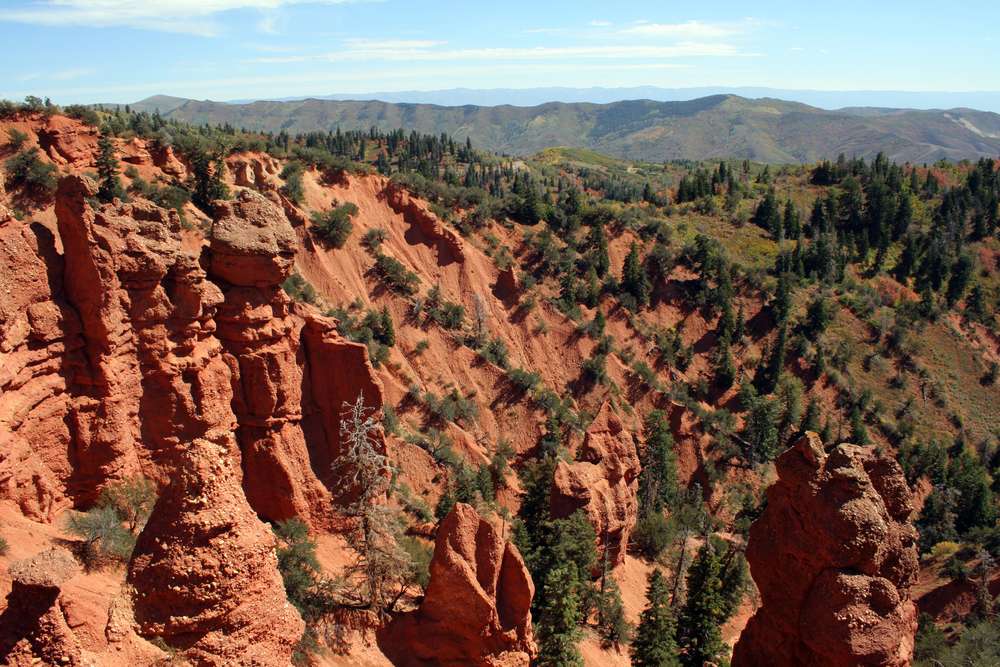 From the trailhead, a short walk takes you to an observation platform overlook where you have great views of the red rock formations.
"The entire Nebo Loop is a very scenic mountain drive, particular during the fall when colors are changing," explains Utah.com. "If you are driving the Loop, the Devils Kitchen is a must-see attraction, well worth the few minutes required to hike to the overlook."
Devil's Garden
Located in Arches National Park, Devil's Garden is the longest trail in the park and probably the most challenging for hikers. The exact length is tough to quantify because there are multiple routes and side trails along the way. The National Park Service website calls it 7.9 miles if you include all the side spurs that provide spectacular views of arches and other rock formations.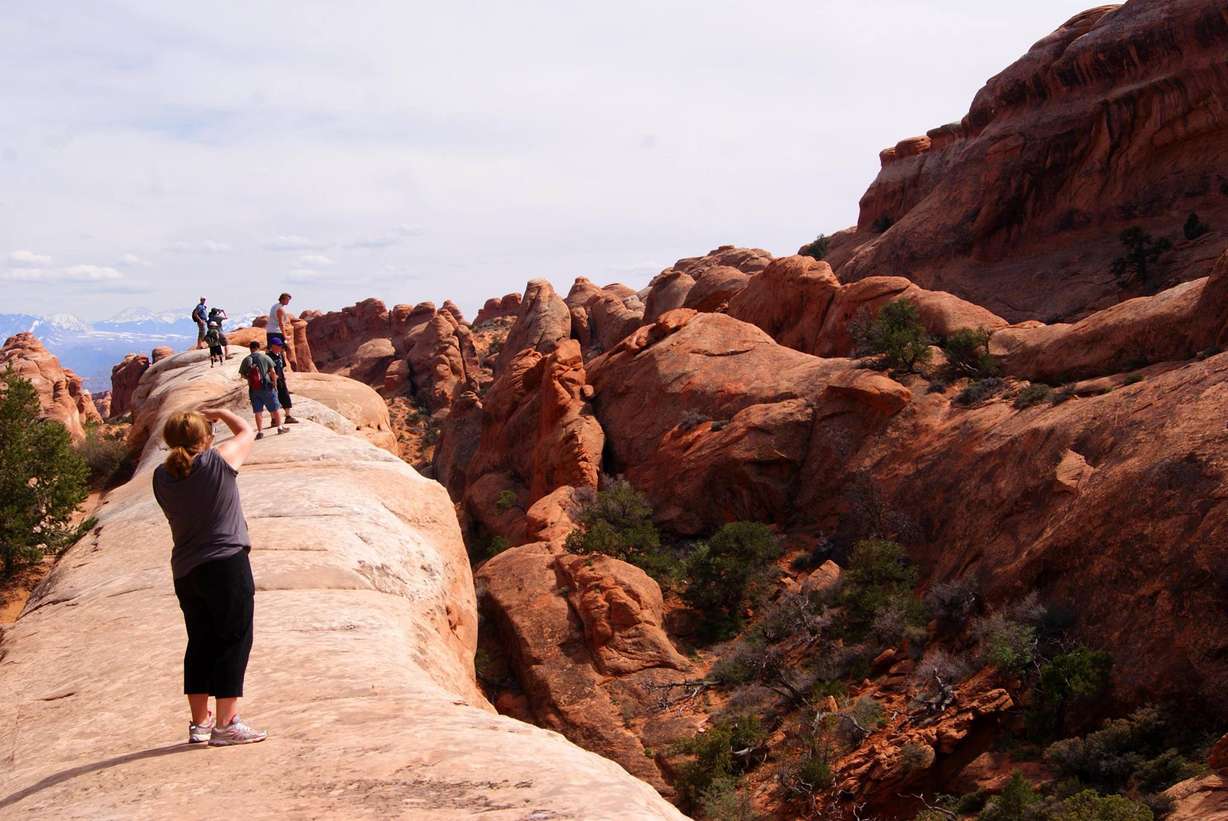 Along the route, hikers can view eight named arches, including Landscape Arch, which, at just under 300 feet, is generally considered the longest natural arch in the world. There are also a few small unidentified arches visible on the hike.
"Hiking the Devil's Garden trail is like exploring an alien planet," says an article on KSL.com. "The hike begins amidst massive sandstone fins and just beyond those red rock liths is a short side trail with views of Pine Tree Arch and Tunnel Arch. There is a wide range of desert vegetation along with shaded areas and breathtaking summits."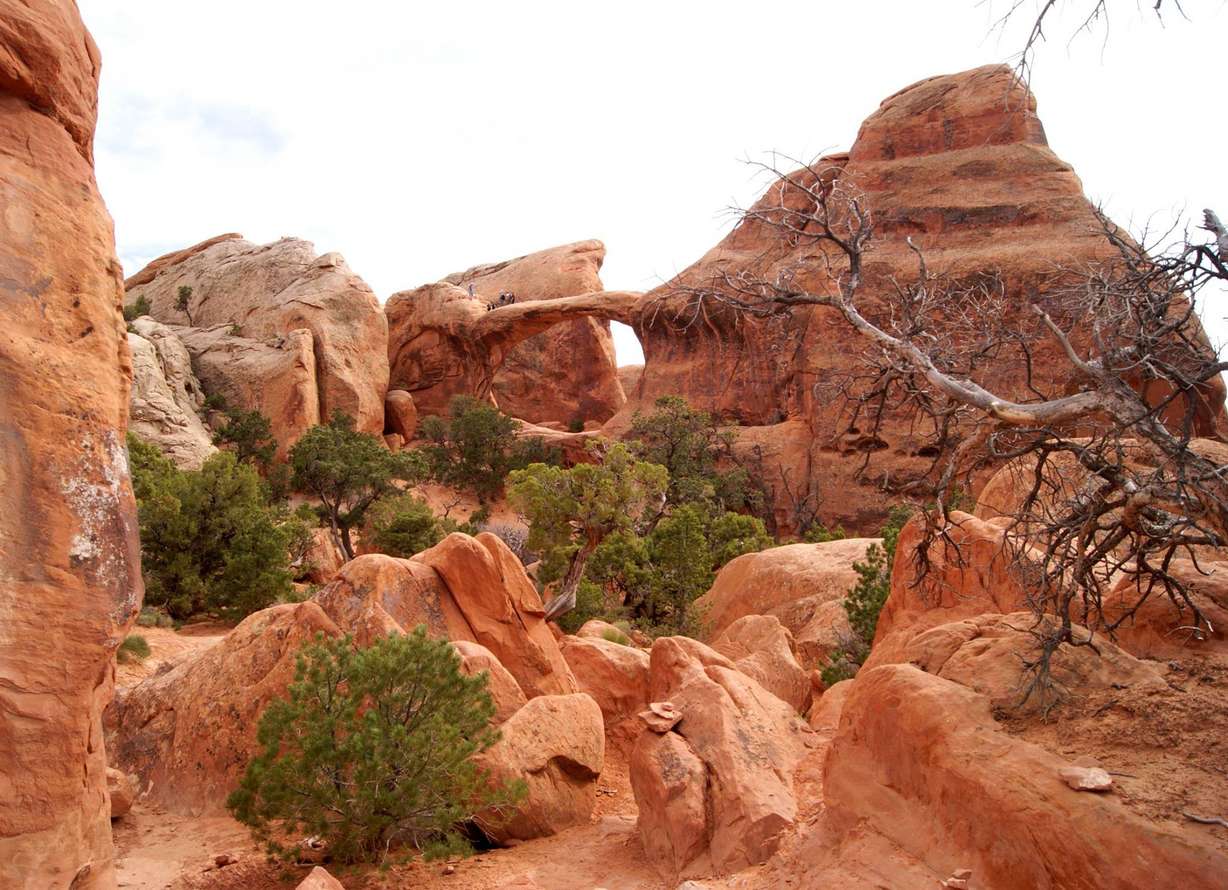 If you want to know why this area is called the Devil's Garden, make sure and hike the trail on a sunny afternoon in July or August. It can feel hot as Hades. Just kidding — try to do the hike as early in the day as possible to avoid crowds and to beat the excruciating heat. Make sure to carry plenty of water as well.
Devil's Garden (2)
In addition to the Devil's Garden in Arches National Park, Utah has another Devil's Garden in Grand Staircase-Escalante National Monument. It's about 17 miles southeast of Escalante off the unpaved Hole in the Rock Road. There's a sign at the turn-off for Devils Garden, which is about 1.5 miles farther.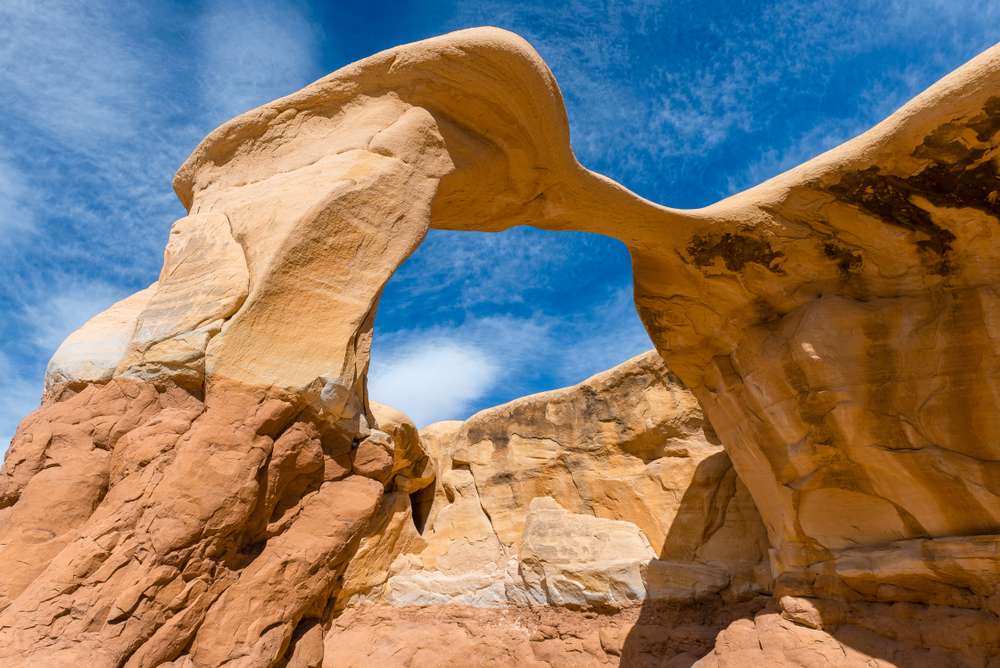 "This surreal high desert landscape is accented by natural sandstone arches, hoodoos and monoliths colorfully sculpted over 170 million years by wind, ice, and thermal erosion," brycecanyoncountry.com states. "Distinct layers of red and white sandstone, blended with erosion-resistant caprock, create some of the area's most notable rock formations such as Metate Arch, Mano Arch, Gnome Rock, the Marching Trolls, and the Four Wise Men."
Devil's Canyon
A beautiful slot canyon in the San Rafael Swell, visitors to Devil's Canyon will generally find fewer crowds than on most other popular slot hikes in southern Utah. This long canyon drainage begins just beneath San Rafael Knob, the highest point in the Swell at 7,921 feet.
"The scenery is amazing, with towering cliffs and majestic slickrock buttes rivaling the famous formations in Zion National Park," reports Utah.com.
Access is from exit 116 of Interstate 70 and a less-used road on the south side of the exit that starts as gravel but then turns into a dirt track. If you don't have four-wheel drive, The American Southwest recommends parking at the Devil's Canyon Wilderness Study Area sign and walking "south along a disused track (closed when the WSA was established) for half a mile then veer west following close to the base of the nearby cliffs, past the heads of some small side ravines and drop into the streambed at one of several points where access is easy."
There you have it — a half-dozen Utah sites that some early pioneers felt deserved to forever be linked with the deceiver and father of lies. Take time to visit one or all this summer and see if you agree.
×