This archived news story is available only for your personal, non-commercial use. Information in the story may be outdated or superseded by additional information. Reading or replaying the story in its archived form does not constitute a republication of the story.
SALT LAKE CITY — The NBA playoffs are back in Utah.
Honoring the time-honored tradition of the Utah Jazz postseason, more than 200 Jazz employees converged on Vivint Smart Home Arena to prepare the home court for Saturday's Game 3 against the Houston Rockets.
Though the Rockets lead the series 2-0 after the Jazz's back-to-back blowout losses in Houston, there was a special feeling as the volunteers laid out 18,306 T-shirts in an array of red, yellow and orange Friday afternoon — matching the team's universally beloved City Edition court and uniforms that will be on display just over 24 hours later.
"It typically takes us about 90 minutes, though this one is a little bit trickier because we have three different colors to put out in the upper and lower bowls," Utah Jazz spokesman Frank Zang said. "We just want to add to the atmosphere and to the excitement of Utah Jazz basketball."
Arena employees are used to moving quickly for Jazz home games. The 18,000-seat venue that also hosts everything from college basketball to concerts to rodeo will transform after Saturday night's game, win or lose, into the traditional court — including 18,306 white T-shirts for fans with tickets to Game 4.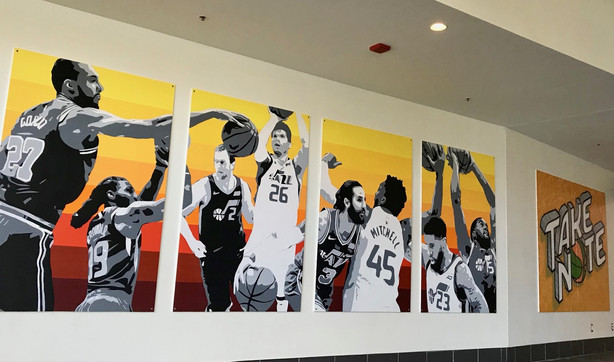 This year's playoff run also includes a special-edition mural by local artist Trent Call — the same muralist who created the team's Jazz 40 mural located downtown.
For the playoff mural, Call designed Rudy Gobert, Jae Crowder, Joe Ingles, Kyle Korver, Ricky Rubio, Donovan Mitchell, Royce O'Neale and Derrick Favors in a pop-art, street-style mural on the porch — right next to fans entering at the main entrance to the arena. It's there to greet fans after entering from the main plaza, with the playoff-themed J-Note statue and a live recording television set where Alema Harrington, Thurl Bailey and Michael Smith will host the Jazz pregame show.
"We've really gotten involved with street art this year for the Jazz," Zang said. "It's a great way to show sport, spirit and community, by engaging the artistic community in these activities."
👨‍🎨 🎨 🏀 #TakeNotepic.twitter.com/K98ihVnfwP

— KSL.com Sports (@KSLcomSports) April 19, 2019
It's part of giving back to the average Utah Jazz fan. Even for an organization that sold out every home game during the 2018-19 campaign, there's still something different about the playoffs.
It's estimated that between $3 million and $5 million comes into the state of Utah for every home playoff game, according to the Utah Sports Commission, in addition to "several million dollars" in media value for images of the Salt Lake Temple, the SLC skyline and Southern Utah's golden arches that will play on ESPN, TNT and the NBA's other national television partners.
To quote Jazz 3-point marksman Kyle Korver, Salt Lake knows what to do in the playoffs.
"We all know what it is," he said. "We know how to do this the right way, and I'm sure they are going to."
On the court, there's something special about playing at home in front of a sold-out crowd in the postseason, too. Presale tickets for Utah's playoff home opener were down to a few hundred by midweek and dropping fast.
"Our crowd is always great during the regular season — even kind of better in the playoffs," Jazz wing Joe Ingles said. "They do, they give you that a little bit of extra sometimes. Hopefully, tomorrow night, we don't really need it. But it's always great to play at home in front of the home crowd."
Even a crowd that has drawn increased scrutiny this season, with two fans having been banned from the arena for comments deemed in violation of the NBA's policy for fan behavior. Fans can text incidents of unruly behavior to the arena's customer service line, visible on signs from every seat, and a video admonishing good behavior will be played at least three times each game, as has been protocol at Vivint Arena since mid-season, Zang said.
"Our staff has heightened awareness as we get to the playoffs," he added, "because it's an emotional time for all."
×
Photos