This archived news story is available only for your personal, non-commercial use. Information in the story may be outdated or superseded by additional information. Reading or replaying the story in its archived form does not constitute a republication of the story.
SALT LAKE CITY — No matter what happens, BYU fans, you'll always have dance.
The BYU Cougarettes are bringing home Division I-A national championships in jazz and hip hop after three days of competition at the 2019 NDA Collegiate Cheer & Dance Championships in Daytona Beach, Florida, in what are considered to be the largest collegiate cheer and dance championships in the world.
The Cougarettes won the Jazz title with a 99.00, beating out Texas Tech (97.60), South Carolina-Columbia (95.37) and Iowa State (95.14) for the crown with the highest team score for a Jazz routine in BYU history.
BYU followed it up with a 97.23 in hip hop to claim its sixth national title in the speciality category and third in the past five years. Louisville finished second with a score of 96.32, followed by Florida International (95.51) and Boise State (93.86).
"I was very proud of the way we performed," said Cougarettes coach Jodi Maxfield, who has been with the program since 1991. "We fought hard on stage for both titles with a lot of commitment, unity and love. I'm so proud of all the hard work we put in this year to achieve the goal of winning two national titles."
Of course, this probably isn't much of a surprise for anyone who has seen the Cougarettes at any football or basketball game or live performance in the Provo area over the past year.
Frankly, this group crushes it.
One of the premier college dance teams in the United States, the Cougarettes are owners of 19 total championships under the National Dance Association collegiate banner, including eight overall team titles from 1997-2010. The program also won United Spirit Association national championships in 2005 and 2006.
They weren't the only ones to represent Utah well this weekend.
Weber State's cheer squad won its third-straight national title with a first-place performance in the Division I coed cheer division Friday. It's the Wildcats' fifth title in the past eight years.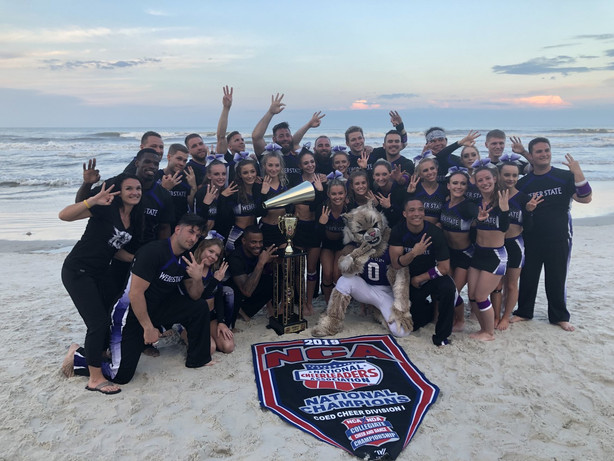 Weber State's mascot Waldo also repeated as national mascot champion at the same event, winning for the third time in five years with a score of 58.07. He edged out Missouri, North Texas, Virginia Tech, Iowa State, Georgia Tech and North Carolina for the title.
Weber State's partnership of Kollin Cockrell and Mekenzie Grabau added an individual national title in the coed partner stunt division.
×
Photos
Related Stories