This archived news story is available only for your personal, non-commercial use. Information in the story may be outdated or superseded by additional information. Reading or replaying the story in its archived form does not constitute a republication of the story.
SALT LAKE CITY — The votes are in and we're down to our final two schools.
Over 64,000 votes were cast in each matchup on Wednesday, with No. 4 Viewmont beating No. 3 Skyline by 1,886 votes, and No. 14 Payson beating No. 14 Dixie — the Cinderella team of the tournament — by only 852 votes.
Viewmont and Payson are now just one win away from being named the best high school in the state of Utah. If you haven't followed the bracket challenge until this point, read the rules from the opening round as a refresher.
As mentioned before: This is just a fun challenge and nothing to determine what school is actually the best. There are several factors that go into what school is actually the best — academic, athletic ability, etc.
So go vote for your favorite of the two. Do you like Davis County more than Utah County? Are you more a Viking or a Lion?
You get to determine the winner, so tell your friends and have fun!
Voting for the final round will go through the weekend, with votes stopping on Sunday at midnight. The official winner will be announced at the beginning of next week.
Note: The poll results aren't showing up properly after you vote; however, they are being counted accurately in the system. To view the results now and after the poll closes, click here.
If you can't see the above bracket challenge, click here.
Click the image to enlarge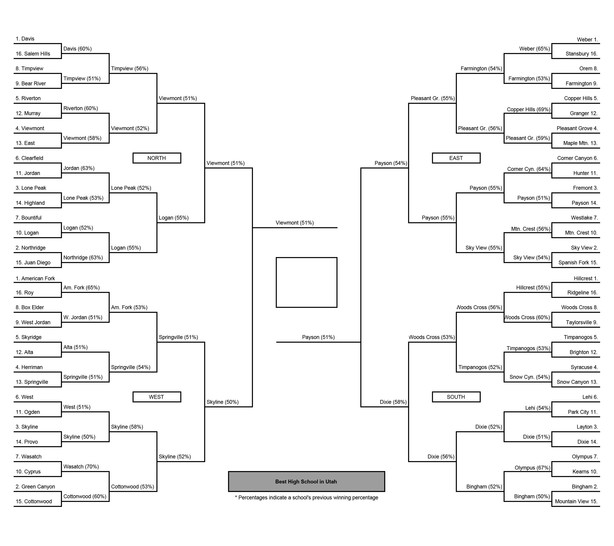 ×