Estimated read time: 5-6 minutes
This archived news story is available only for your personal, non-commercial use. Information in the story may be outdated or superseded by additional information. Reading or replaying the story in its archived form does not constitute a republication of the story.
HERRIMAN — With 10 years as a player and 10 more years as a coach, Stevie Scott knew rugby well before he took the job as forwards coach of the Utah Warriors.
Of course, translating that experience to the Warriors — a team of semiprofessional athletes in the second season of Major League Rugby — wasn't always the easiest thing.
And that's not just a commentary on Scott's thick brogue, one that's even more pronounced from his childhood in the Scottish Borders.
"I think these guys understood me pretty quickly," said Scott, whose team will take a 1-5-1 record into Friday night's match against reigning champions Seattle Seawolves at Zions Bank Stadium (with or without former Highland star Haloti Ngata). "They found a bit of a challenge at first … but the reason I came here was a different opportunity in my coaching career, a different challenge.
"It's going to take time, and this is a young team.
Indeed, Scott's credentials speak for themselves — even if the Warriors understood him more for his passion, animation and love of rugby than what he said when he first arrived on the Wasatch Front, Warriors head coach Alf Daniels joked.
Scott spent 10 years in the Scottish system, playing primarily for hometown Borders and nearby Edinburgh. He was capped 11 times by the Scottish national team, and after retiring from playing, Scott immediately began coaching for Edinburgh, Sale Sharks in England's Premiership, and with the Scottish U-20 youth national team.
Now he's out to tackle a different challenge — helping the Warriors, not only to improve on their 1-5-1 start to the second season of Major League Rugby, but also to help grow a sport he's known since childhood, but one most Americans have known for barely more than a decade.
In Scott's words, American rugby players are talented, including many of the Warriors' stars like Tonata Lauti, Alex Tucci, Gannon Moore and Ara Elkington.
But they're limited exposure to the game by their mid-20s can lead to a high school-level understanding of the sport — teenagers, in a developmental sense.
"The biggest challenge here is that the game is new to America," Scott said. "Even though we have a squad of 30-odd players, their time playing rugby has been quite limited."
So that's how Scott is often communicating his positions to the Warriors, even if not using words.
"If you sum up Stevie in one word, he is the epitome of passion for rugby," Daniels said. "Everything from the way he talks, to his body language to, the energy he has reeks of passion for rugby. It's slowly rubbing off on the guys."
If Scott seems overly passionate at times for his club, the nascent Major League Rugby, and his role within the organization, it's for good reason.
After establishing himself in Europe, Scott quickly jumped at an offer from Daniels to come to Utah, even at the expense of leaving his family and two sons in Scotland to help grow the game in North America.
It's a new adventure, a new era, and a great growth opportunity, both for Scott and rugby in the United States, he said. But it hasn't been without challenges, like spending an entire season away from family on the other side of the Atlantic.
Scott knows sacrifices for the game — and that helps him connect with the Utah Warriors, too.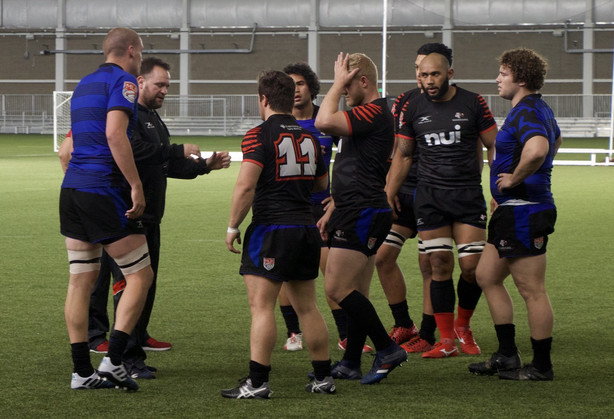 "He's a great guy," said Tucci, the Warriors' front-row No. 8. "He's very intense, but I always feel like he's in my corner. He's taken my game to another level; I've still got a long way to go, but you can see him planting seeds in each of us on our roles, assignments, and the right way to play the game.
"Having him is huge."
Rugby isn't like most professional sports in North America. The Warriors and the rest of MLR made history simply by making it to a second season and even added new clubs in New York and Toronto in the process.
Additional franchises in Boston, Atlanta, Washington D.C., and Dallas are already scheduled to join MLR in 2020, and the league's television contract with CBS Sports Network and ESPN+ is introducing a new game to multiple generations of fans at a time.
But the league is so new that salaries haven't caught up to the growth potential of the game. Neither Scott nor Daniels are getting rich while coaching the Warriors, and backs coach James Semple also plays for the team.
Players don't make millions — or even a minimum-wage salary — to play the sport they love. Many often report to day jobs, cutting daily practice sessions into early morning visits to local gyms and an evening session on the indoor fields at Zions Bank Real Academy in Herriman, the training facility founded by Real Salt Lake owner Dell Loy Hansen.
"I have to take my coaching back a few years and get them to understand the system, like how we scrimmage and how we maul," Scott said. "The big thing for these guys was giving the guys' roles, and understanding their roles and being accountable. That was quite new to me."
And the communication? It turns out, Scott's thick brogue wasn't as much of a problem as you'd think. Part of it is the international nature of the Warriors, with Polynesian players from New Zealand, Tonga, Samoa, Fiji and other islands, mixing with native Utahns.
But Scott's used to having to learn a new version of English — just ask him about the difference between Scottish and the version spoken at his previous job in Manchester, England, with Sale Sharks.
"I just learned to speak slower," Scott said cheekily. "Sometimes they can tell what I'm about pretty quickly — without even saying a word."
Seattle Seawolves (5-3) at Utah Warriors (1-5-1)
When: Friday, April 5 at 7 p.m. MDT
Where: Zions Bank Stadium, Herriman
TV/Streaming: KMYU (local), ESPN+ (national)
×
Photos
Related Stories