This archived news story is available only for your personal, non-commercial use. Information in the story may be outdated or superseded by additional information. Reading or replaying the story in its archived form does not constitute a republication of the story.
SALT LAKE CITY — South Jordan native and BYU alumnus Brennon Lund's eyes briefly shifted down toward the outfield grass he stood on at Smith's Ballpark as television journalists cameras positioned themselves for an interview.
He had been at this ballpark before plenty of times before. He recalls going to games as a kid back when the team that minor league team that played here was known as the Salt Lake Stingers.
He also never thought he'd be in the position he is in now. Lund was named to the Salt Lake Bees opening day roster Monday. He's the first Utah native to open a season with the Bees since pitcher Brandon Lyon in 2014 and believed to be the first player to go from Utah prep baseball through the Los Angeles Angels' farm system to the Bees.
That means the kids like him who go to ballgames this season will watch him and hope to be in his shoes one day.
"(It's) definitely a dream come true," he said, during the Bees' media day Tuesday. "I'm excited to get to this level of professional baseball. This is new for me, so it'll be an exciting experience. ... I'm excited, too, to play in front of people that come around — friends and family."
The outfielder hit .264 with 59 RBIs, 63 runs scored and 34 total extra-base hits in 100 games with the Mobile BayBears, the Los Angeles Angels' Double-A affiliate. He started his professional career with the Orem Owlz after the Angels selected him in the 11th round of the 2016 MLB draft.
The Utahn finished his collegiate career hitting .335, with 128 runs scored and 78 RBIs in 668 career at-bats at BYU.
MiLB Pipeline rated Lund as the 28th-best prospect in the Angels organization heading into 2019. A step away from cracking the big leagues, he's focused on doing what he can do to be a better baseball player.
"It's a process," he added. "You have to continue to be better. Even if you get that opportunity (in the majors), you're going to have to work on staying in the big leagues. You have to be better and better each day. I'm going to work hard here and when I get that chance, that'll keep working at the same pace."
As for being the local on the team, Lund said he's fielded questions from teammates about places to check out in the city. An ardent hiker, Lund said that he offered suggestions for hikes in the area. It's yet another benefit of coming home.
Prospects on the roster
Lund was one of 23 others named to the Salt Lake Bees opening day roster Monday, including some of the Los Angeles Angels' top youngsters, such as pitcher Griffin Canning and infielder Matt Thaiss, and former prospect Jaime Barria.
In total, three of the Angels' Top 10 prospects, according to MiLB Pipeline, will start the season in Salt Lake City. Canning is also the Bees' first MLB Top 100 prospect to open a season with the Bees since Andrew Heaney in 2015.
Canning, the Angels' No. 2 prospect and No. 62 overall prospect, blazed through the Angels organization last year. He opened 2018 in advanced Single-A Inland Empire before he was promoted to Mobile and then Salt Lake during the season.
He collected a 3-3 record and 5.49 ERA in 13 starts for the Bees to end his 2018 season, which was also his first as a minor leaguer. This year, Canning comes back to Utah after completing a spring training in the Angels' big league camp for the first time.
"I got a little bit of what it's like (in the majors) — just seeing how those guys carry themselves and kind of what it takes for them to be successful like they are," he said.
He enters 2019 with pitching techniques and mentality he's hoping to work on. Like Lund and everyone else on the Bees, he's eying a spot in Los Angeles this season.
However, he's working on what he can in Salt Lake before he thinks about being in the majors.
"That's not my job," he said. "I'm just going to work on getting better and if anything happens, then it happens."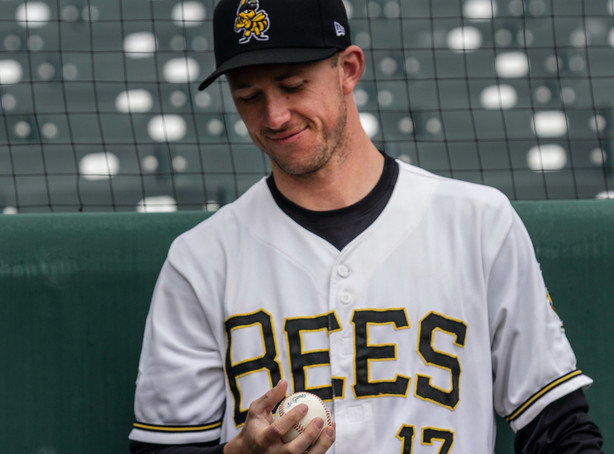 As for others on the roster:
Barria, a former top 10 prospect for the Angels, started 2018 in Salt Lake, but he was quickly promoted to the big leagues last April. While he bounced back between Salt Lake and Los Angeles a few times, the righty ended his rookie campaign in Los Angeles with a 10-9 record, a respectable 4.31 ERA and 98 strikeouts in 129 1/3 innings.
Thaiss, infielder Luis Rengifo and Taylor Ward each return to Salt Lake in 2019, as well. Thaiss and Rengifo remain on the Angels' Top 10 prospects list, while Ward was taken off the list because he had enough at-bats in Los Angeles last season to qualify for one year in major league service.
The third baseman hit a blistering .352 in Salt Lake last year, but struggled in 40 games for the Angels, hitting just .178 with six home runs and 15 RBIs in those games.
Another prospect, pitcher John Curtiss, was acquired from the Minnesota Twins over the offseason. Curtiss appeared in 17 games with the Twins in 2017 and 2018, where he compiled a 7.20 ERA in 15 innings of work.
The Bees open their 2019 campaign Thursday at Albuquerque. Their home opener is slated for April 9 against Fresno.
×
Photos