This archived news story is available only for your personal, non-commercial use. Information in the story may be outdated or superseded by additional information. Reading or replaying the story in its archived form does not constitute a republication of the story.
SALT LAKE CITY — Donovan Mitchell stood attentive near the Utah bench and listened to Jazz owner Gail Miller deliver a stern but heartfelt message to Utah fans on Thursday.
But he heard more than Miller's important message. He also heard the cheers that came with it.
"We are not a racist community," Miller said.
An ovation broke out forcing Miller to briefly pause her speech.
"No one wins when respect goes away," Miller said.
Even louder cheers.
That moment was another confirmation for Mitchell that the Utah fans and the Jazz organization were exactly what he has believed them to be since he first arrived in Salt Lake City nearly two years ago.
"I know Utah. I love Utah. This is the Utah I know," Mitchell said. "The fact that they applauded after certain messages she put out shows the support that they have. This is a great community."
It's a community that has been under fire over the last few days. And a community that may have even had to do some soul searching as well. Ever since Shane Keisel got into a well-documented verbal altercation with Thunder star Russell Westbrook on Monday, Jazz fans have made national headlines.
Some of it has been good: former Jazz players like Raja Bell defended the state and the fanbase. Some of it has been bad: former NBA player Kenyon Martin said he heard things from Jazz fans "where they might as well have called me the N-word."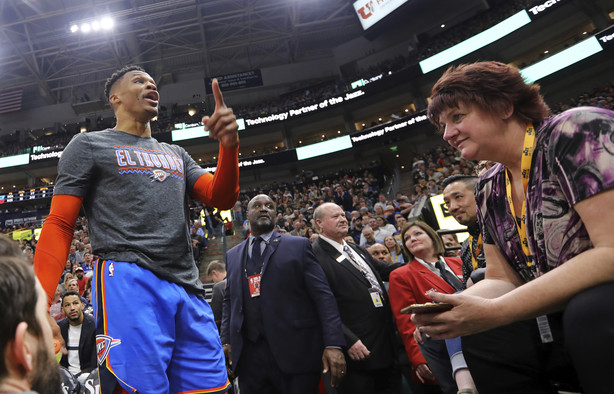 Mostly, though, the recent national perception of Jazz fans — especially the one on social media — doesn't match reality.
Like all fan bases, there are people that will and have crossed the line. But the vast majority of the fans that attend games at Vivint Arena wouldn't even consider yelling hateful remarks, let alone actually going through with it. By and large, as Miller said, it's not a racist community.
The Jazz players know that. The Millers know that. And Jazz fans know that.
"I think people who are smart and the people that live here really know that it's not a racist state," Rudy Gobert said. "There's ignorant people everywhere. There's racist people everywhere. I don't think you're ever going to be able to change that."
Yet, instead of getting defensive when one of their fans was accused of hate speech, the Jazz chose to use it as a chance to become better.
They investigated the situation and banned the fan for life. They sent out an email to fans reminding them of the NBA Fan Code of Conduct. And then before anyone else had a chance to cheer or jeer during a game again, Miller took center court.
Related story:
"Every family has hard conversations from time to time," Jazz President Steve Starks tweeted on Thursday. "Tonight, our community had one of those and we will be better because of it."
And KSL.com has confirmed a Deseret News report that the Jazz issued another lifetime ban after a video surfaced of a fan calling Westbrook "boy" during last year's playoffs.
All those actions haven't been lost on the players.
Mitchell said that he got wide-reaching organizational support when he decided to issue a statement the day following the incident, condemning the fan's behavior and calling for change.
"In this business, to have an owner be so forward and so out there," Mitchell said. "To go out there and back us the way she did and back Russell, that's amazing."
And Miller's pregame message on Thursday wasn't the first time she addressed the hate speech that day, either. Before the game, she met with the Jazz players to discuss altercation and ideas of how to improve moving forward.
"She has a great heart," Gobert said. "And she was really affected, not only as a businesswoman but as a human. It hurts to see some other people calling Jazz fans racist or that kind of stuff. I think she got affected a lot by it."
And she saw how it affected her own players. Then she stood by them and tried to do something about.
"It shined a little bit of a negative light," Mitchell said. "But I think we all addressed it the right way. We have passionate fans, obviously, there are a few knuckleheads out there, but we have a great fanbase and a great city."
×