This archived news story is available only for your personal, non-commercial use. Information in the story may be outdated or superseded by additional information. Reading or replaying the story in its archived form does not constitute a republication of the story.
LAS VEGAS — Now is probably not the best time to call for change, not after a humiliating 80-57 upset loss in the first round of the West Coast Conference Tournament against a team that you swept during the regular season.
But BYU coach Dave Rose has had a problem brewing over the past few years. And that problem came to boiling point Saturday night in the media room of Orleans Arena, just moments after San Diego jubilantly celebrated a win and a semifinal berth over the Cougars.
You see, Rose is not happy with the conference.
More particularly, he's not happy with the conference tournament. And to the point, he's upset about practice time.
Yes, Rose was talking about practice.
And yes, the Toreros stormed into Las Vegas and handed the Cougars their worst postseason loss in years, at least since the last time USD beat BYU in an opening round game in 2013. The Toreros have won 20 games in back-to-back seasons for the first time in school history.
It can be argued that the 23-point loss in which the Toreros led by as much as 44 in the second half was the breaking point of BYU's season, one that — barring an invitation to a lower-level tournament like the College Basketball Invitational (CBI) — will finish with the fewest wins since the 2004-05 season, before Rose's time as head coach.
But the larger point — one that shouldn't take away from an impeccable game plan followed by USD and a total embarrassment by BYU — is valid, as Rose points out.
Prior to BYU stumbling to its double-digit defeat, No. 8 seed Pepperdine took a rousing 89-72 victory over No. 4 San Francisco. The Waves won just six games in the conference play, but strung together three-straight wins before the tournament's off-day Sunday.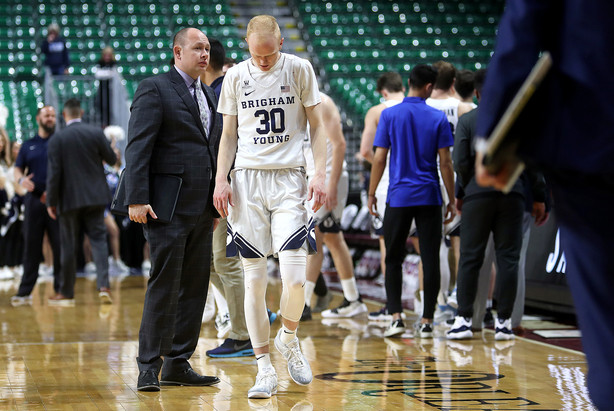 "It's hard to execute your game plan and stay competitive when you are a shooting team, and you shoot the percentage that we did. It's just hard," said Rose, whose team fell behind 13-0 and was without a field goal until Yoeli Childs' bucket with 14:24 left in the first half. "You've got to keep guarding and finding ways to compete — but when you don't score, that's a part of the game that is pretty important.
"I don't know how many threes we missed until we made our first one. But 1-for-17 from the 3-point line is just going to be hard to beat any team."
The Cougars have been notorious slow starters in conference tournament openers since joining the West Coast Conference in 2011.
Even when they've won — which they've done more often than not — BYU's first halves have been suboptimal, to say the least.
And Rose feels like he knows why.
"The fact that you don't shoot in the gym you are playing for when it's all on the line, everyone's got a chance, and you don't shoot — and you have the second game and get 20 minutes [to warm up]? Someone's got to re-evaluate this," Rose said while seated next to WCC associate commissioner Jeff Tourial. "There is just too much on the line.
"That's just my opinion."
Vegas Nightmare
BYU practiced at a local high school when it arrived in Las Vegas on Friday afternoon. It spent time in the Orleans Arena, watching games before its own late-night tipoff on ESPN2 that turned into San Diego's rout.
But there's a difference in watching and shooting. And in neutral-site venues where teams are seeded in such a way that would give the higher-seeded team a "better shot" at advancing based on regular-season results, the lack of shooting time in the gym seems laughable.
And it had an impact, especially on a team like BYU that relies so heavily on shooters. The Cougars averaged 79.7 points on 47.3 percent field-goal shooting during the regular season, but scored just 57 points while shooting 31 percent in its lone WCC Tournament game — including 25 percent (6-of-24) in the first half.
Again, San Diego simply played better than BYU; the Toreros shot 49 percent form the field, 53.3 percent in the first half, out-rebounded BYU 40-32, and out-blocked BYU 6-5.
That's the beauty of March — one game can determine a season, and it's do-or-die, especially for teams that haven't built up the safety net of an NCAA Tournament resume. One game can send a team home early, be it salty, graciously, or a combination of both. It's why college basketball fans love the early spring months every year.
But even Rose's opponent Saturday night agreed with his larger point.
"Knowing that we've already played on the court — we had a tournament here early in the year, too — we used that as an advantage," said San Diego freshman Finn Sullivan, who had a breakout game of 17 points on 5-of-8 shooting against the Cougars. "We've been here before, and they only have a certain amount of time, while we were playing three games on this court in the tournament."
San Diego advances to face Saint Mary's in Monday's semifinals. BYU's season — again, barring an unlikely third-tier postseason invitation that Rose has yet to even discuss with his administration — is likely over.
The Cougars will have to live with that. But the larger point is something the West Coast Conference will have to consider.
×
Photos
Related Stories