This archived news story is available only for your personal, non-commercial use. Information in the story may be outdated or superseded by additional information. Reading or replaying the story in its archived form does not constitute a republication of the story.
Wasatch 52, Timpview 47
TAYLORSVILLE — The Timpview girls basketball team came out as the aggressor on defense Tuesday but couldn't translate that to points and dropped their first-round game of the 5A state tournament to Wasatch in a 52-47 loss.
Timpview opened the game with a smothering defense against the visiting Wasps with stolen passes, tipped inbounds balls, blocked shots and a full-court press that forced turnover after turnover. But none of that mattered as Wasatch weathered the defense and got shots to fall.
Wasatch led by as much as 18 points in the fourth quarter before Timpview hit four 3-pointers — their first of the game — and a couple more buckets to cut the Wasps' lead to only 6 points, with less than a minute left to play. In that time, Wasatch missed five of their 10 free throws down the stretch to give the Thunderbirds hope.
But it was too little too late as Timpview couldn't make up the points in the remaining time and Wasatch secured the win.
"We needed to make a few more free throws down the stretch and make it a little easier on us, but overall, the girls were playing together and executing together," Wasatch head coach Norman Hayter said. "That's important against a team like that. You've got to make every possession count."
Wasatch held Timpview's leading scorer Shalyn Fano to only 4 points in the first half with a triple team defense to keep her from getting easy looks under the basket. As a result, Fano shot only 1-of-9 from the floor in the half to neutralize her penchant for scoring.
Fano finished the game with 15 points on 4-of-18 shooting and 13 rebounds in the loss, finding success only at the free throw line and a pair of 3-pointers late in the game to cut into Wasatch's lead. Hayter credited senior Tori Dorius for holding Fano to a low shooting percentage.
"One of the benefits is we've got Tori in the middle in that 2-3 zone. If we funnel her into Tori, she can't finish as easy as she does against a lot of other teams," Hayter said. "We just tried to take her away as much as we could. We know she's a really good 3-point shooter, and she drives really well — really strong and physical. Luckily, we've got Tori in the middle; she's a big presence, and hopefully it alters some shots and affects people a little bit."
Dorius, who just concluded a volleyball tournament over the weekend before competing in the state basketball tournament, finished the game with a team-high 16 points and 11 rebounds as she took control of the game. She was joined by Faith Fitzgerald, who finished with 11 points, and MacKenzie McBride, who added 10 points and seven rebounds in the win.
"That was awesome," she said. "We've been neck-and-neck with Timpview for so long now, and they keep beating us over and over again, so we went in with a tone of aggression and fight. And we finally did it, which is awesome. We'll be celebrating that one for a while."
Wasatch moves on to the quarterfinal round of the tournament and will play Box Elder Thursday at 7:30 p.m. MST at Salt Lake Community College.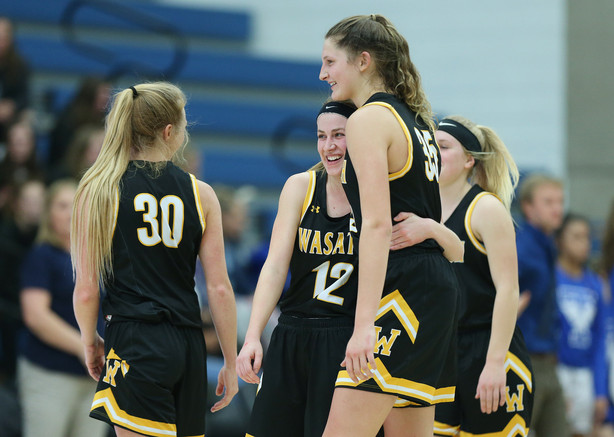 Box Elder 36, Highland 23
In a low-scoring affair, the Box Elder girls defeated the visiting Highland Rams 36-23 in the opening round of the 5A state tournament Tuesday.
Box Elder shutout Highland for much of the first quarter, allowing only 2 points from the Rams with 15 seconds left in the quarter. The Bees only scored 9 points in the quarter, though, as they struggled to make baskets as well. But given the lack of scoring by Highland, it felt like an insurmountable lead for Box Elder.
"We only gave up two, but they only gave up (nine), so it's not like we spread it out and took advantage of that," Box Elder head coach Aaron Dooley said. "We have to take advantage of that."
Dooley said Highland's defense made it hard for his team to score in the post, forcing them to shoot outside shots that weren't falling. The Rams took away their strong suit and forced them into an unfamiliar game.
"They're good defensively," he said, speaking about Highland. "They're solid, and they know where they want to be. They had a plan and they knew how to take us out of what we wanted to do. We tried to go to our second and third options, but we just didn't hit some shots that we'd normally hit."
"We missed a lot of outside shots, and they were getting into the basket more in the paint," Box Elder's Emily Isaacson said.
The Rams would eventually get things clicking, in part, behind a pair of 3-pointers in the second quarter, but the Rams still trailed 20-8 going into the half.
Highland fared a little better in the second half, but still only scored 15 points for the remainder of the game. The Rams would cut the Box Elder lead to 6 points late in the game before the Bees eventually outpaced Highland to win by double digits.
"I thought we were able to kind of make it hard for them to do what they wanted to do," Dooley said, speaking about his team's tough defense. "I thought we played the ball screen pretty well."
Highland failed to have anyone score in double figures, while Box Elder was led by Morgan Reeders' 14 points and seven rebounds.
Box Elder moves on to the quarterfinals round of the tournament and will play Wasatch Thursday at 7:30 p.m. MST at Salt Lake Community College.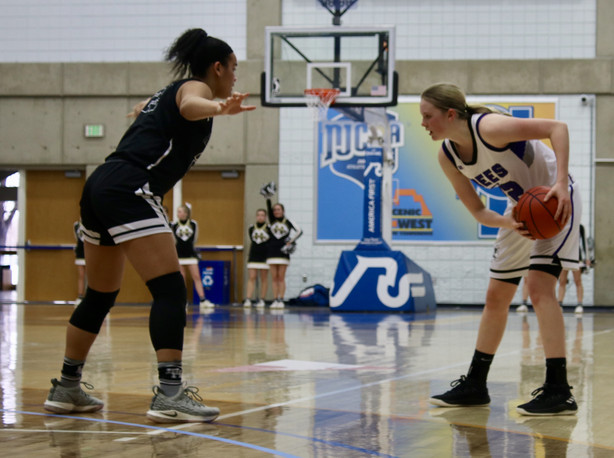 ×